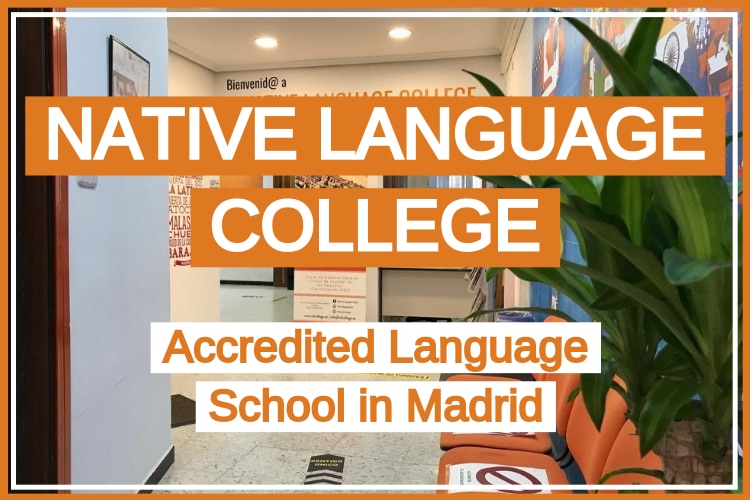 NLC Madrid, (Native Language College Madrid) a Cervantes Institute accredited center, is located in one of the best possible spots in Madrid, it's very heart, Puerta del Sol, surrounded by the busiest neighborhoods, best suited for the youngsters of the city. Sol is probably the most popular and touristic area of Madrid, with tons of tapas bars, stores, restaurants and the best public transport connection with trains, metros, buses and taxis all available.
Save 15% on Spanish courses with NLC at their Puerta del Sol location! Simply download our discount voucher and use it when signing up!
---
This school occupies a historical building, known as Tío Pepe's building, in front of Kilometer Zero. In it you will find spacious classrooms, perfectly equipped, with available WiFi all over the school, as well as access for disabled students, and many international students. NLC Madrid even has their own accommodation in Cuatro Caminos, only 4 kilometers from downtown Madrid, with single and shared rooms.
The teachers at NLC Madrid are qualified in both the education of the Spanish language as well as foreign languages, and are passionate about their job. These teachers will be the ones to guide you through the discovery of the Spanish language and culture, and who will help you improve and achieve your goals. The teachers at the school share their learning experiences with students from all over the globe, including those who are Spanish-speakers studying a business course at NLC Madrid. All of this learning is strengthened by what living in a Hispanic context entails: living an experience of linguistic and cultural immersion.
At this school courses are offered following the established levels in the Common European Framework of Reference (CEFR), from A to C. Their teaching method is based upon an interactive way of making students participate, so they quickly learn how to speak naturally and fluently. The curriculum includes updated tools, as well as authentic and significant materials. At NLC Madrid, they believe in learning through life experience, which is why their classes are more interactive and focused on the ability of communicating in real life situations.
NLC Madrid uses a basic manual, complemented with diverse activities. All content is structured taking the Circular Plan from the Cervantes Institute as a reference. Regardless of the CEFR levels, they offer a First Contact course for students who have never studied Spanish before and might find it more difficult to start. It consists of an intensive survival course to learn how to be able to deal with basic situations and begin the A1 level with better confidence.
To check out more amazing ways that you can learn Spanish during your time in Madrid, make sure to check out our comprehensive guide on learning Spanish in Madrid!
---
Additionally, they offer several activities that either complement or enlarge what has been learnt during the course, such as conversational classes, cultural, cinema, and theater related activities, tapas tours, cultural visits, outdoor classes, city tours, and much more!
If you are thinking about certifying your Spanish level by taking one of the official exams of Cervantes Institute, you can prepare for this exam with the help from their school. The Native Language College offers preparation for both the DELE and SIELE exams. When it comes to the SIELE, you will be able to take the exam at their college, as they are a SIELE authorized testing center.
Looking for some more fun ways to learn Spanish? Make sure to take a look at our list of awesome ways to learn Spanish online and how to put your skills to work at the many language exchanges in Madrid. And if you want to explore all your options here in the big city, check out our guide to the top language schools in Madrid and how you can receive special offers!
---