Do you ever wonder if you could use your skills to survive a zombie apocalypse? Have you ever wondered what it would be like to be a part of top-secret government team sent to end the biggest war in history? Well, at Fox in a Box you can turn your curiosities into reality with Madrid's finest live escape games!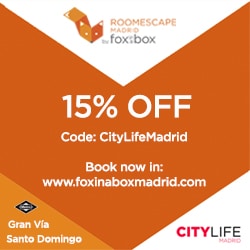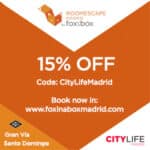 The escape situations at Fox in a Box are a hybrid of the original computer game concept. Meaning, that rather than simply being locked in a room and needing to find a way to unlock it; you have to accomplish a mission.
There are two venues in the heart of Madrid: C/ Infantas, 25 and C/ Ancora,12. The former has two different missions: Get into the underground galleries in order to discover the cure to the zombie virus; or even prevent WWIII. The other location is the home of the baddies. You have to escape from prison, rob a bank or try and escape away from a serial killer.
These games don't involve major physical activity, but teamwork, communication, patience and a mix of very different skills. There are both mind and tangible puzzles that need to be solved in order to reach your goal. If you get stuck, don't worry! You can always ask for hints that are going to help you and your team to continue. Oh, and you only have 60mins!
Receive a 10% discount from Monday to Thursday with your City Card!
To enjoy a 10% discount for you and your friends at Fox in a Box, simply get in touch with us to obtain the discount code and visit their website to reserve your spots and game.
Your friendly neighbourhood travel guide,
– Leahxx