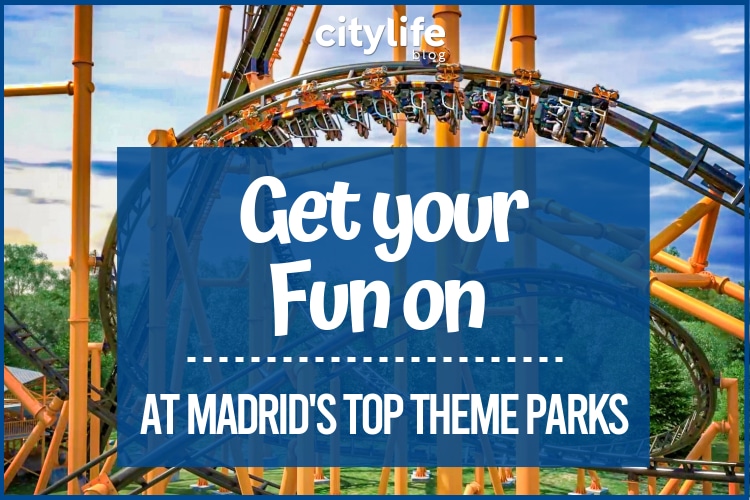 There is nothing much better than spending a hot summer's day at a place designed for loads of fun! Running from ride to ride, eating greasy food from various stalls and allowing your inner child its time to shine. Amusement parks are a great way to get out of your daily routine and luckily for you, Madrid has several parks to choose from! In this article we've created a list of the most popular theme parks in Madrid, so continue reading and start planning your next day of fun!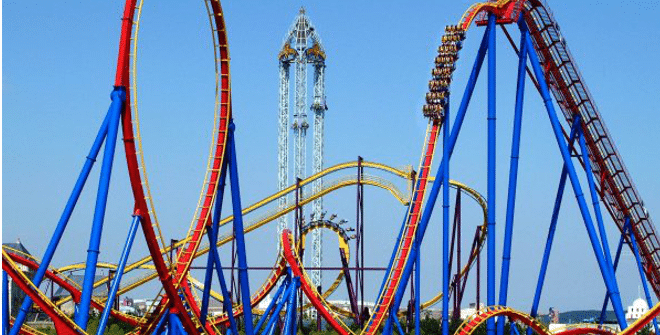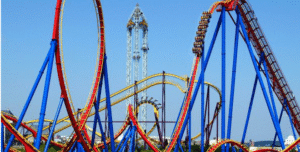 Parque Warner Madrid (also know as Warner Bros. Park) is a theme park located southeast of the city of Madrid, in San Martín de la Vega. The 150-hectare park has a total of 42 rides with 6 roller coasters. The park is divided into five Warner-themed areas: DC Super Heroes World, Warner Bros. Studios, Hollywood Boulevard, Old West Territory, and Cartoon Village. Parque Warner is also home to the tallest and longest roller coaster in Europe, the Coaster-Express. Other popular roller coasters include Superman: The Attraction of Steel and Batman: The Escape. This famous amusement park is also home to a water park called Warner Beach. The "beach" spans 30,000 m² and has two wave pools, two water play areas, and a lazy river.
Parque Warner is accessible by public transport! Take the Renfe C-3 line and get off at the Pinto stop. Then catch Bus 413 "La Veloz" to the entrance of the park. Or, you can purchase a bus ticket from the Estación sur de Mendez Álvaro that will take you directly to the park.
Parque de Atracciones de Madrid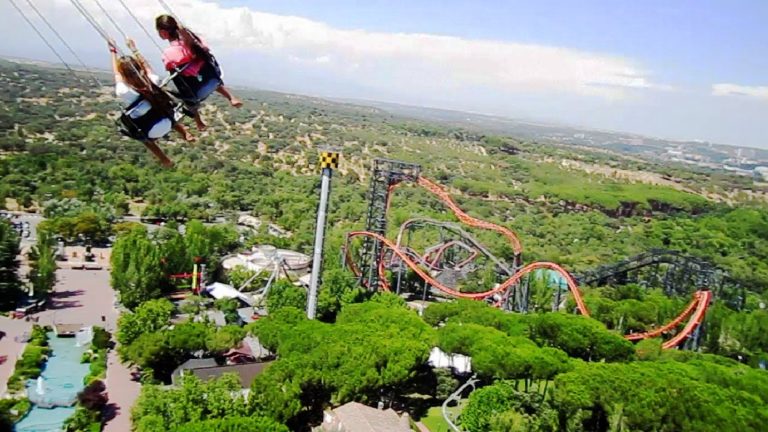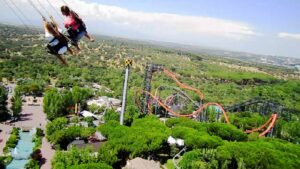 Parque de Atracciones de Madrid is the official amusement park of Madrid, Spain. Located in the Casa de Campo, the 20-hectare park has a total of 36 rides, 7 rollercoasters, and 3 water rides. Opened in 1969, the park is the third-oldest amusement parks in Spain. Parque de Atracciones is divided into five zones. The Tranquility Zone has the lightest attractions, along with La Gran Avenida zone where you will find cinemas, restaurants and shops. The Engineering Zone has larger intense rides including the Abismo roller coaster and the Tarántula roller coaster. The Nature Zone has two main water rides and consists of most of the park's vegetation. There is also a 4-D cinema. The newest zone, Nickelodeon Land, has rides dedicated to Nickelodeon characters. Kids can meet their favorite TV characters from Nickelodeon series, like Spongebob Squarepants and Dora the Explorer.
To get to the Parque de Atracciones, you can take Metro Line 10 to the Batán metro station in Casa de Campo, which leaves you at only 50 meters from the park entrance. You can also take Bus lines 33 (Principe Pio – Casa de Campo) or 65 (Plaza Jacinto Benavente – Colonia Gran Capitán).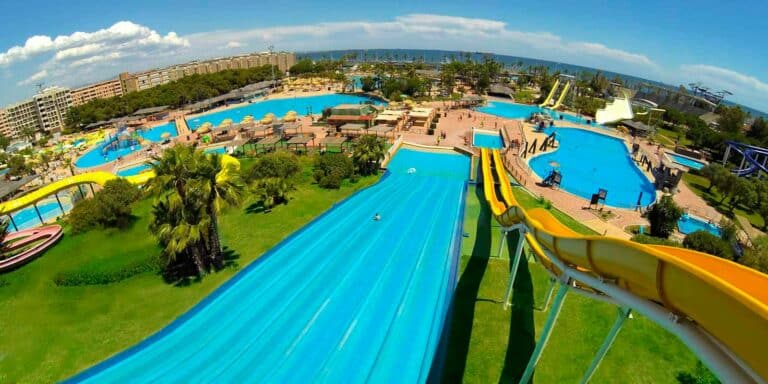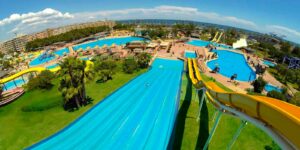 There are seven different Aquópolis Water Parks in Spain, and two of them just so happen to be near the capital. You can go to the Aquopolis San Fernando de Henares (west of Madrid) or Aquopolis Villanueva de la Cañada (east of Madrid). These amusement parks are filled with refreshing and fun water based attractions, like wave pools, slow livers, man made beaches and thrilling slides! Visitors can also eat and drink at the various food stands that offer burgers, sandwiches, ice cream and more.
To get to San Fernando de Henares, you can take Bus Lines 281, 282, or 284 from the Avenida de Ámerica station directly to the park entrance. Or, you can take Metro Line 7 to the San Fernando de Henares train station (final metro stop: Hospital de Henares), and from the station take Bus Line U1 which drops you off at the Carrefour next to Aquopolis. To get to Villanueva de la Cañada, take Bus Line 627 (Madrid – Brunete) from the Moncloa Bus Station, or Line 581 (Intercambiador – Quijorna) from Principe Pio.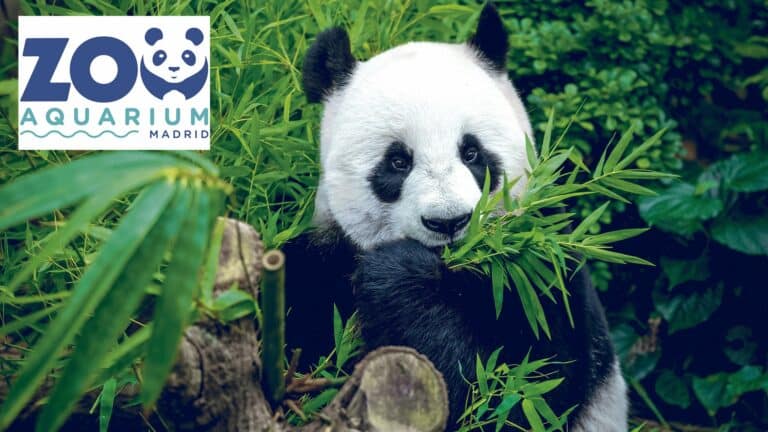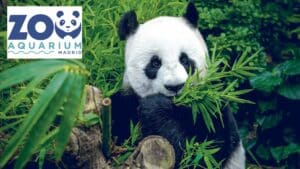 The Zoo Aquarium Madrid, situated on a majestic 49-acre property, is one of the largest zoos in Spain and attracts thousands of tourists every week. It is home to over 6,000 animals of 500 different species, from white tigers and lions to dolphins, rhinoceroses, koalas, and everything in between. It is also one of the few zoos in the world to house giant pandas. The park is an official member of the European Association of Zoos and Aquaria (EAZA) and the World Association of Zoos and Aquariums (WAZA). The Madrid Zoo Aquarium has an interesting history, dating all the way back to the 1700s and initially built in another popular tourist destination in Madrid.
To get to the Madrid's Zoo Aquarium, you have many options for public transport. By metro, you can take Line 10 or Line 5 to the station Casa de Campo, followed by a 15-minute walk to the zoo entrance. By bus, you can take EMT bus line 33, which leaves from Príncipe Pío and drops you off right at the door.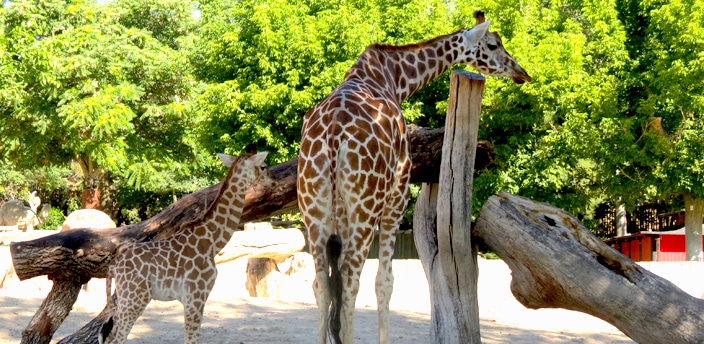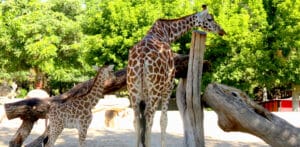 While not as popular as Madrid's official Zoo Aquarium, the Faunia Zoo is a perfect getaway when you want to really delve into some nature and wildlife. Faunia is both a zoo and botanical garden located in Madrid, southeast of the city center. The property spans across 14 hectares, and is divided into zones representing different ecosystems, such as jungle and polar. There is also one for the African forest.
To get to the Faunia Zoo, you can either Metro Line 9 or Renfe C-2 line to the Puerta de Arganda metro station (a.k.a .Cercanías Vicávaro). From here you take EMT Bus 71 Manuel Becerra for 6 stops, which drops you off only 10 minutes away from the park.