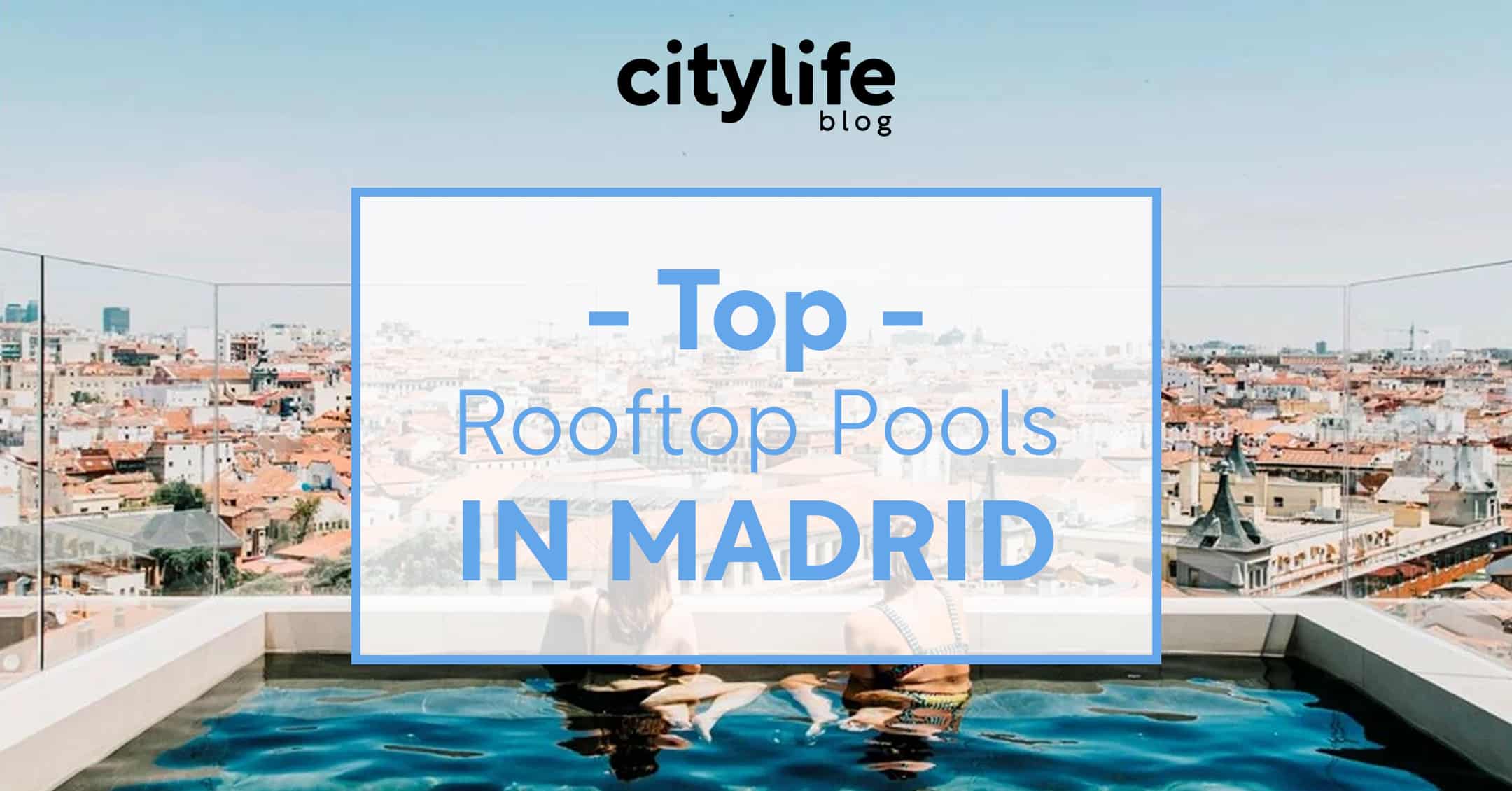 Now that all of Madrid's public pools and natural pools (located outside of Madrid) are opening for the summer season, everyone from tourists to locals are grabbing their sunscreen and towels and making a splash. But some downsides to public pools and indoor pools, like excessive children or insufficient amount of lounge chairs or space, may interfere with your well-deserved summertime leisure. If you're looking for something a little more chic, you've come to the right place. These rooftop pools in Madrid are hidden all over the city with many located on some of the city's most popular hotel terraces.
Important: The majority of these rooftop pools are owned and operated by hotels. Because of this many of the pools may be closed off to clients only. We advise that you call each location to ask if they have any open offers for the public, or reduced prices on rooms for groups.
1. Rooftop Pool at Hotel Emperador
---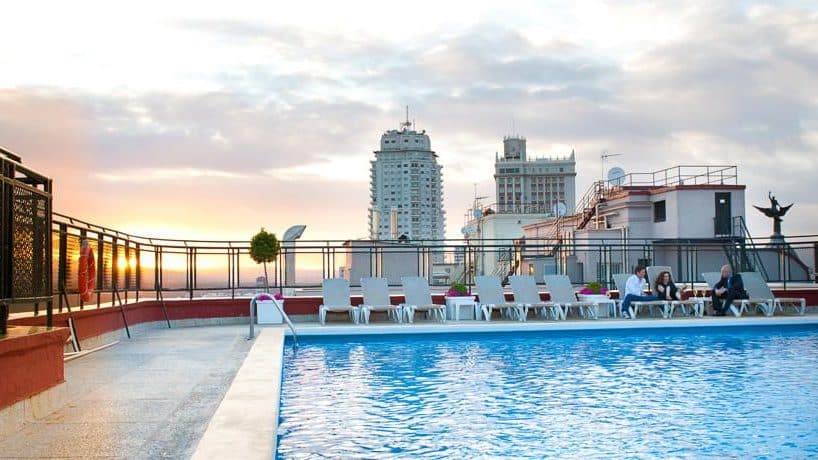 The rooftop pool at the Hotel Emperador is quite impressive when it comes to skyline views of the city. Located on the 10th floor, the considerably large outdoor swimming pool is accompanied by a rooftop garden, and looks out upon famous landmarks like Gran Vía and the Royal Palace. There is also a snack bar, restaurant, and solarium with hammocks! Enjoy Madrid's skyline while relaxing on one of the many lounge chairs and sippin' on your third mojito.
2. Gymage Rooftop
---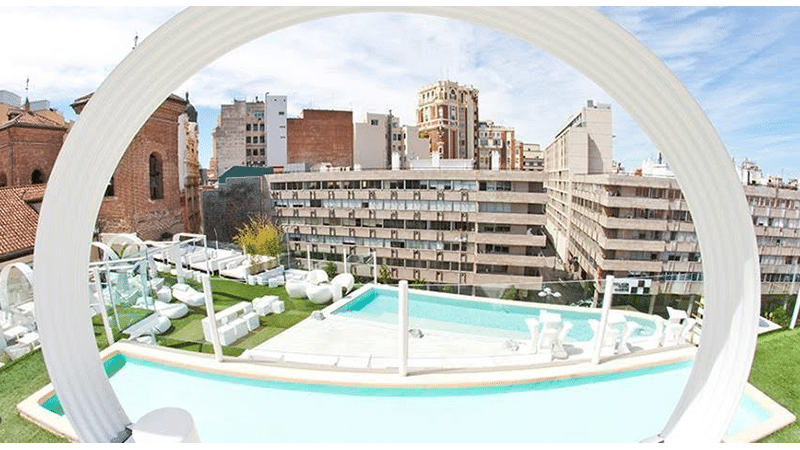 Located on top of what at first seems like your average gym, is a little piece of paradise! Gymage is a super chic rooftop/garden/terrace/bar and pool that becomes one of the hottest spots in town during the summer! Known for their colourful selection of delicious cocktails, super cool evening events and of course, la piscina! The pool at Gymage looks over the Plaza Soledad Torres Acosta, with a grassy lounge area and smooth music. The best part about this rooftop pool in Madrid is that it's open to the public! It's a great place to cool off right in the very centre of the city!
3. Rooftop Pool at Hotel Óscar
---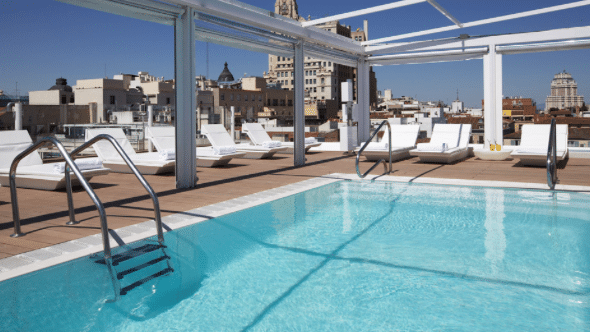 Hiding away in Chueca is a beautiful little pool club on the terrace of the Room Mate Óscar Hotel. Designed by the famous interior designer, Tomas Alia, the rooftop pool places you in a chic and relaxing atmosphere all while offering 360-degree views of the city. Soak in the sun while laying on one of the Balinese beds or white loungers. The cocktails at the Óscar Hotel Terrace have also gained major popularity amongst guests and tourists. The menu offers over 30 different choices!
You MUST email the hotel ahead of time to make a pool reservation, whether you are a guest or not. And be sure to mention the pool package! For more information click here.
4. Hotel Santo Domingo Rooftop Pool
---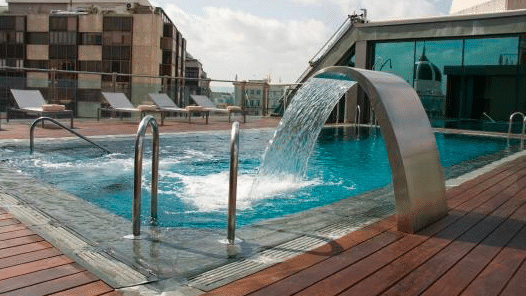 For the moment the pool at Hotel Santo Domingo is for hotel guests only
Another luxurious option when you want to take a summer swim. At the Hotel Santo Domingo, you will find a very hip and modern terrace, along with a garden and pressurized waterfall! The terrace bar often hosts nightlife events during which the pool gets covered by a transparent floor so guests can dance. Get ready to grab a cocktail and enjoy the gorgeous Madrid sunset while dipping your toes in the pool. Find out more here.
5. Rooftop Pool at Axel Hotel
---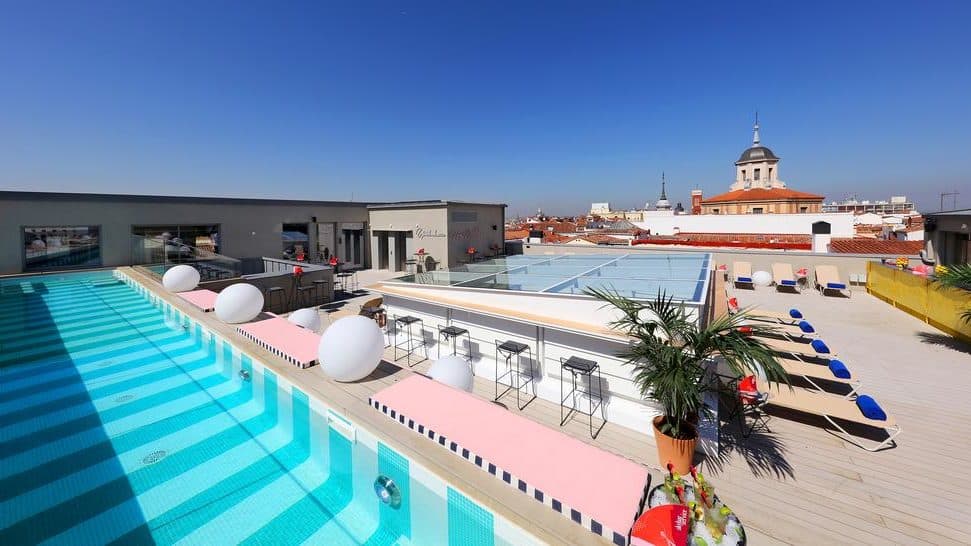 Luckily for us, the open-minded and gay-friendly Axel Hotel allows the public to enjoy its incredible rooftop swimming pool for a small fee of only 20€. Take a dip in the pool, grab a delicious cocktail and relax while enjoying some of the best views the city has to offer. We advise you to call the hotel before going to check if there is a need to make a reservation. For more information click here.
6. Hotel Pestana CR7
---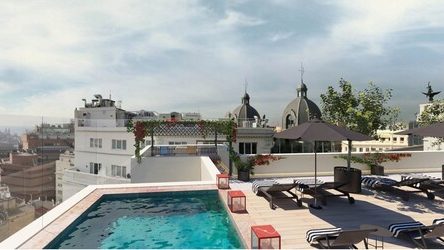 This one is a new edition to the amazing rooftop pools in Madrid! This pool is located on the famous Gran Vía is not to be missed. The hotel Pestana by Cristiano Ronaldo features two floors of bar-terrace along with a refreshing swimming pool. To find out more click here.
7. Aloft Madrid Gran Vía
---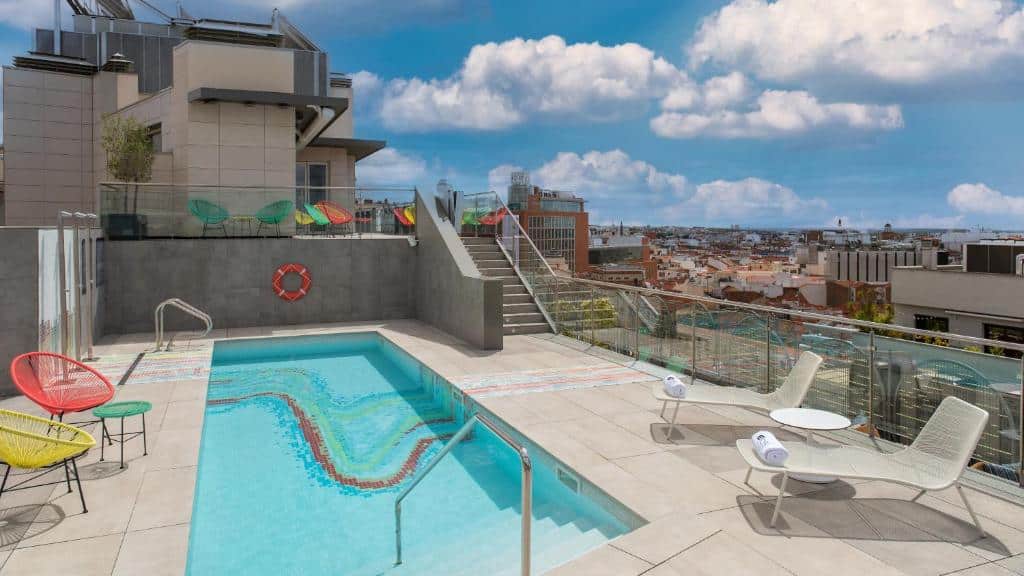 This modern and stylish rooftop space if the perfect mix of city escape and breathtaking views of Madrid's most famous street – Gran Vía. The rooftop pool is accompanied by the WXYZ Bar and the Re:Fuel restaurant and makes for a perfect day of indulgence. To find out more click here.
8. Hotel Indigo Madrid
---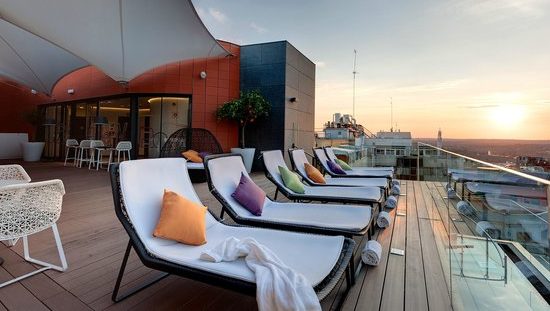 Another hidden jewel on Gran Vía is the rooftop pool at Hotel Indigo! Their plunge pool is styled as an infinity pool with unprecedented views of Gran Vía and Callao. You can enjoy a refreshing drink from their rooftop bar and snack on their delicious snacks while taking in the Madrid sun on one of their lounge chairs. To find out more click here.
9. H10 Puerta de Alcalá
---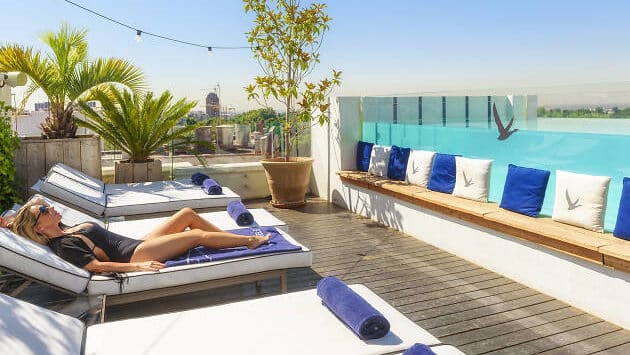 This rooftop pool offers a different view of Madrid from the others. The terrace at H10 Puerta de Alcalá looks over the beautiful archway and rotunda of Puerta de Alalcá as well as the main entry to Retiro park. It's plug pool is perfect for cooling off after enjoy a hot summer day in the city. To find out more click here.
---
---
More Articles About Beaches & Pools in Madrid & Spain: