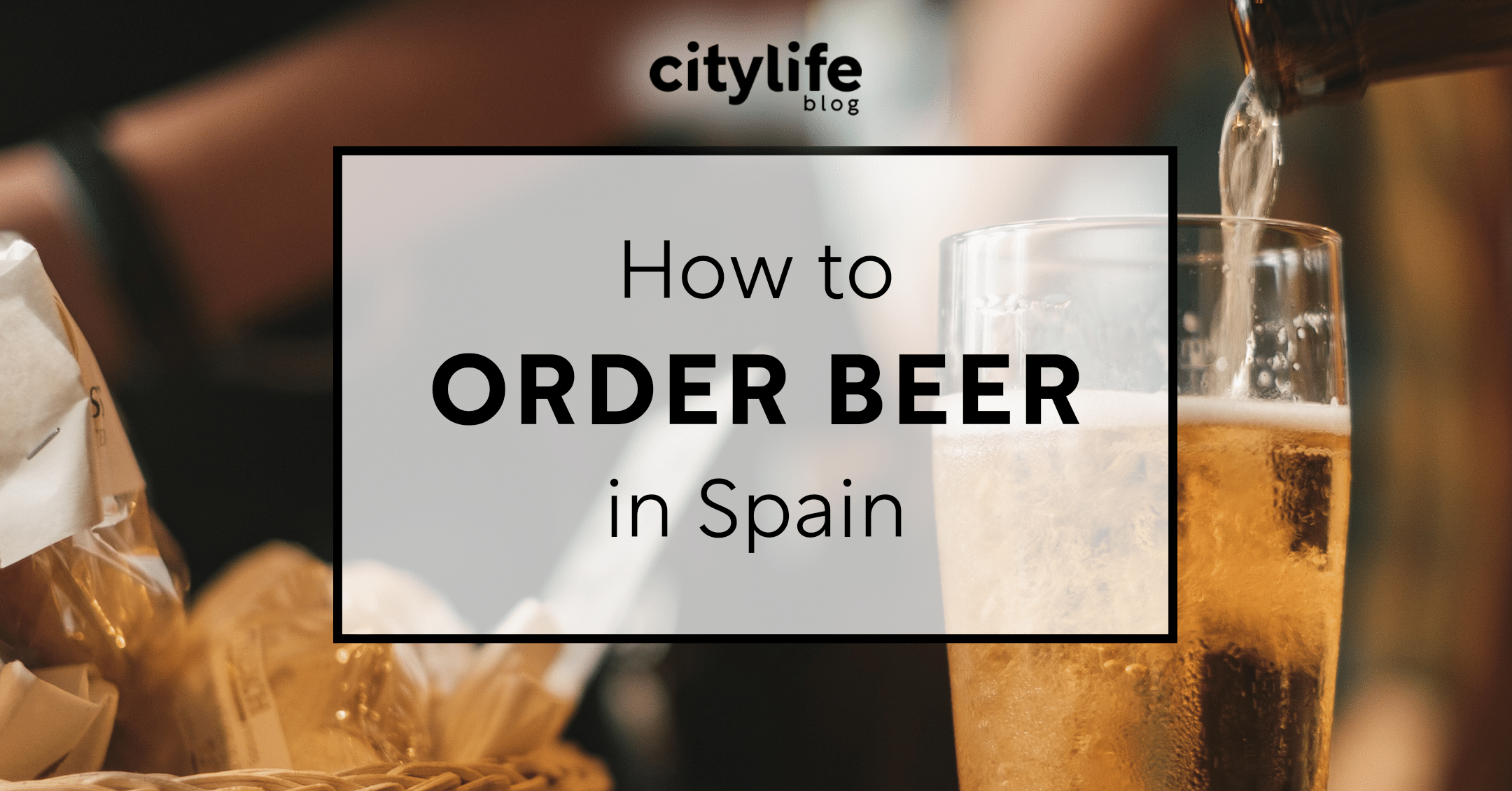 There are a lot of aspects that make up a country's culture – one of them being food and drink. If you're visiting Spain you will quickly discover how much Spaniards love their beer and just how big of role Spanish beer plays in everyday life. In this article, we will outline everything you need to know about beer in Spain. From what to order and how to order it, to the top Spanish brands from Spain's many regions.
Don't forget to also check out our list of classic Spanish cocktails as well as our guide to Spanish made alcohol!
1. Spanish Beer Sizes
---


If you're new to beer in general, you might be surprised to know just how many sizes and type of glass you can order a Spanish beer in. Keep reading to discover all the standard sizes in Spain and how to order them.
Caña – A little less than half a pint, this is the smallest size you can order. Generally they only cost around 1€, but of course this varies based on the quality and reputation of the bar!
Doble – typically double the size of a caña
Botella de cerveza / tercio – usually 12 oz, standard size bottle beer.
Pinta – Spanish word for pint, usually a standard size of draft beer served in a British-style glass
Jarra – A mug or a jar of beer, la jarra is perfect for parties and is the largest size most bars and restaurants will sell. It's normally the cheapest and most practical way to drink if you're all ordering the same thing.
2. Spanish Beer Brands
---
Spain produces a lot of different beer brands across all it's regions. Even Madrid has it's very own brand that locals can enjoy! Keep reading to learn some of Spain's top beer brands.
Mahou
The leading brand on the Spanish market today, Mahou was founded right here in Madrid in 1890, and acquired San Miguel in 2000 to form Mahou-San Miguel. The company values football and established a tight connection to the culture as the official beer of Real Madrid, and some of its most successful products are: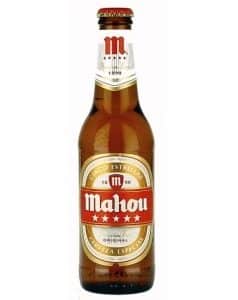 Mahou Clásica
Smooth, light, Mahou Clásica appears in almost every bar and is most likely what you're getting when you order a simple caña of cerveza on-tap. It has a shiny gold color and is made from malt, yeast, hops, and water to produce a classic taste.
Mahou Cinco Estrellas
Pilsen beer made in 1969 from varieties of hops and yeast.
Mahou Maestra
With a 7.5% alcohol concentration and a potent malty flavor, this Lager Extra is Mahou's newest creation, made from barley and double hops. Although bitter, you can taste caramel tones and smell the aroma of ripe fruit.
Alhambra Reserva 1925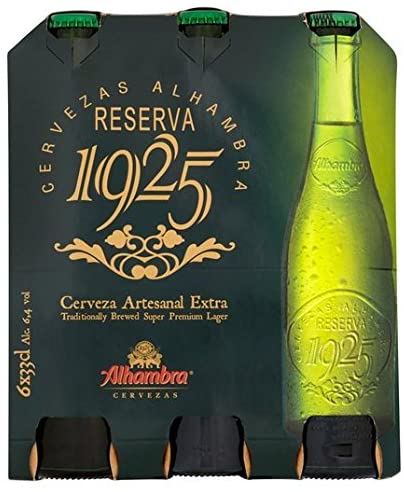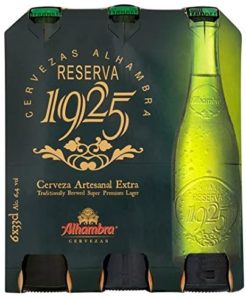 This beer distinguishes itself from the rest, not only because of its appearance in a bright green bottle, but because it comes from Andalucía's first ever brewery, the Cervezas Alhambra brewery. You can taste the hints of orange and caramel in this full-bodied beer.
Estrella Galicia 1906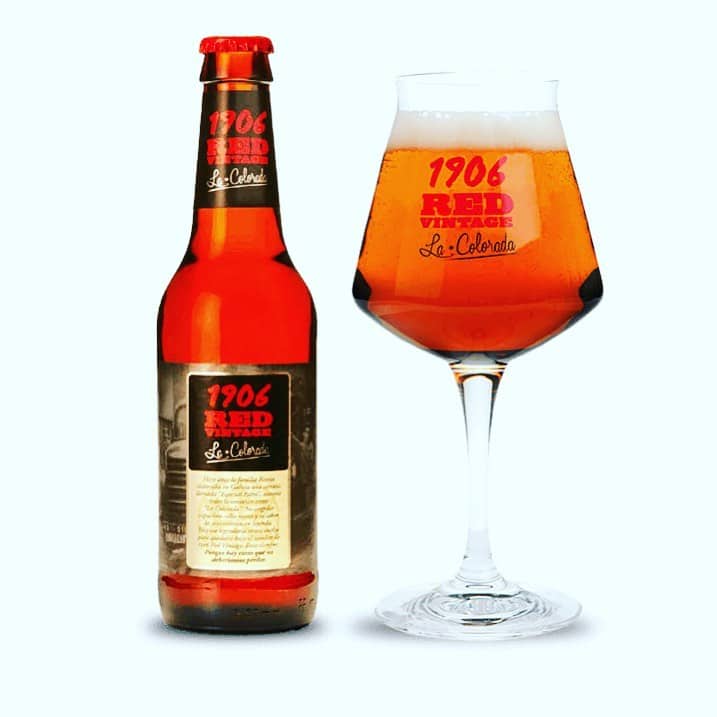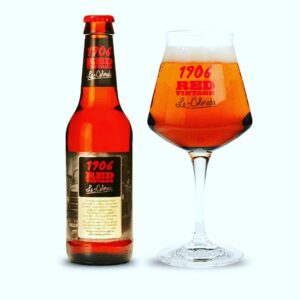 Brewed by Estrella Galicia, this brew is 6.5% alcohol and is of super high quality, although it is on the more bitter side. It comes from the city of La Coruña in the region of Galicia, and takes on a bright gold color and a refreshing hops flavor.
Damm Inedit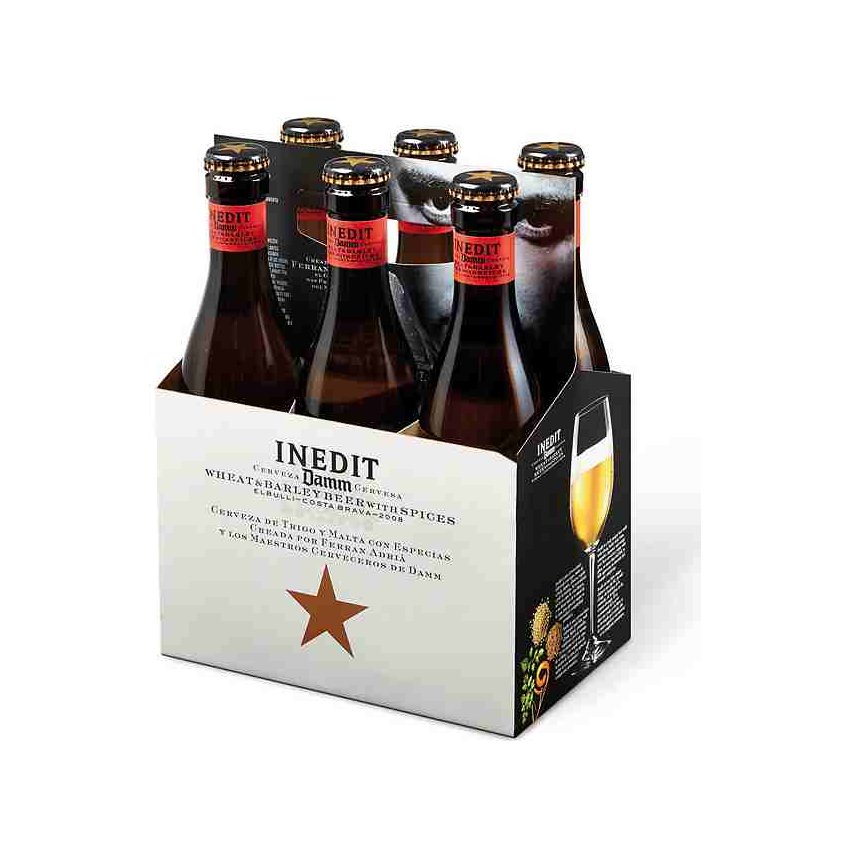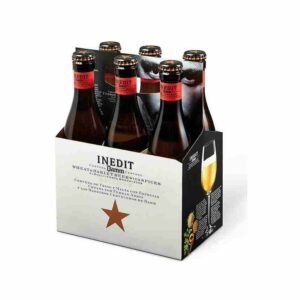 This brand-new brew which translates to "never done before" joined the market in 2008 thanks to its creators, Estrella Damm (estrella, meaning "star," is another Pilsner Lager brewed in Barcelona and sponsored the Emirates Team New Zealand in 2007) and Ferran Adriá, who were determined to craft a beer that compliments the various flavors of typical Spanish cuisine. For that reason, the creamy yet potent Inedit goes great with fish and anything light such most tapas, starters and salads. Made from a combo of barley, malt, wheat, hops, coriander, liquorice and hints of fruity flavors such as orange skins, it is an intense, complex luxury beer you won't want to miss out on during your time in Spain!
Ambar Especial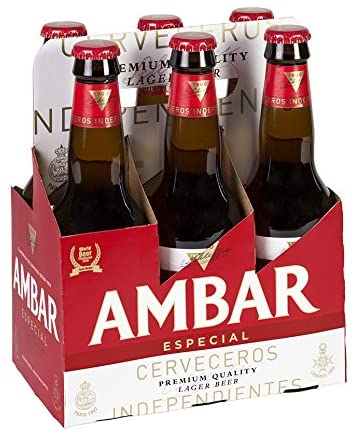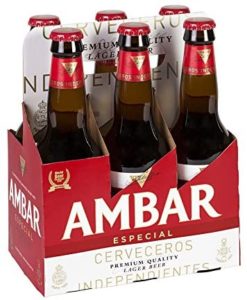 Brewed in Zaragoza, this beer has low fermentation, and its balanced flavors and pleasant aftertaste make it super smooth and addicting! With a shiny, amber color, the beer won a tasting analysis according to a study made by the Organization of Consumers and Users (OCU) in early 2016!
San Miguel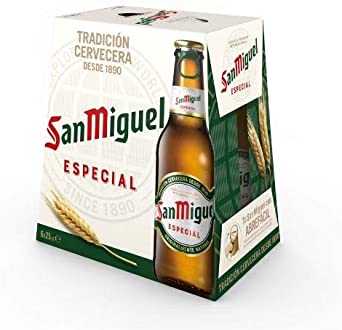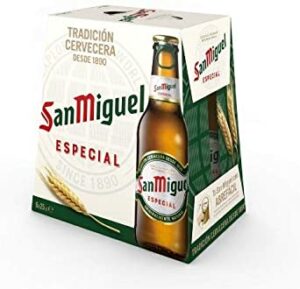 San Miguel is also a super popular brand with many variations such as the classic Pale Pilsen, San Miguel Blu (combines beer and vodka tastes), San Miguel 1516 (mild, bitter beer that appears golden yellow, got its name from the Law of Purity decreed by William IV of Bavaria in 1516, which declared that beer should only be made from malted barley, water, and hops), San Miguel Clara (lemon flavor and low alcohol content), as well as the new addition of the San Miguel Gluten-free.Brewed in Zaragoza, this beer has low fermentation, and its balanced flavors and pleasant aftertaste make it super smooth and addicting! With a shiny, amber color, the beer won a tasting analysis according to a study made by the Organization of Consumers and Users (OCU) in early 2016!
Ambar Export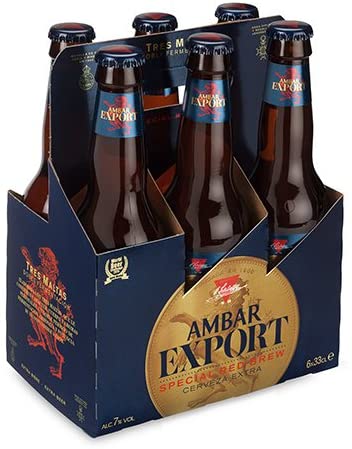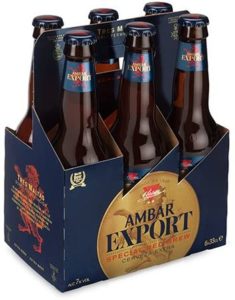 Ambar export is the perfect balance between sweet and bitter, with a creamy texture flavored slightly with dried flower and syrupy fruits. It has a high alcohol concentration and is made from barley and hops.
Cruzcampo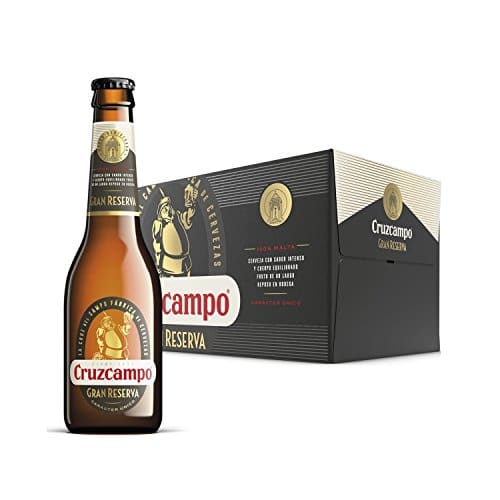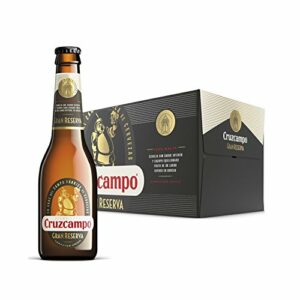 Currently owned by Heineken International, Cruzcampo is the biggest beer producer in Spain. It was first created in Seville, its name translating to "the cross of the field." Cruzcampo's label features a smiling Gambrinus, also known by many folk legends as the icon and creator of beer. Cruzcampo is super popular in Andalucia, however there is a brewery right here in Madrid! Another fun fact is that Cruzcampo is the official sponsor of the Spanish national futbol team. The most common types you'll see are the basic Cruzcampo Pilsen, the Cruzcampo Gran Reserva, a strong lager that won the 2009 World Beer Awards, as well as the shady and non-alcoholic types. Also be sure to try the limited edition Cruzcampo Navidad, which is only available around this time once a year!
Moritz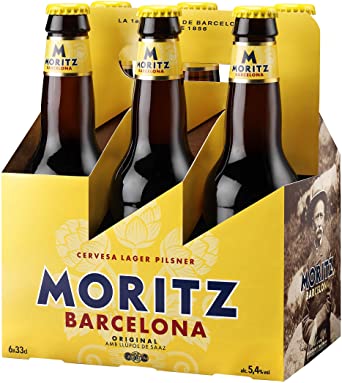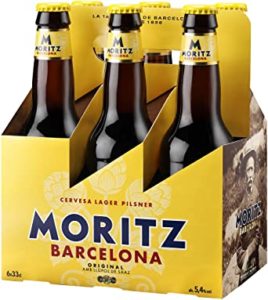 The only beer whose label is written fully in Catalan, this brand is brewed in Barcelona and has become super popular among the general Spanish population. The original brew, with the label simply reading Moritz, is a pale Pilsner Lager made from barley, Saaz hops, and the mineral water from the Font d'Or spring in Montseny. If a soft, pleasant beer, sounds nice, but a stronger Lager with a higher alcohol concentration (7.2% roughly) sounds even better, look out for the Extra Premium Lager known as Moritz Epidor. Under 18 or just want to enjoy the refreshing taste of Moritz? Try the alcohol-free version Aigua de Moritz.
3. How to Order Beer in Spanish
---
Now that you know what size of beer you want and what brand you'd like to try, it's time to learn how to order beer in Spanish! Below we've outlined the most common phrases you can use when ordering a beer in Spain. Just take these phrases below and insert the size, amount and brand that you're looking for!
I want a beer please. – Quiero una cerveza por favor.
One [size] of [brand] please. – Un(a) [size] de [brand] por favor.
Do you have [brand]? – ¿Tienen [brand]?
Please bring me a [size] of [brand]. – Me puede traer un(a) [size] de [brand] por favor
Please bring me another one. – ¿Me puede traer otra por favor?
Do you have beer on tap? – ¿Tienen cerveza de grifo?
What beer do you have on tap? – ¿Qué cerveza de grifo tienen?
Do you have [brand] on tap? – ¿Tienen [brand] de grifo?
---