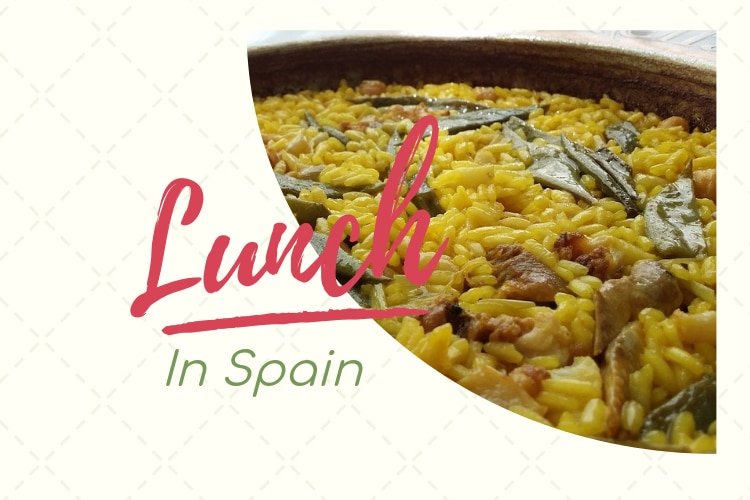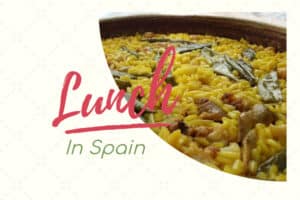 In Spain, we eat lunch much later in the day than most other cultures, that is, between the hours of 2:00 pm – 4:00 pm. If you're an international student, you may be used to eating lunch much earlier in the afternoon, probably around 12:00-1:00. The people of Spain eat several different snacks throughout the day after their typically small Spanish breakfast, so they can make it to their late lunch without being too hungry! Lunch is also the largest and most important meal of the day in Spain. Due to this, many of the traditional plates that Spaniards consume are made for lunch. In this article, we'll detail some of the most traditional Spanish plates you can eat, as well as several restaurants that serve some of the most traditional Spanish food in Madrid. Keep reading to find out how to eat your lunch (or "comida") like a real Spaniard.
Traditional Spanish Lunch Food
El cocido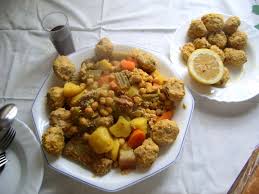 Cocido is one meal that symbolizes Madrid. This stew is made with chickpeas, vegetables, sausage, and other add-ons that the cook may choose. Originally, this meal was one that the lower class would eat quite frequently, as it can be easily made with cheap ingredients. However, over time, it was added to the menus of restaurants and the upper class began to consume it as well. The traditional way to serve this meal is by separating the broth created from cooking the ingredients together and serving it as a soup to begin, then serving the vegetables and chickpeas together, and finally serving the meats.
Huevos rotos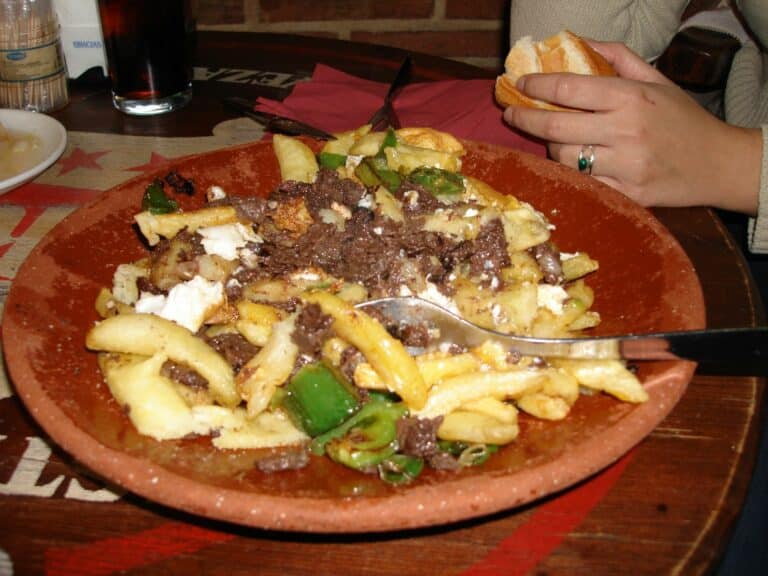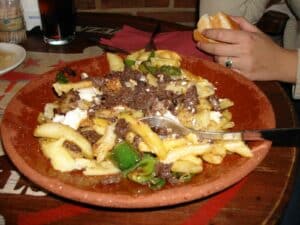 This meal consists of fired eggs with potatoes and ham. You'll find this meal consists of one of the main foods that Spain is famous for: ham ("jamon"). Unlike other countries, the Spanish do not eat fried eggs for breakfast, rather, it is more typically found in lunch meals. You'll find this unique mixture of eggs, potatoes, and ham to be quite tasty!
Salmorejo y gazpacho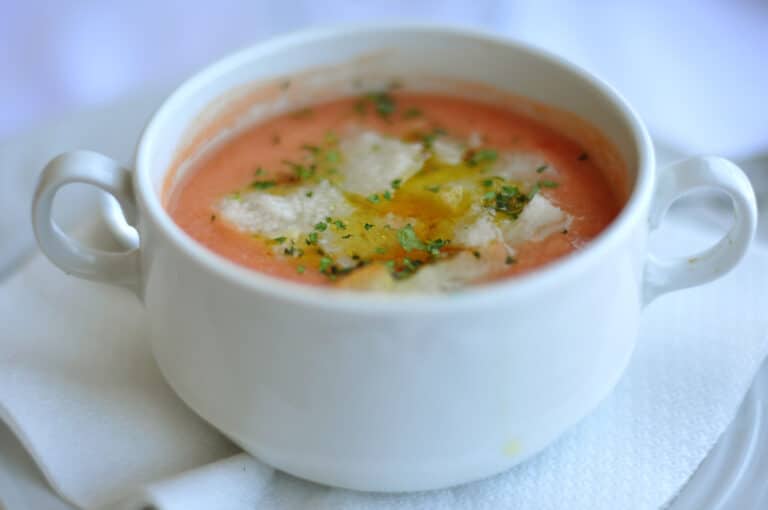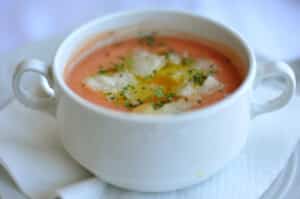 These are two of the most famous Spanish soups out there. Due to their many similarities, its always a competition between the two to see which is best! Gazapacho is a cold soup with tomatoes, peppers, garlic, and onion. On the other hand, salmorejo doesn't have peppers, but rather has bread crumbs on the top. This meal can be eaten in Spain as a tapa or as the main dish!
Pisto manchego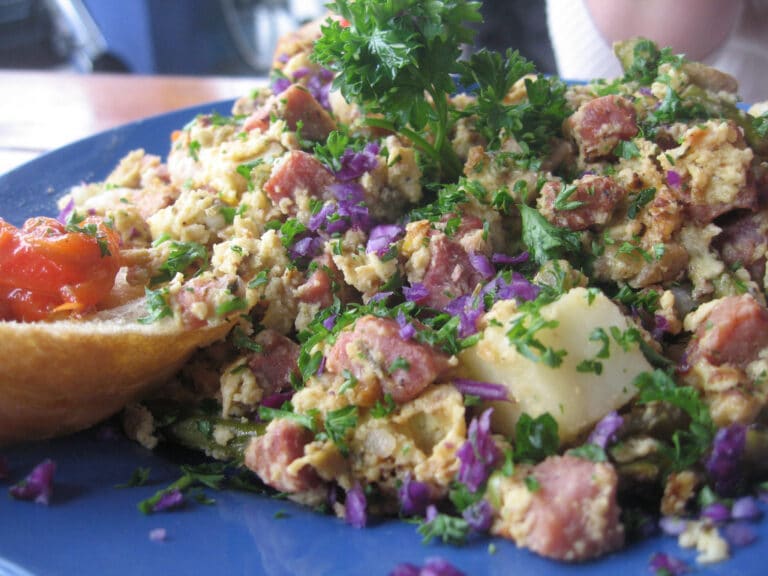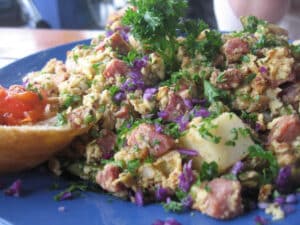 This traditional Spanish plate is quick and easy to make. Pisto manchego consists of fried onions, zucchini, egg plants, and tomato. Often times, this meal is accompanied with eggs. You can make this meal in the comfort of your own home in minutes, however, if you want to go out to eat, you'll find this traditional Spanish plate in many restaurants across the city.
Paella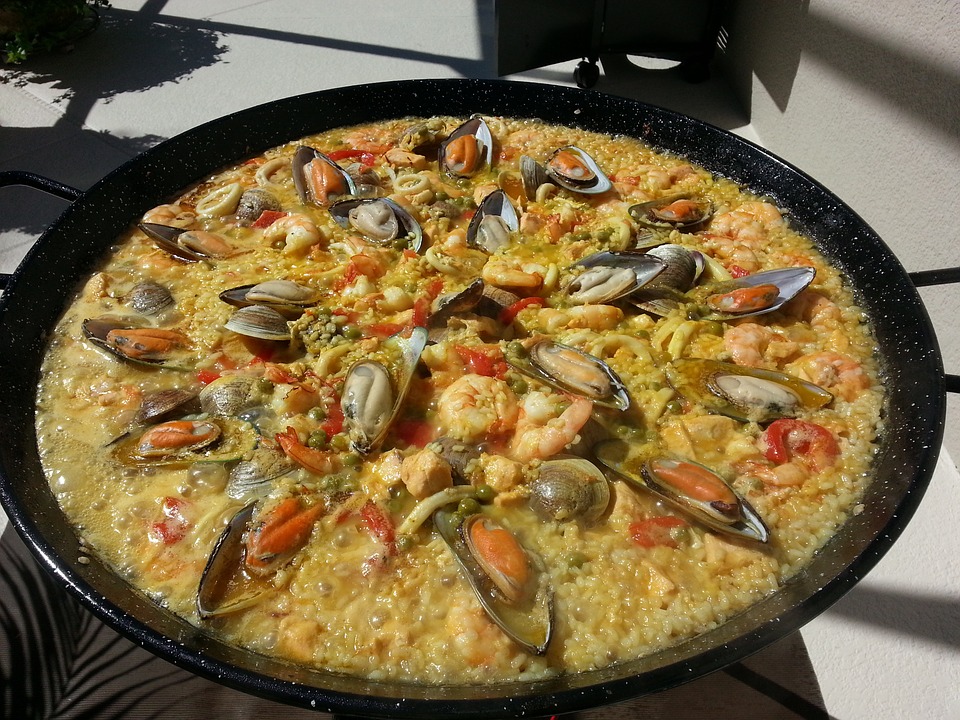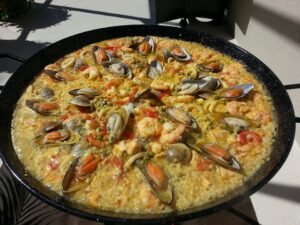 Out of all the famous Spanish dishes, you've most likely heard of paella. This dish is famous across, not only Spain, but the world. Enjoy this rice dish with different vegetables, types of fish, and chicken. In Spain, fish is typically used in this dish, but if you aren't big on seafood, then just order it with chicken! And if you happen to be vegetarian or vegan, then just order you paella with only vegetables. There's paella out there for everyone to enjoy.
Migas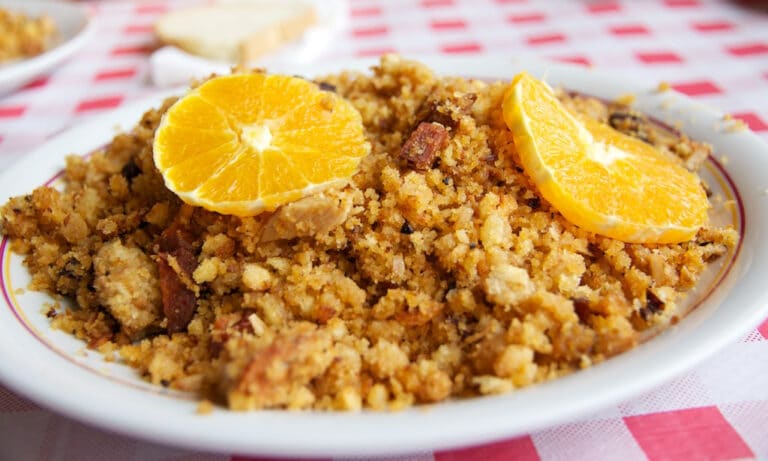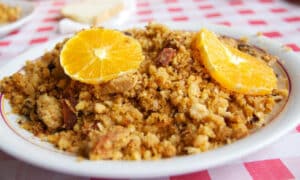 A dish traditionally eaten by the shepherds of Spain, migas is made of bread crumbs with peppers, bacon, and sausage. Originating in Zaragoza, this is another example of a dish that was traditionally eaten by those of the lower class, as it can be made cheaply and easily, but worked its way into restaurants and the diet of the upper class. Despite its less than aesthetic appearance, you'll find its very delicious.
Menu del Día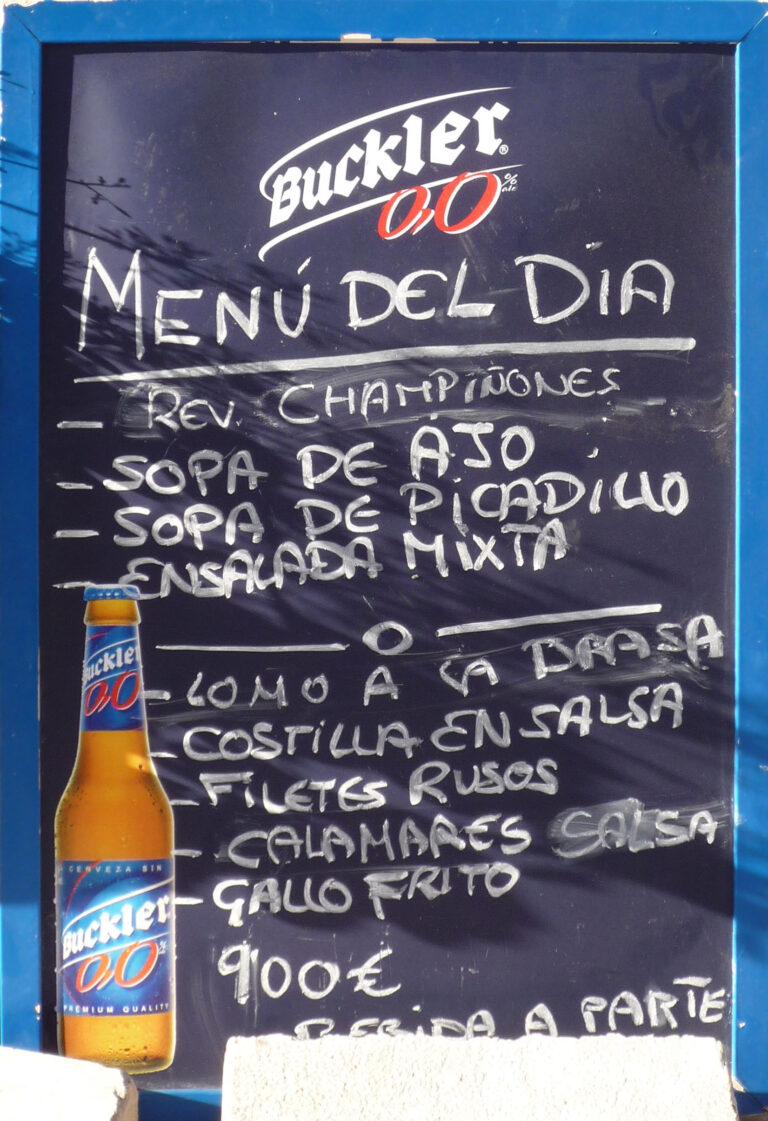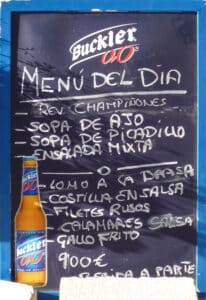 The Menu del Día (Menu of the Day) is an option for lunch that is widely available across Spain, and Madrid. If you walk through a busy area during lunch hours, you'll notice most of the restaurants will have signs outside that read "Menu del Día" with a few options for "primeros, segundos, postres, y bebidas." If you order an appetizer (primero), main course (segundo), dessert (postre), and drink (bebida) off the options you're given for the Menu of the Day, you'll get an amazing deal. Most of the locals opt to eat from the Menu del Día when they get lunch at a restaurant due to its affordability (from 8€ to 15€).
Traditional Lunch Foods: Restaurant Guide
If you simply walk outside you're hotel or apartment, you'll be likely to find several different places where you can try traditional Spanish food, as the city is full of amazing places to eat. However, if you want to try a few of the top recommendations of where to eat in the city, follow this curated guide of some of the most reputable and most highly praised and reviewed traditional Spanish food restaurants in the city. That being said, some of these restaurants are on the more expensive side, so save these for a special occasion, if you're on a budget!
El Sur de Huertas (€)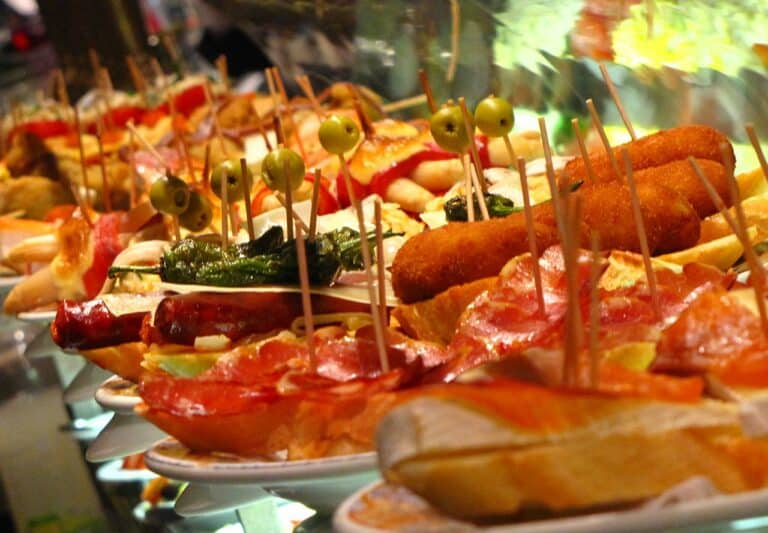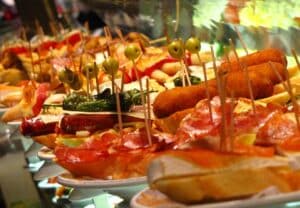 El Sur de Huertas is a chain restaurant across Madrid that sells traditional local Spanish food and tapas. This restaurant is one of the most popular and enjoyable in Madrid. No matter which one you go to, you'll find that it'll always be packed. Here you'll find delicious seafood paella. It is also highly affordable, with prices for tapas starting at just 5€.
Casa Lucio (€€€)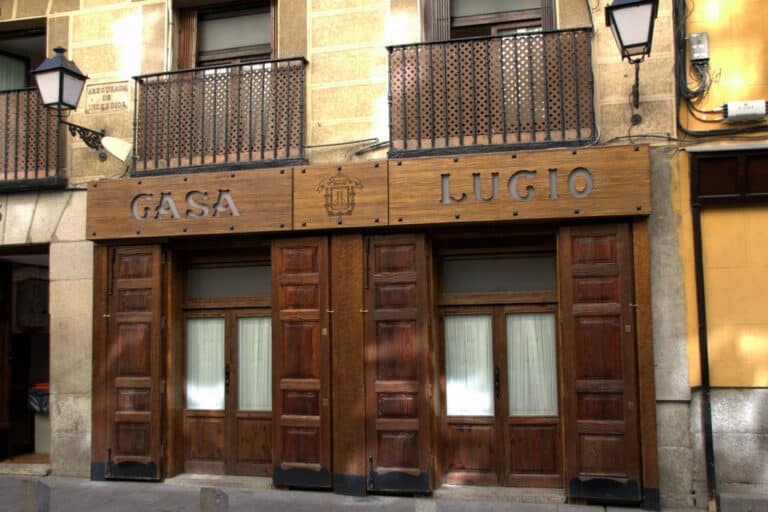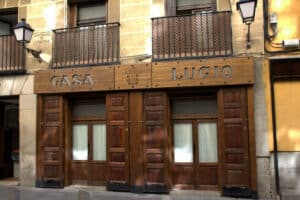 This restaurant is famous because its where a lot of celebrities go to eat when they're in Madrid! That being said, Casa Lucio is an expensive restaurant to eat at. Here you'll find some of the most delicious huevos rotos you've ever had. They also have great cocido here, so make sure you try it. Be sure to check out this restaurant and maybe you'll run into a celebrity or two while you're there!
Restaurante Sobrino de Botin (€€€)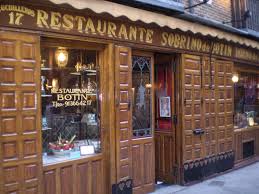 You'll be surprised to hear that the longest running restaurant in the whole world is found in Madrid! According to Guinness World Records, Restaurante Sobrino de Botin has been open since the 1700s and is still going. Here you'll find some of the most traditional Spanish food in the world, due to the many years they've had to perfect their recipe.
Casa Paco (€€)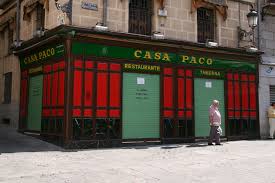 Head to Casa Paco if you want to escape the crowds of tourists that may lurk at other traditional Spanish restaurants. At Casa Paco, the pisto is one of their specialties that you must try. Additionally, the specialize in steak, and although that isn't an extremely traditional Spanish meal, it is still quite delicious here!
Casa Manolo (€€)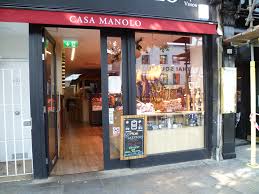 If you want to visit a small and cozy family run restaurant, then head to Casa Manolo. This restaurant is run by a family and features a main picture of the owner's grandmother who created the business. The cocido here is to die for, as well as the specialty salads they make.
I hope that this food and restaurant guide to some of the traditional foods in Madrid has helped give you an idea on what and where to eat! If you're wondering what to eat for breakfast, then click here! If you're looking for vegetarian or vegan guides, then you're in luck, we have those too. If you don't see any restaurants to your liking, then our Tapas Tours might be a cool idea to explore. We'll take you to several different restaurants around the city, and you can decide for yourself which is your favorite. And finally, if you want to learn how to make some of these dished yourself join our cooking classes! Check the next available date here. Enjoy exploring Madrid!
---