Carnival in Madrid: What to See & Do!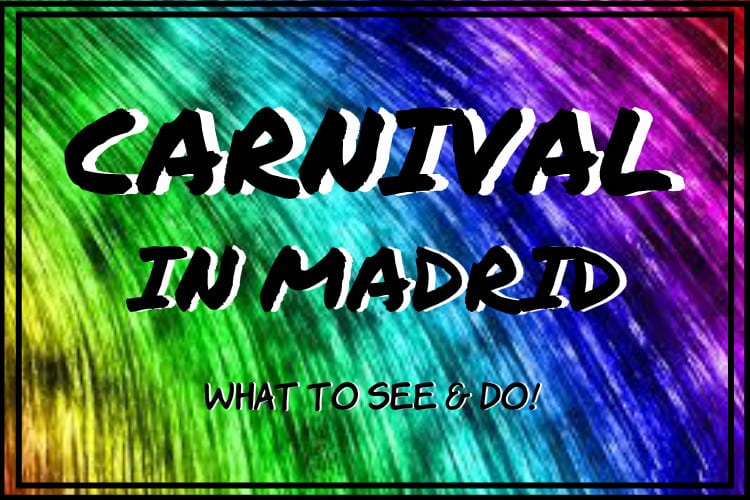 Spain is the life of the party. Throughout the year, there are numerous festivals and celebrations giving everyone another excuse to let loose. Out of all of these festivals, the main one you don't want to miss is Carnaval. The Carnaval festivities that occur towards the end of February and beginning of March are the wildest ones yet. These celebrations are a Western Christian tradition in Europe, and the country of Spain plays hosts to the best and biggest Carnaval celebrations out there. Madrid's tradition of Carnaval was temporarily wiped out when dictator Francisco Franco took control of Spain after winning the Spanish Civil War in 1939. Around 40 years later, in 1976, Carnaval was revived and the joyous celebration returned to the streets of Madrid.
If you are planning on spending this upcoming Carnaval season in Spain's capital, here is what you need to know…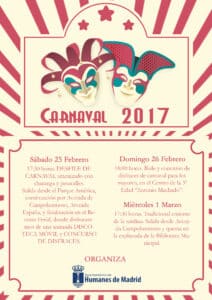 Celebrations of Carnaval in Madrid 2017 begin on February 24th and end on March 1st. The main celebrations for Carnaval will be held in the District of San Blas–Canillejas, northwest of Madrid's center. This huge event will host an array of fun activities for all ages throughout the weekend, like workshops, dance, theatre, music, and much more. Some workshops will offer you the chance to make your own mask! Fan of chocolate AND seafood? There will be a cooking competition for the best chocolate sardine, which is this year's official Carnaval dessert. The main event will consist of a colorful and cultural Carnaval Parade consisting of loud music and dance. The parade will end in El Paraíso Park where people can stay to enjoy an evening of music and concerts.
Check out the specific schedule of events in San Blas–Canillejas below:
For information and times for the workshops, click here.
Saturday, February 25th
The multicultural Carnaval parade is a yearly tradition for Carnaval. This year, the parade will start at 5 pm at the Antonio Machado Cultural Centre and end at 7 pm at El Paraíso Park. The parade will consist of over 20 participants. Click here for more info.
Every year, the Carnaval opening speech is prepared by a popular Spanish figure. This year, the opening speech will be given by well-known rapper El Langui at 7 pm.
The Concerts will begin at 7:30 pm in El Paraíso Park. Click here for more.
Sunday, February 26th
Manteo del pelele – a traditional tribute to famous Spanish artist, Goya, based on his famous painting El manteo del pelele. Click here for more info.
A gathering of street musicians, singers, and entertainers. Click here for more info.
Salsódromo Live, an event filled with music, DJs, and salsa dancing, will be held at 7 pm in El Paraíso Park Auditorium. Click here for more info.
Want to stay in the CENTER for Madrid Carnaval? 
There are plenty of other major events you can take part in without having to travel too far!
Masquerade Ball in Plaza Mayor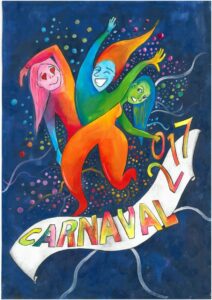 On Saturday, February 25th, the Plaza Mayor will be filled with music, dancing, and costumes to celebrate Carnaval in the year of its 400th anniversary. This will be a lively and fancy event you definitely don't want to miss!
Carnaval Post: Masked Ball at Círculo de Bellas Artes
On Saturday, February 25th, the Círculo de Bellas Artes will hold its traditional masked ball. Beginning at 11 pm, this elegant evening will be filled with energetic music provided by top DJs and excellent bands, including six-time Grammy nominated musician DJ Carlos Jean! 
Burial of the Sardine + "Gigantes y Cabezudos" parade
The final events of the 2017 Carnaval season, held on Sunday, March 1st, are important traditions for Spain's capital. These events are based on Spanish history dating back to the reign of Carlos III, and will take place near Principe Pio and Casa de Campo. This is the perfect way to end Carnaval like a true Spaniard. For more information on the fun history behind the events, click here!
– Justina