For the Spanish version, please click here.
Last but not least is our fourth installment on Madrid's neighbourhoods. If you haven't read up on the other barrios in the city, check out part1, part2 and part3. Here are the last two neighbourhoods you should know about when getting to know the city and deciding on where you want to live
Retiro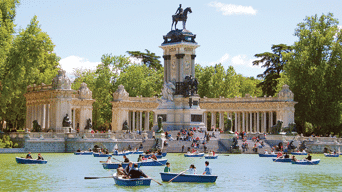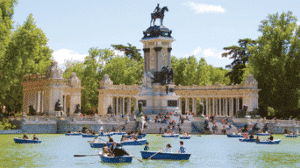 The beautiful Parque del Buen Retiro is Madrid's equivalent to Central Park, but also refers to the residential neighbourhood that borders it to the east. Life in this barrio is a bit removed from the comings-and-goings of the center, and so is very traditional and laid-back; it's an upper-middle-class area with lots of older couples and families with kids, most of whom take advantage of their proximity to the park. Inside the park you'll find fountains, flowers, galleries, a glass palace, a lake where you can rent boats to row, and tons of locals and visitors lounging on the benches and on the grass. Many of the neighbourhood's buildings are old palaces and boast elegant architecture, and are surrounded by high-end restaurants and typical Spanish bars and taverns. At the intersection of the major Calles Alcala and Goya you'll find a large and varied shopping district with a little bit of something for everyone. This neighbourhood, though still considered very central, is also further away from the busy tourism of Sol and so is a great area to explore and even better for living as the Spaniards do.
Metros: Retiro, Príncipe de Vergara, Ibiza, Goya, Sáinz de Baranda (Lines 2,4,9)
Salamanca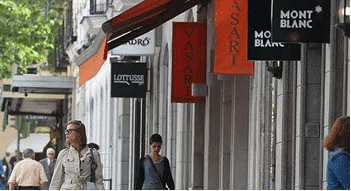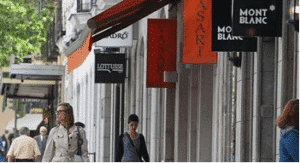 Just north of Retiro and east of Chamberí is barrio Salamanca, the most upscale in Madrid. You can think of it as the city's equivalent to the Upper East Side and the two main streets are Serrano and Velázquez. Much quieter than the other barrios, you will find mostly designer, high-end stores and gourmet restaurants, as well as Madrid's prime real estate and some beautiful architecture. As for nightlife, there are plenty of trendy terrazas and chic lounges, as well as a few expensive, high-end nightclubs. Not to be dissuaded, here you can also find the family-owned shops and small Spanish taverns typical of the city and at reasonable prices. Most residents are upper-class families and older couples who enjoy strolling the streets in the evenings and having a caña at their local bars. You'll also find a large number of expats who have moved to the city for professional reasons, as it also forms part of the business district. The most famous luxury shopping area in the neighborhood is sometimes referred to as the Golden Mile, where you can find everything from Versace to Chanel and is worth exploring even if you're only window shopping.
Metros: Príncipe de Vergara, Goya, Serrano, Velázquez, Lista, Núñez de Balboa (Lines 2, 4, 5)
Thanks for reading and we hope you've enjoyed our insider's look at Madrid's neighborhoods! If you want to have even more details about the different neighbourhoods of Madrid, simply check out Citylife's Madrid Essentials guide!
Also check out our free map of Madrid including a metro plan by clicking here! Those of you who are about to arrive, don't forget to reserve your free Madrid Starter Pack. Pick it up when you get here and take the opportunity to get all your questions answered for free! Read more here.
– Melanie