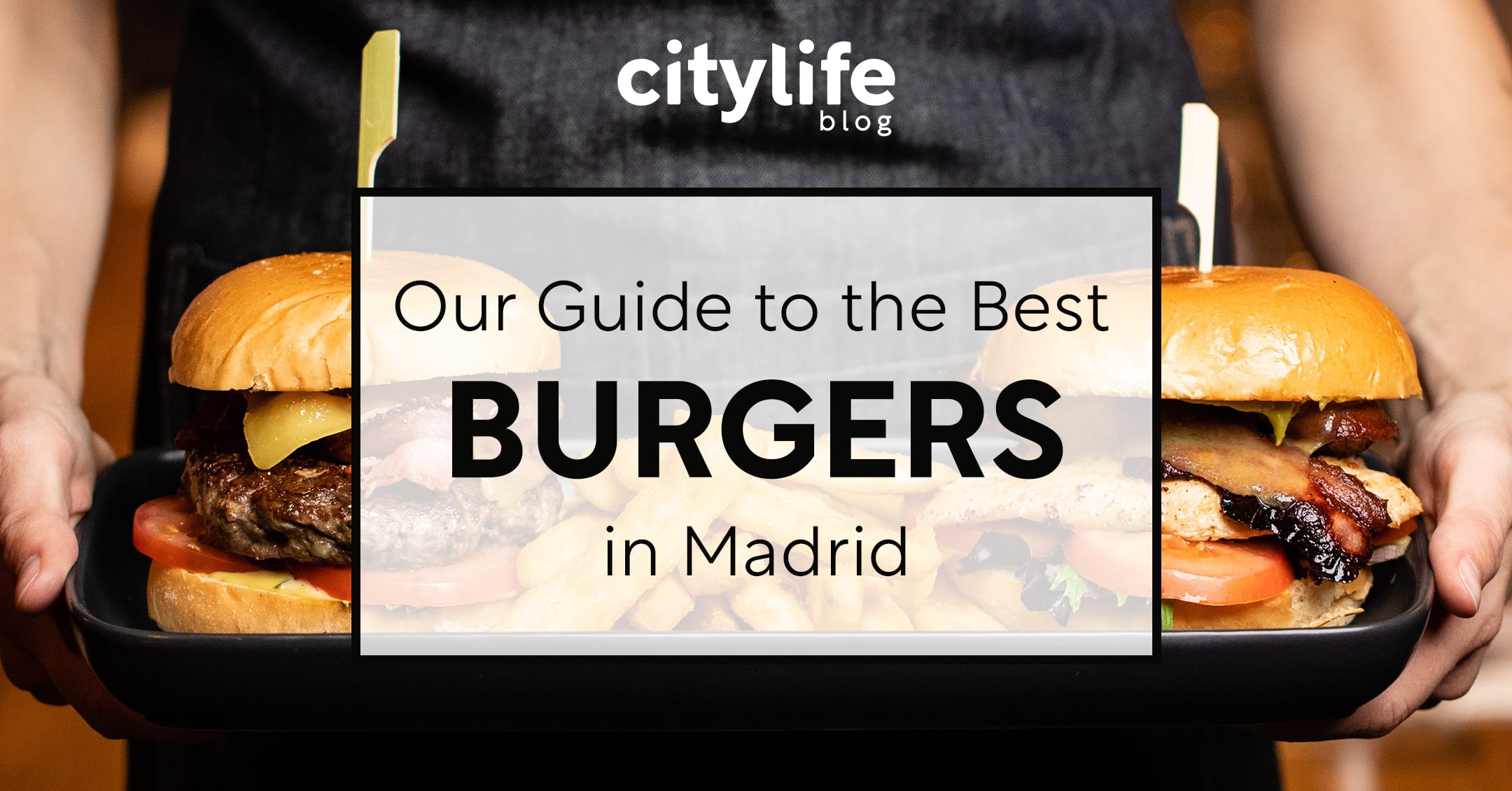 Spanish food is good and all, but sometimes you just need to sink your teeth into a big juicy burger. Whether it's an American classic cheeseburger, or something with a twist, a burger is almost always a good idea! If you're looking for the best burgers in Madrid then look no further. Continue reading below for our top picks!
Once you've tried all the amazing burgers in Madrid, make sure you check out even more articles about Madrid's delicious food & drink options!
1. Goiko Grill
---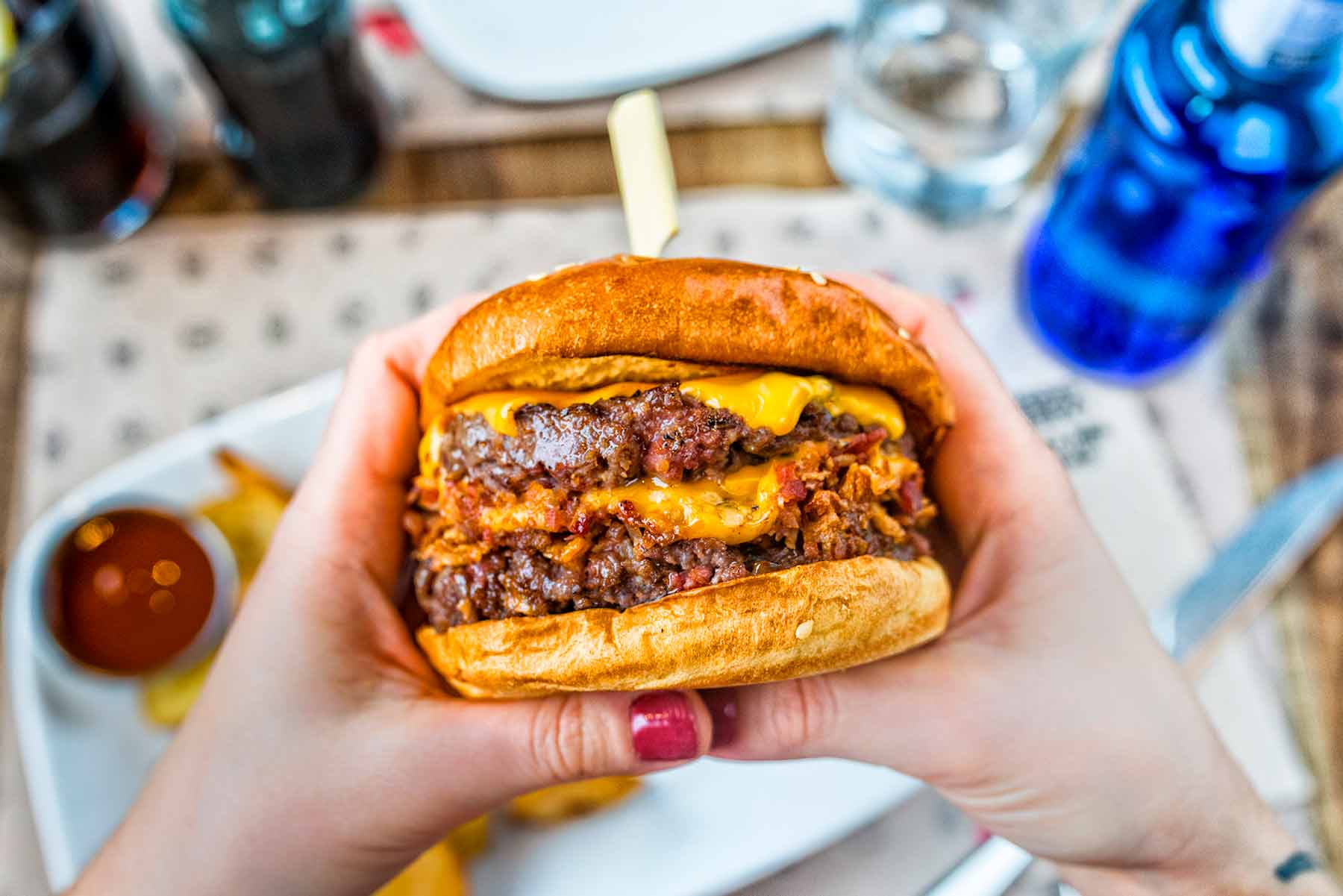 We are in love with Goiko Grill and its hamburgers. No one had revolutionized the hamburgers´ world as much as them when they first arrived, always full! The only bad thing about Goiko Grill is that it gives us the feeling that not all restaurants are the same, there are some awesome ones and others not as cool. In any case, we stay with their "Kevin Bacon", a savage combination of meat and bacon that leaves you baffled every time!
2. New York Burger
---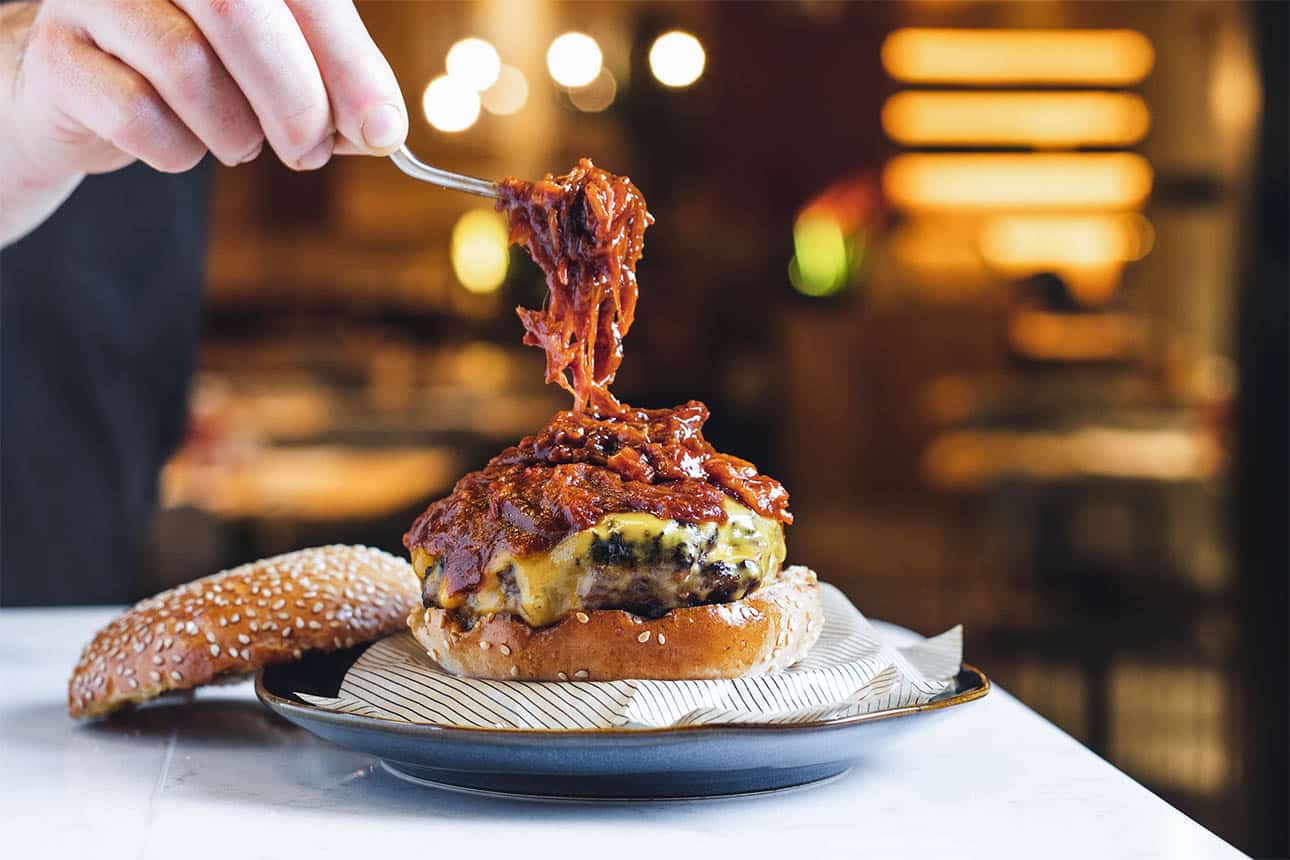 You just HAVE to go to this place: New York Burger. Rich in delicious, smokey flavours, all named after famous NYC areas – this place is a true American dream. You can choose from 16 amazing burger options and six possible sides, with one included in the price. They even offer more famous American dishes (sandwiches, ribs & co.) and also if you're vegetarian, you can get happy here. You can currently enjoy New York Burger in five different places in Madrid (even though it feels like you will also pay New York City every time a quick visit).
3. Steak Burger
---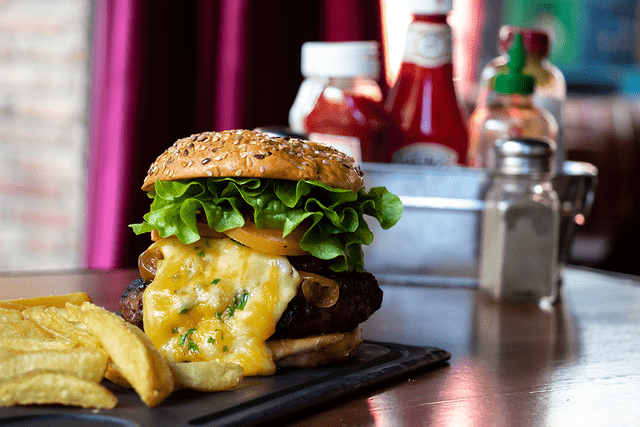 If it has "burger" in the name it's got to be good, right? Steak Burger is a popular restaurant chain that offers great quality, artisan style burgers in a modern yet comfortable location. You can even try their specialty – a 200 gram piece of meat that has been aged for 45 days!
4. Alfredo's Barbacoa
---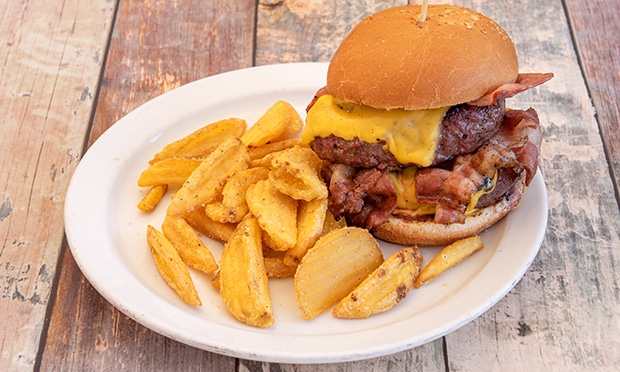 Considered the best in Madrid by many, these are some 160gr or 250gr very famous hamburgers (available in double size) grilled in an American style with little bread and lots of meat! The price per hamburger is about 10€. Alfredo's Barbaco has three locations in Madrid and it is better to book in advance. Also, if you are celiac, there are great options for you at the Conde de Aranda 4 location!
5. Burger Joint
---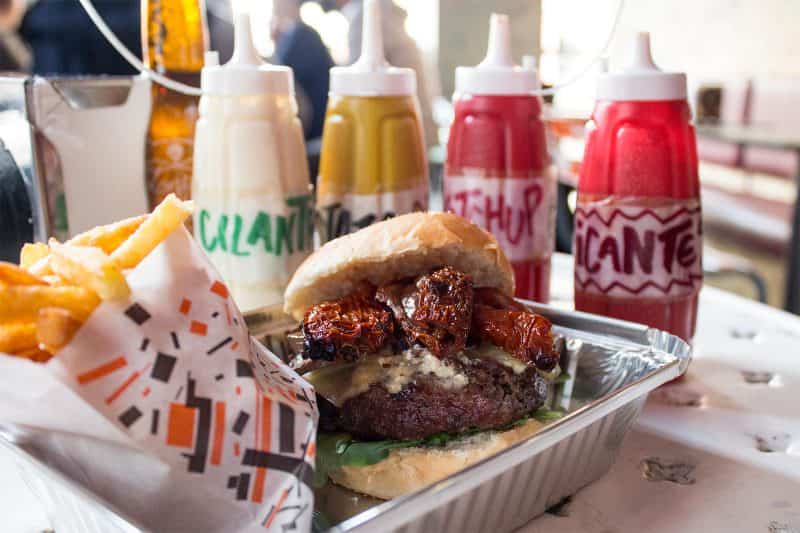 When looking for the best burger joint, you, of course, need to go to – Burger Joint. This amazing place in the Chamberi district offers some really incredible combinations. Burger Joint uses the freshest ingredients from local businesses and even its sourdough bread is homemade. Top tip: if you consider eating before 5pm, get the "Menu Medio Día". For only 13€ you can get a combo of a burger, fries, a drink and a brownie.
6. O'hara's Irish Pub & Restaurant
---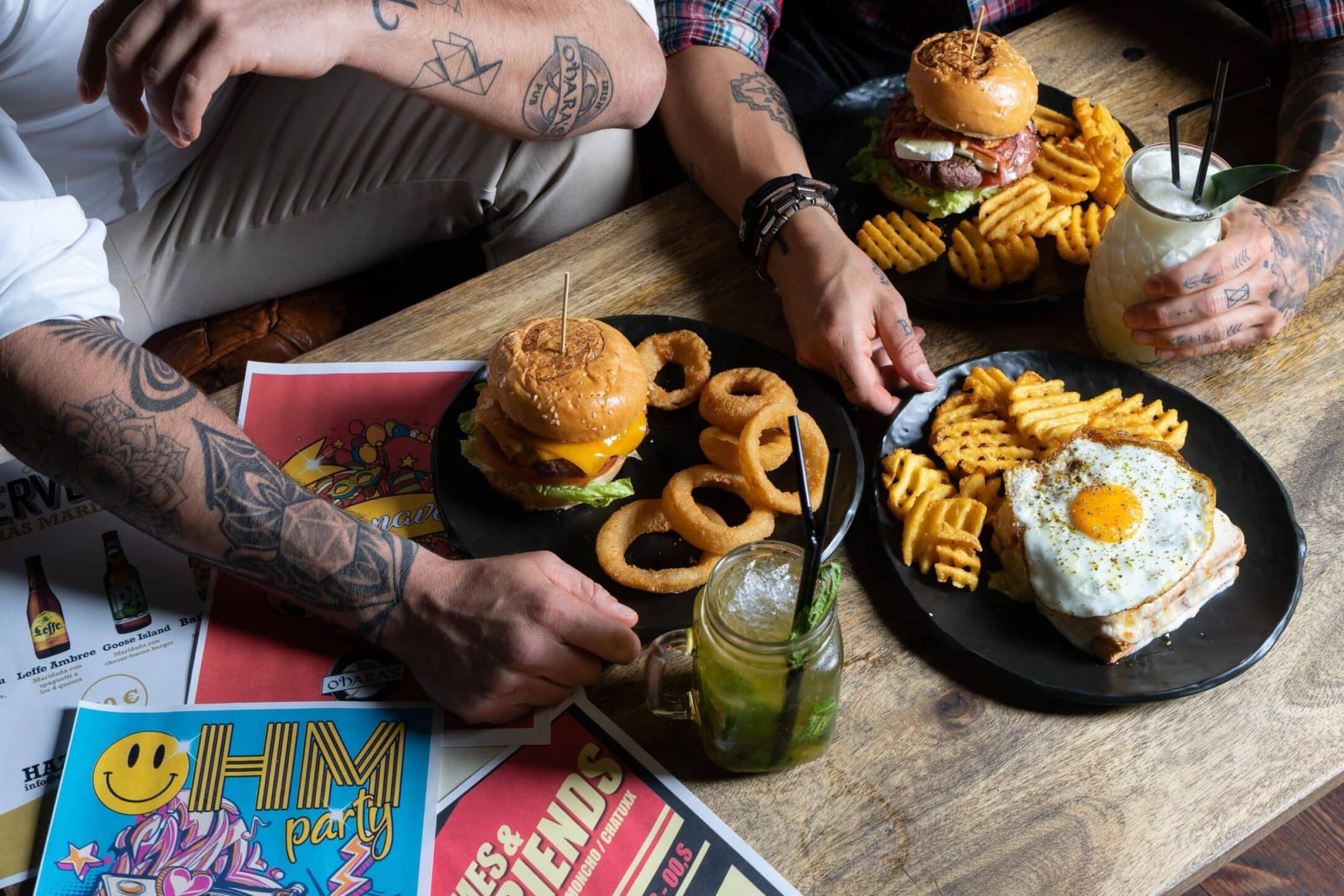 O'hara's (Vía de las Dos Castillas 23, Pozuelo de Alarcón, Madrid) has all the main qualities of a great Irish tavern. It counts with 52 brands of national and international beers, gins menu, cocktails and special coffees. Never forgetting its great variety of spectacular hamburgers, of course! When the quality is maximum in hamburgers, the classics never fail. That's why we recommend that you try the Classic Hamburger and, in addition, you can accompany it with the famous O'hara's fries or the delicious onion rings. You can even enjoy 8 giant screens to see all kinds of sports!
7. Mad Restaurants
---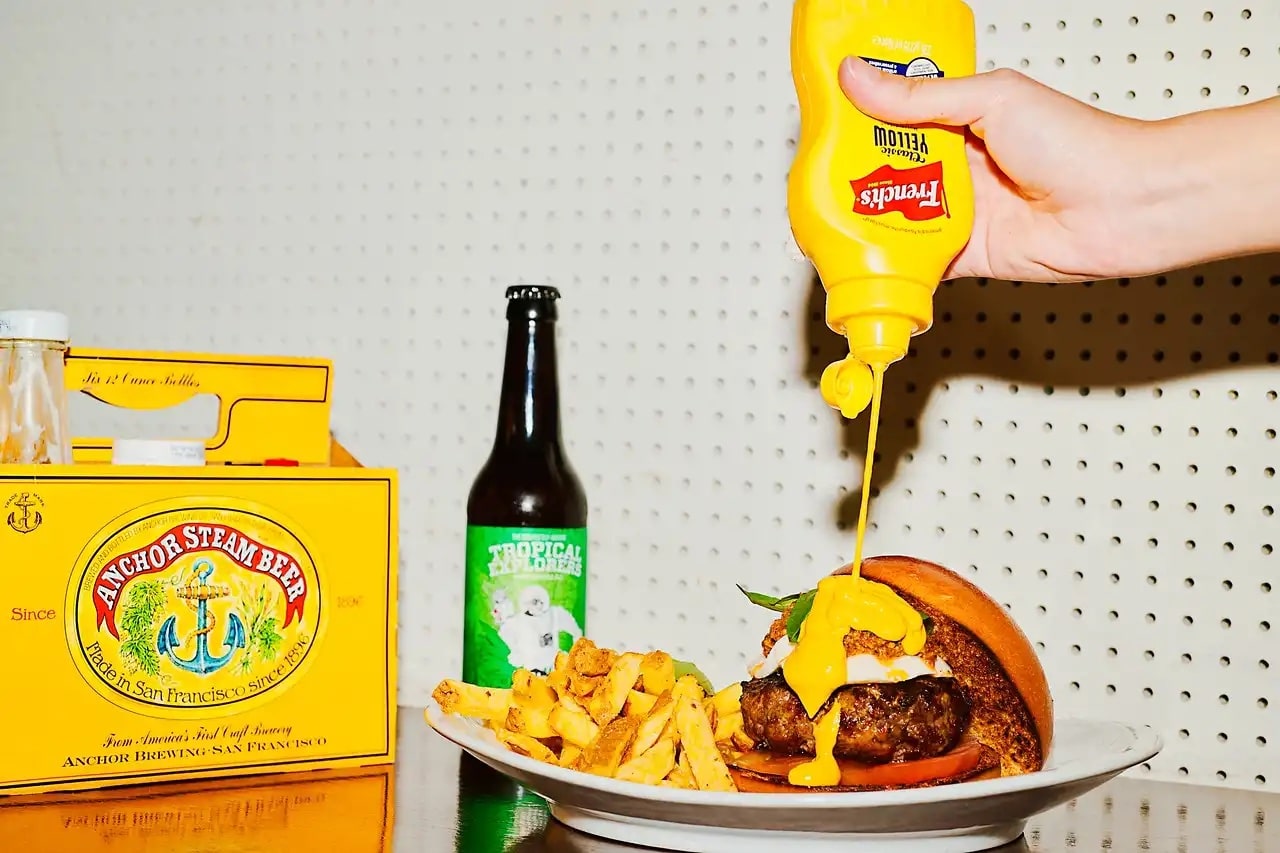 There are two other very "mad" places, worth checking out: Mad Cafe & Mad Grill. Mad Cafe is actually one of the first hamburger restaurants in the city, already making burgers for ten years. Mad Grill has two locations in Madrid, one in the Alonso Martinez district and one in Cuzco. All their signature burgers are homemade – also their craft beers. Inspired by the true American cuisine, you can get a burger plus a side for somewhere in between 9 – 12.50€.
8. Revoltosa
---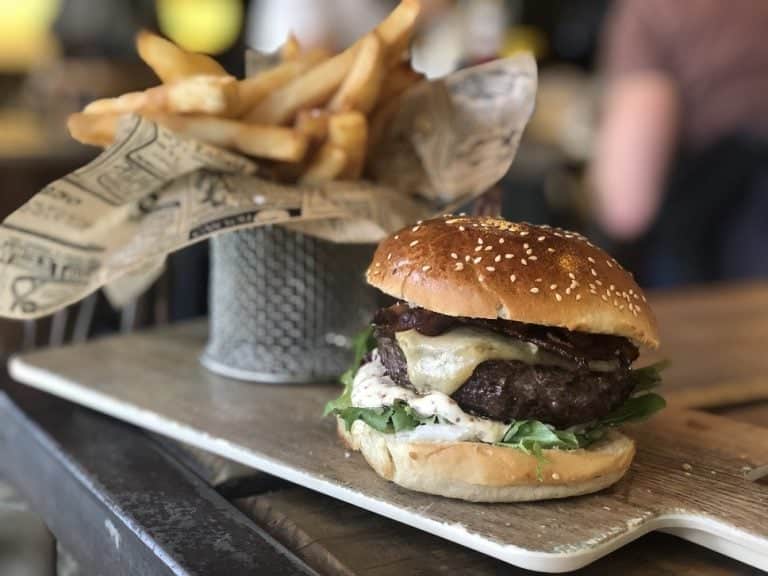 Revoltosa (Plaza del Rey, 4 and Calle del Prado, 4) is a tavern popular amongst locals, whom had already fell in love with its hamburger «Castiza». This year though, they keep surprising its public with «La Chulapa»: it is a 100% beef hamburger with 'Idiazabal' cheese, bacon, crispy onion, old-fashioned mustard and tomato jam. You can try it for only 10€ in both its stores which, fyi, have received several awards!
9. Sublime Dreams Food
---
---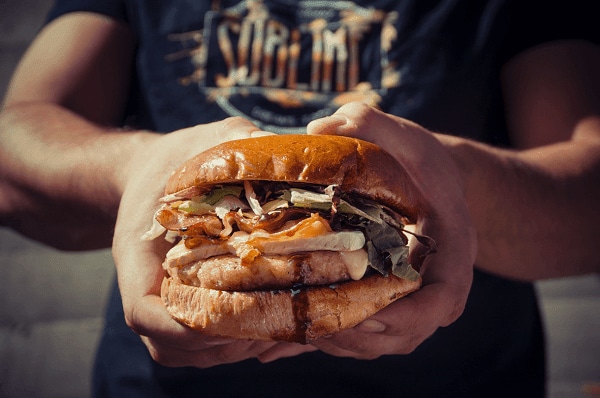 This place gives the word SUBLIME a whole new meaning! A combination of flavors and qualities that´ll make your dreams come true! Veal and chicken burgers that are made with the most tender and juicy parts, seasoned with 100% natural ingredients. Fitness burgers, for celiacs, vegans, fish, chicken or veal lovers!
10. Bentley's Burger
---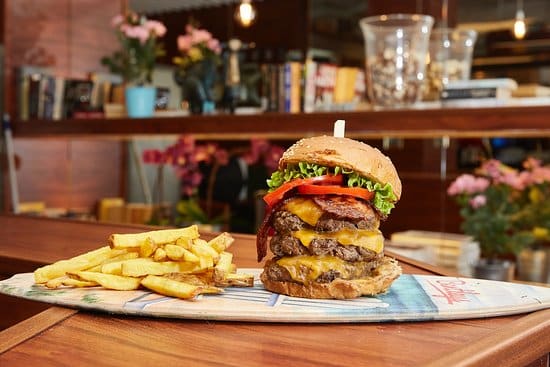 This American classic has been in operation since the 40's and has become a staple for delicious burgers ever since. At three different locations in Madrid, burger lovers can enjoy from a large menu of specialty burgers. Whether you're in the mood for a classic cheeseburger, or want something a little fancier (a truffle burger for example) – there's something for everyone!
11. Burnout Burgers
---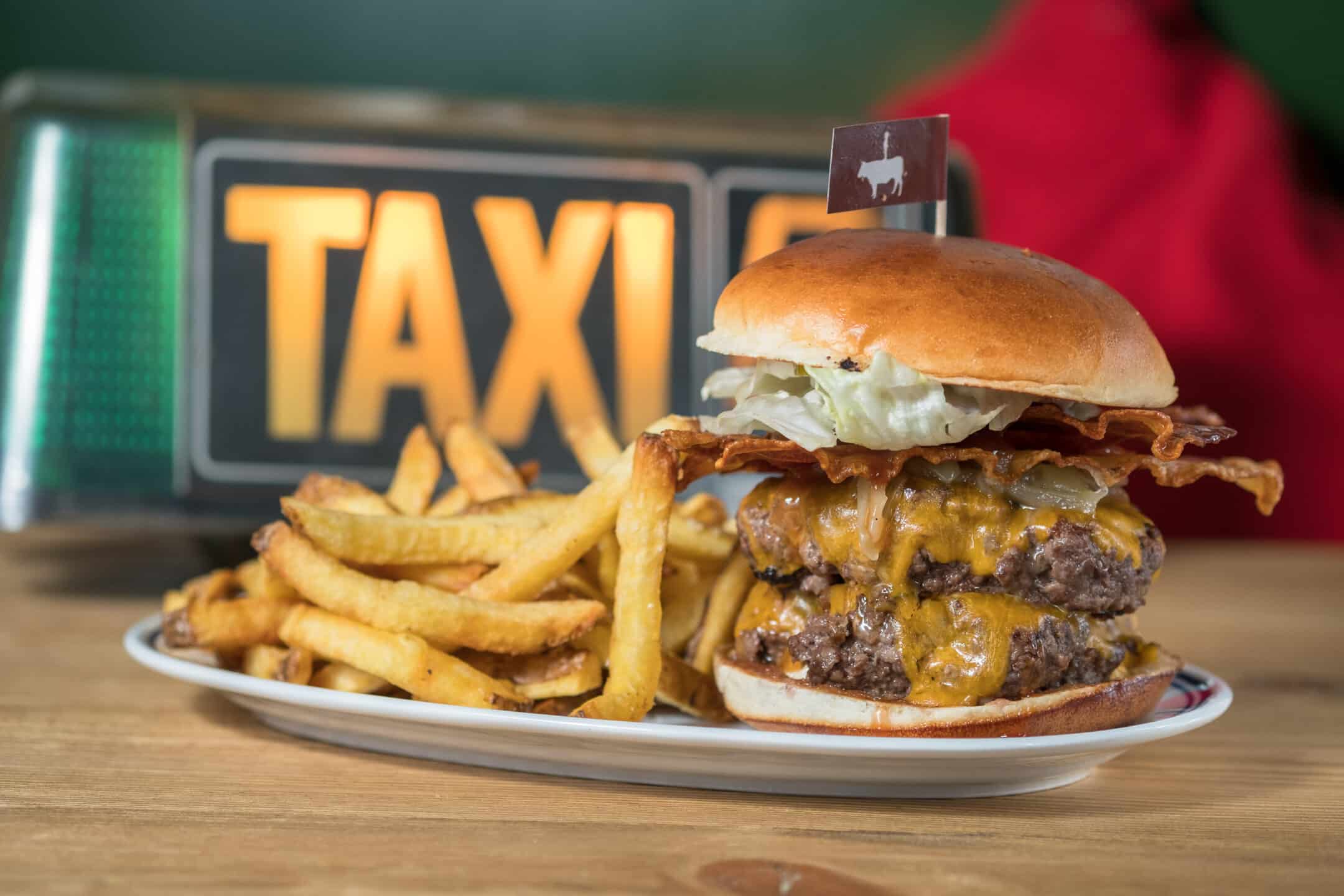 Burnout Burgers is home to a menu of amazing different burgers that you can further customise to your liking. From classics to not-so-classic, their burgers fit any mood. Even if you're on a diet you can have a burger without a bun, or help yourself to a vegan burger!
12. La H es muda
---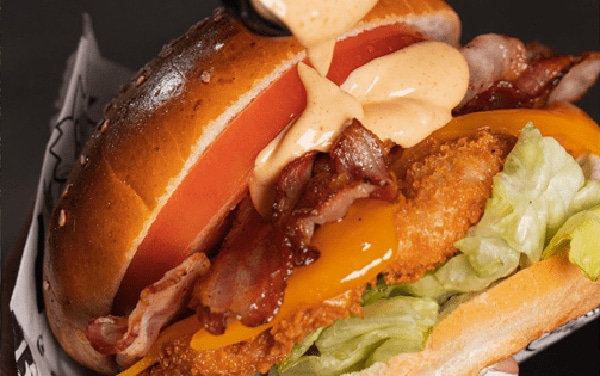 La H es muda can't be missing on your list. From classic – to fancy, here you can get it all. Definitely a must-try though isn't a burger, but their extremely delicious Tequenos (a fried breaded cheese stick). Also their monthly burger always knocks us out of our socks. Currently, La H es muda can be found at two locations: Calle del Gral Oraá 56 & Calle de Carranza 12 and if you feel like eating at home, you can easily order from their website to your door.
13. The Irish Temple
---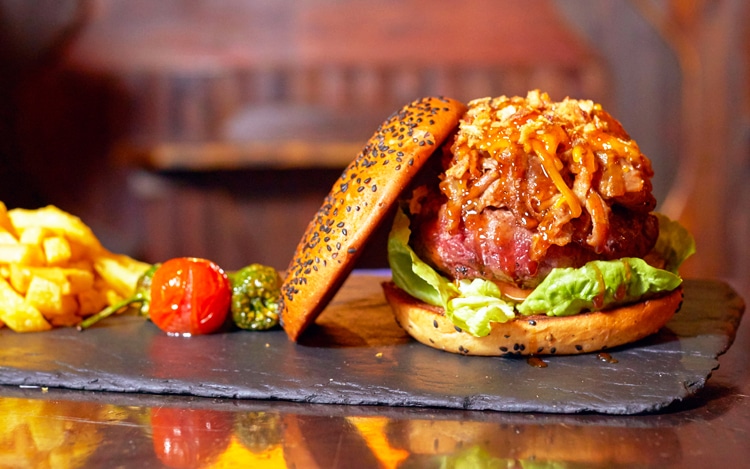 For sure, the Irish Temple is considered to be one of THE best places. If you are looking for American cuisine in the popular, cozy Irish pub setting – navigate yourself to the Irish Temple asap! Since 2012 they are operating in the Moratalaz district (behind Retiro) and definitely rose to stardom. Just recently they opened a second location at Calle de Ibiza 66. You can accompany any of the high-quality burgers with your pick from their 120-item-big beer selection. They also offer a vegan menu and, the coolest, a pairing menu that recommends your dish with the perfect beverage!
14. The Irish rover
---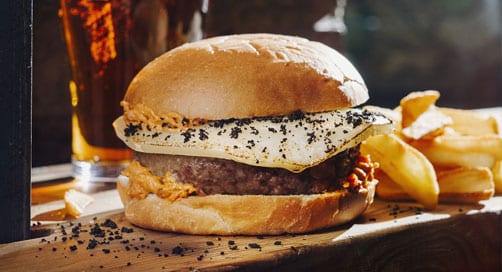 Google literally calls this place a "vibrant Irish pub with global fare". The Irish rover is located at the Av. de Brasil, 7 in the North of Madrid and just recently has been renovated. Apart from its huge space inside, where you can enjoy sports games and live music, you can also enjoy your burger on one of the three terraces, no matter summer or winter. On the menu you can find a variety of delicious & original hamburgers, which you can pair with dozens of different beers.
15. Frankie Burgers
---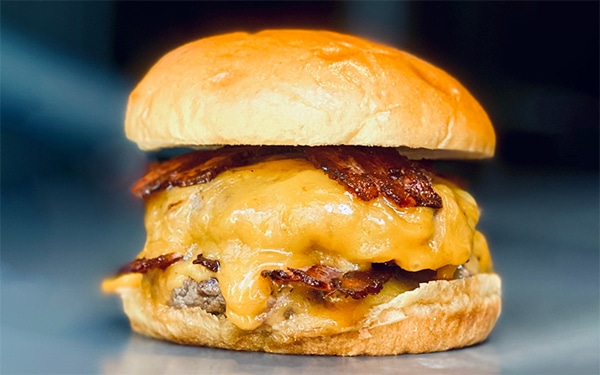 Just within a short time, Frankie Burgers became well-known. Great quality, freshly produced and unbelievably tasty. We heard that especially the Super Frankie Cheese Bacon Burger (with beef, double cheese, double bacon and the infamous Frankie salsa) is a must try! Frankie Burgers is located on Calle de Ponzano 46 in the Rios Rosas district, but if you rather prefer a good burger on your couch, you can also easily order it to your door with Glovo or UberEats.
16. FreaksBurger
---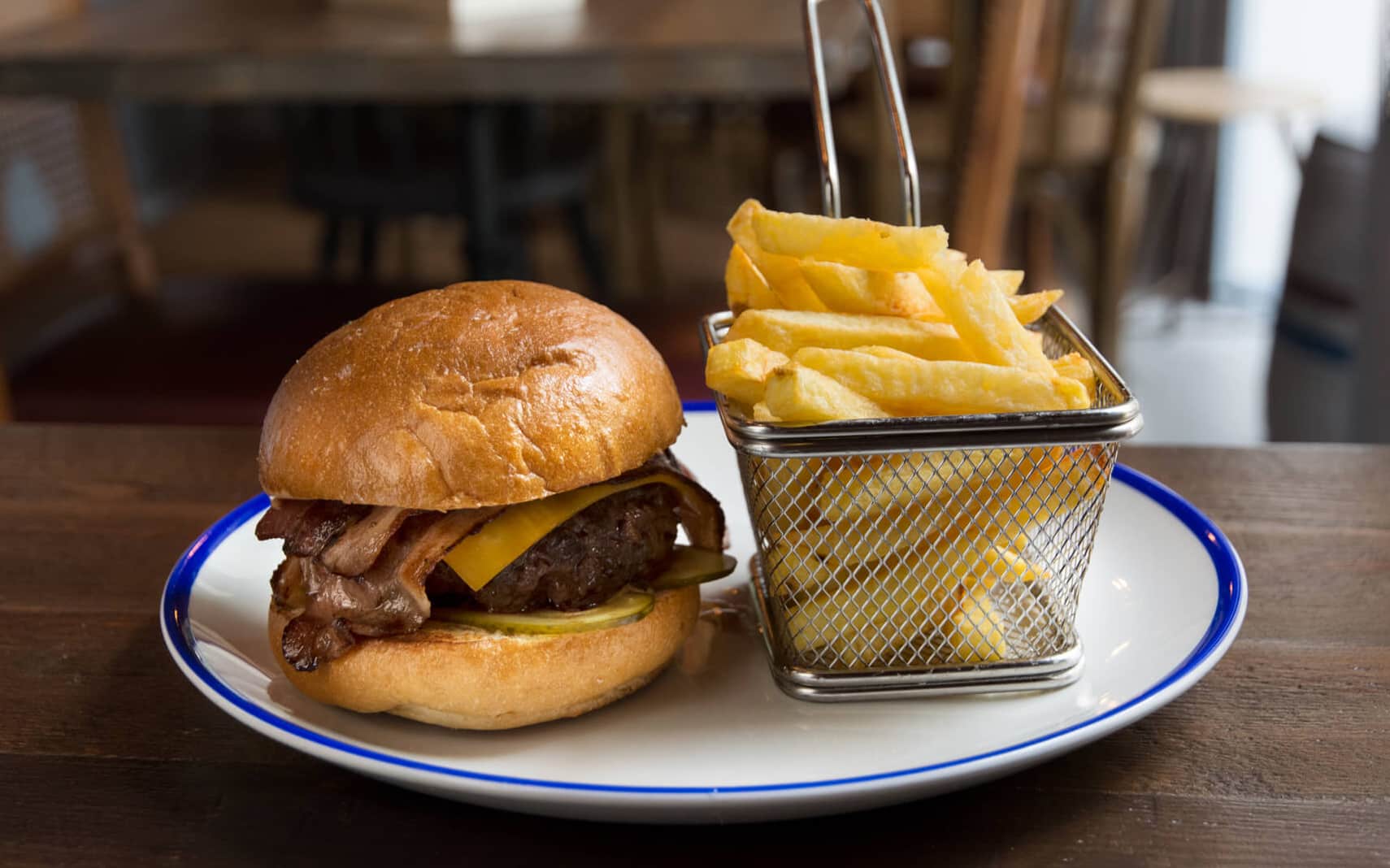 This restaurant will make you feel like you're at home. Not only because of the amazing menu on offer, but also because both locations of FreaksBurger just look like incredibly stylish & cozy living rooms. Sounds good to you? Then just listen to these ingredients of their famous Gourmet burger: 180 grams of our organic Galician blonde beef, avocado, truffle cream, havarti cheese, caramelized onion, lamb's lettuce, sourdough bread and salsa. We don't have anything else to add, Freaks Burger is located at Calle de Gabriel Lobo 20 & Calle de Sta. Teresa 12.
17. La Bistroteca
---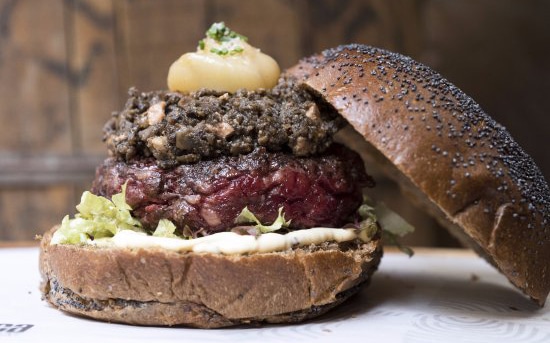 "Best Gourmet Burgers in Spain 2021" – this is the award that La Bistroteca won a couple of weeks ago. That already justifies a visit. It might not look like a traditional burger restaurant, but that doesn't mean that they are not extremely good at crafting their burgers. Especially their "La Palma" & "The Wellington" are must-tries from their menu!
18. El Campesino Burger
---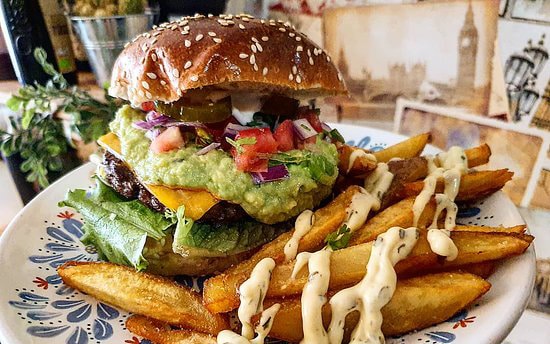 Rooftop Bar, Outside Seating, Free Wifi – and some really extraordinary looking burgers for only a small amount of money. No problem for El Campesino Burger. This place is also great on fusion kitchen and offers some delicious Mexican and Peruvian dishes. El Campesino Burger is also located right in the city centre, Calle de Atocha 111, very close to the Prado Museum.
19. Viva Burger
---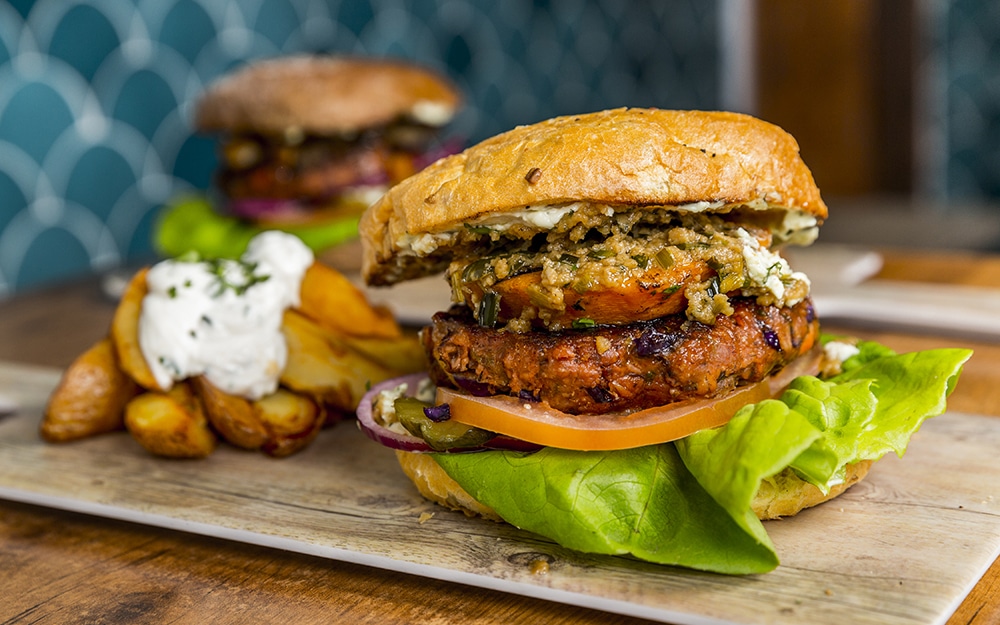 You are in the mood for a burger, but it should be vegan? Then check out Viva Burger. You will be bamboozled by handcrafted wholemeal breads, 100% animal free & incredible looking burgers and a very sweet location.
→ Click here, if you want to find out more about the Best Vegan & Vegetarian Restaurants in Madrid.
20. La Prensa Burger
---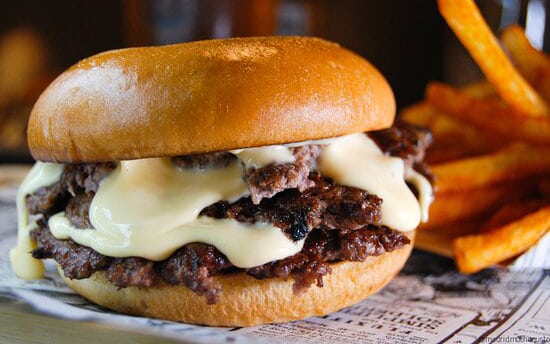 At La Prensa Burger you eat burgers and drink beer. It's that simple, like their recipes: delicious brioche bread with just the right amount of butter, local & fresh meat and a blend of cheeses. There are some variations you can pick from, but they all have a standard price of 9€. A top tip though is their Menú del día. From 1pm – 4pm, Tuesday until Friday and for only 11,90€ you can get the hamburger of the day, fries, beer and another beverage of your choice.
21. MEAT Madrid
---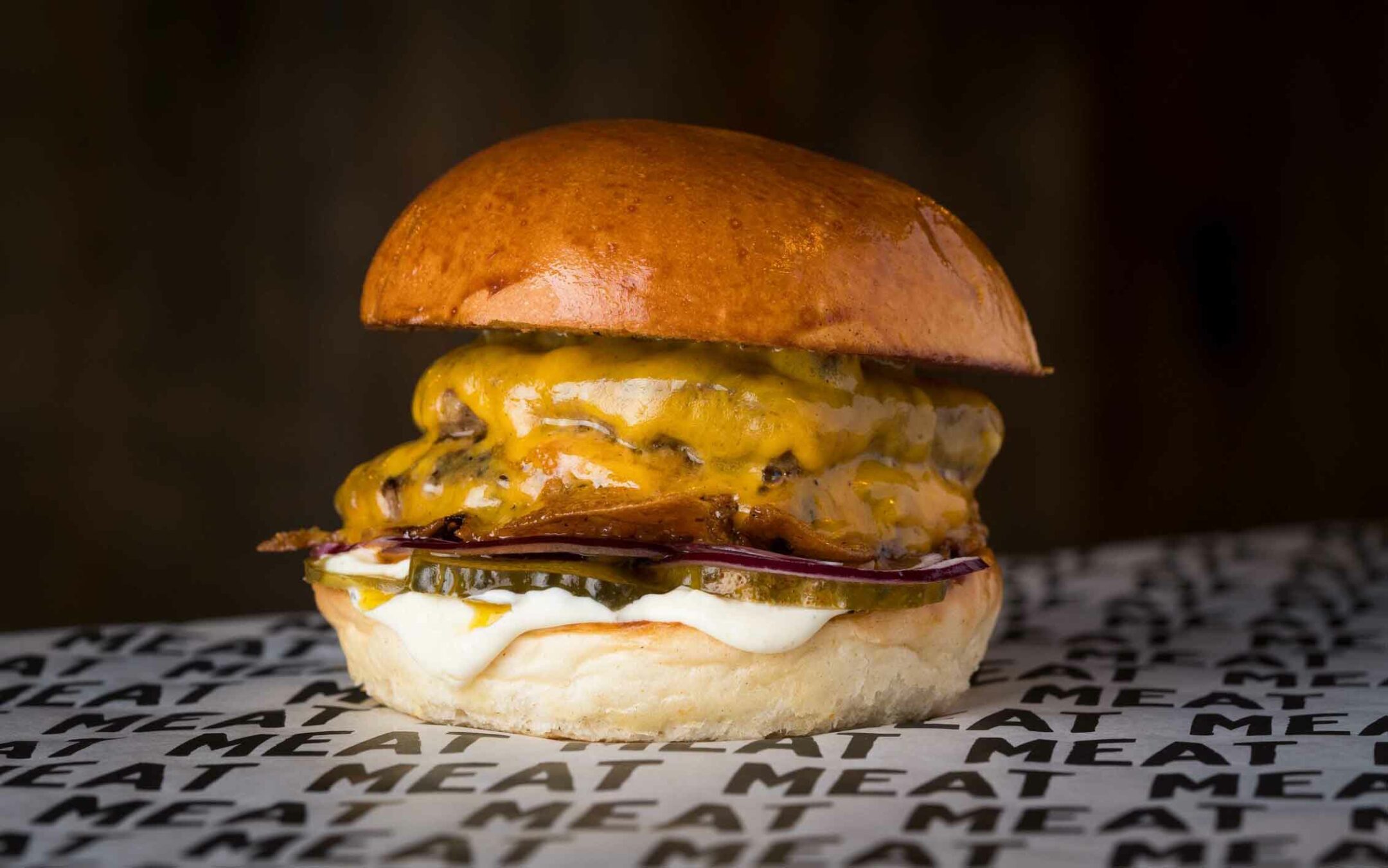 MEAT Madrid at Calle Santa Teresa 4 really rose to stardom and is just so good. Just recently they opened up a second location to make even more people happy. Some epic burgers, great people and rock tunes played out loud – what else is there to want in a great burger place?
22. Home Burger Bar Madrid
---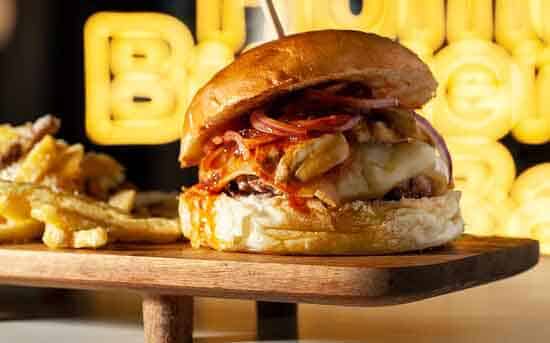 Home Burger Bar has already been operating since 2006. Their philosophy is to show that a healthy and quality hamburger doesn't have to have anything to do with "fast food". And these burgers are really something to behold. Also the venues seem to take you right back in time to an American dinner in the fifties with their retro-feel. You can currently find three locations in the Chamartin district and one just around the corner of Gran Via at Calle de Silva, 25.
23. Cafetería HD
---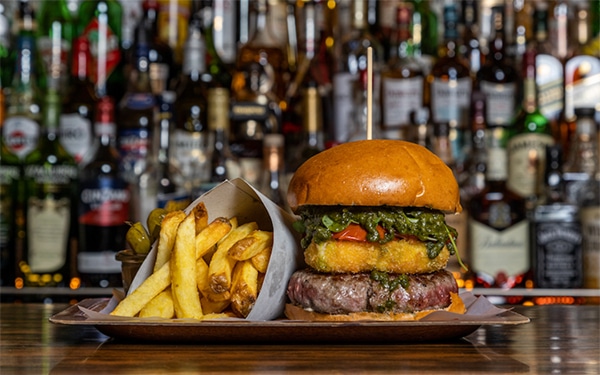 Cafetería HD belongs to the Grupo La Musa, which also includes one of our all time favourite places "Ojála", where you can get some of the best brunch in Madrid! Cafeteriá HD also takes you back in time with its leather couches and metal tables on the terrace, but still has a modern touch to it. Also at Cafetería HD you can get brunch, but most importantly: some of the best burgers in town. Cafeteria HD is located at Calle de Guzmán el Bueno, 67 in the Chamberi district.
24. Fogg Bar Birras & Burgers
---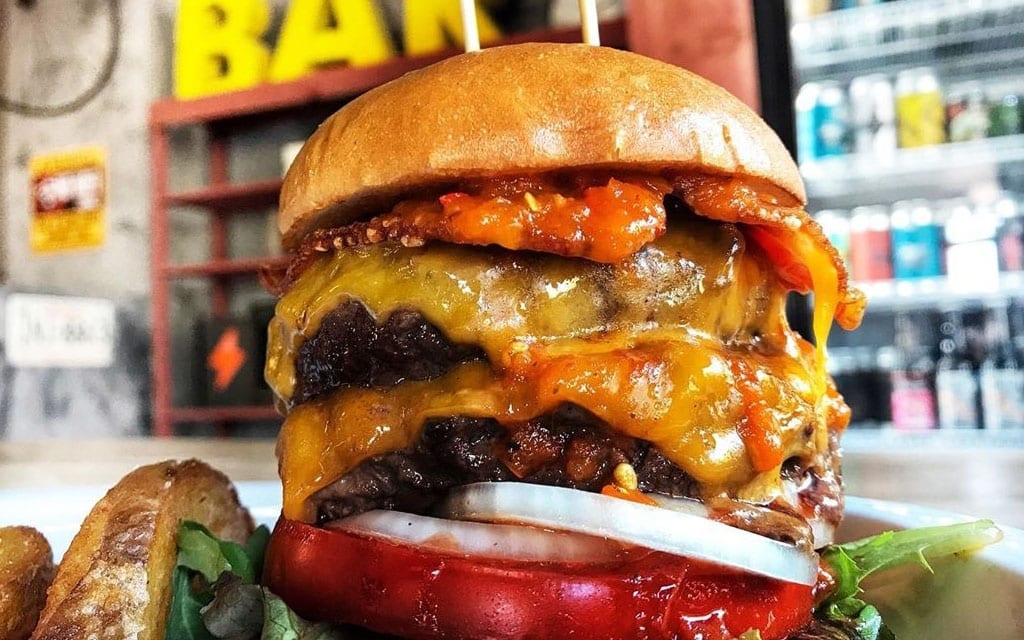 Burger & Beers – what better combination could there be. At the Fogg Bar Birras & Burgers, this is exactly what you can expect: some delicious burgers and really good beers. If you are also in the mood for Beer & Cheese, we also highly recommend you check out the Fogg Bar Birras & Cheese. The Fogg Bar is located in the Retiro district.
25. Mad Mad Vegan
---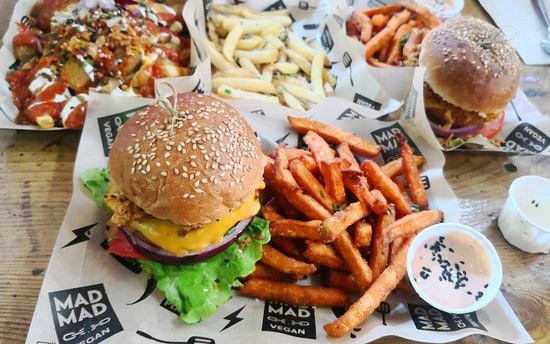 "Welcome to Vegan Madness"… or how we like to phrase it: vegan heaven. This place is famous and it's deserved. Even if you are a carnivore, at Mad Mad Vegan you can for sure find some of Madrid's best burgers, incredibly delicious looking and 100% plant-based!
26. Don Oso
---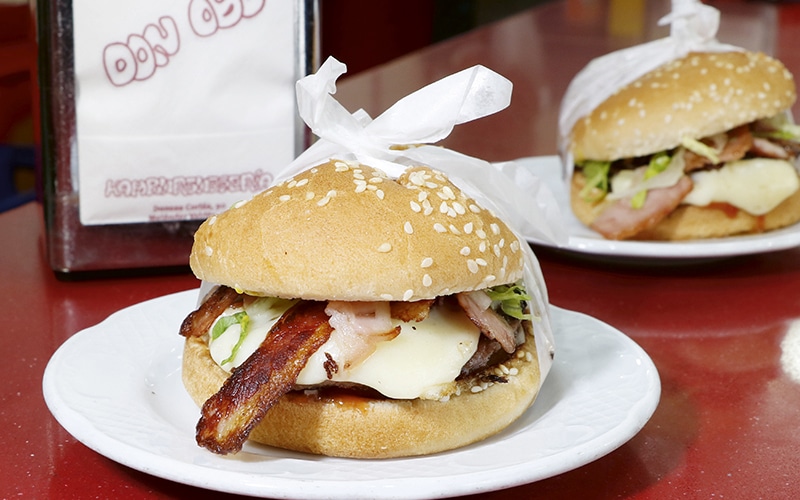 Last but not least: Don Oso, a burger joint you can rely on and which is very famous in Madrid. Their places might look a bit older, but the burgers are great and the prices – outstanding! Located in three places, right in the Centre, Arguelles and Moncloa.
---