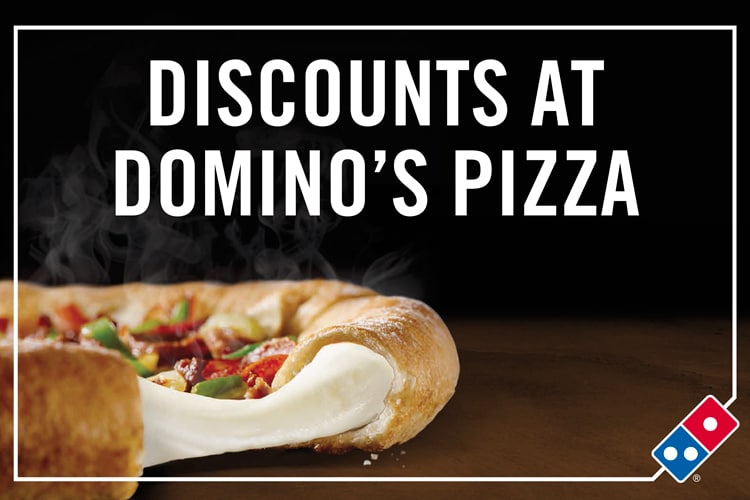 Save money on various pizza combos with special discount codes!
Domino´s Pizza is relevantly new in Spain, but it's become one of the most popular pizza spots around! Founded in 1960 in Michigan, Dominos is the world leader in pizza delivery thanks to the commitment with its clients, the high level of service, unbeatable recipes and the great quality of the products! They've been in Spain since 2009, offering high-quality products and innovating recipes all over the country.
About Domino's Pizza
---
Domino's is famous for its creative pizza styles that go far beyond the classic Italian staples that we know and love. From classics like meat lovers, barbecue and four cheese. To deluxe options like buffalo chicken, crispy bacon and goat cheese with caramelised onion! Feeling creative? Make your own delicious pizza! And it doesn't stop at toppings either. Domino's offers a variety of dough and crust types too. Like cheese stuffed crust or jalapeño stuffed crust!
---
Additionally the menu at Domino's offers so much more than just pizza! In true American fashion you can compliment your pizza with yummy french fries, chicken wings, chicken strips and dipping sauces! Then you can finish your meal with one of their mouthwatering desserts!
Enjoy a various discount deals on pizza combos online with your City Card! Keep reading to learn how it works or order your City Card now and start saving!
---
Visiting Information
You'll find Domino's Pizza all over Madrid in every major neighbourhood. You can check all their locations and openings times on their website, where you can also order online for delivery or pickup!
Pizza Deals & Combos
---
Domino's Coupon – One-Time Combo Codes
---
Download our great one-time discount coupon and use the codes online to enjoy special deals on combos for pick-up and delivery!
---
City Card – Permanent Combo Codes
---
City Card holders can enjoy permanent discount codes for select pizza combos online. You will find the codes when logged in to your membership portal.
---