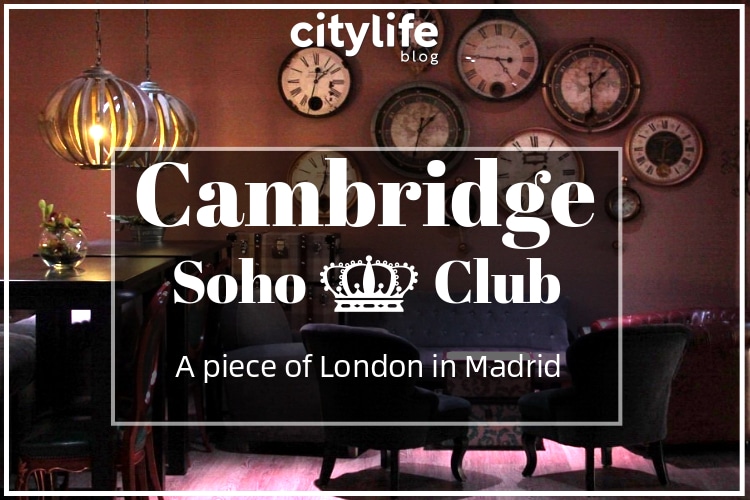 Cambridge Soho Club is a trendy, London inspired bar, lounge and theatre located right in the heart of Madrid's download district at Plaza de España. It's a hub for both Spanish and English culture that quickly becomes a hot spot for the young international community in the city. While also being a very popular location for Spanish locals of all demographics.
The Cambridge Soho Club is comprised of the Soho Club Restaurant and the Soho Club Theatre. Both offer great events and activities to enjoy whether it's indulging in Spanish indie cinema or eating a beautiful plate of aperitivos. Continue reading below for more details on each location and how you can save between 10-20% on your next visit!
The Soho Club Restaurant
---
The Restaurant at the The Cambridge Soho Club specializes in Mediterranean gastronomy. Their beautiful plates are served with an artistic flair that matches the chic yet comfortable décor of the location itself. You'll find classic Spanish dishes like paella, croquetas and salmorejo as well as steak, various seafood and fusion dishes. They even have brunch for those who enjoy a lovely eggs benedict and cake in the mornings!
At the back of the restaurant is the Soho Club lounge, this is where you can enjoy a nice cocktail with friends, however it's a very popular study spot during the school year! The lounge is also where the Soho Club hosts it's various events like our very own Meet & Speak: Language Exchange which takes place every Thursday and other International after work events! This space is available to rent to team events and birthday's too!
---
The Soho Club Theatre
---
The Soho Club Theatre has become an important part of indie art and culture world in Madrid. Throughout the year the theatre hosts comedy acts, musical theatre, magic shows, flamenco shows, plays and even movie premieres! The theatre is surprisingly large and this is where you'll find the Spanish locals of varying ages and interests coming in and out to enjoy the entertainment.
---