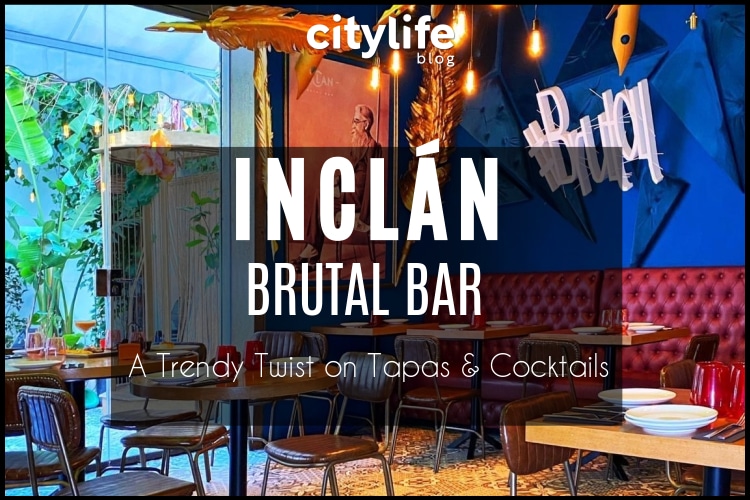 Inclán Brutal Bar is modern cocktail bar and restaurant located in the very center of Madrid, just 5 minutes from Metro Sol. At first the restaurant seems hidden away on one of the cities most bustling streets for food and drink – but once you see it, it easily stands out from all the rest! It's contemporary, outlandish design, it's loud metropolitan feel and it's mouthwatering menu make it one of Madrid's must-try locations!
About Inclán
---
The name and the design of Inclán is inspired by the famous Spanish dramatist Ramón del Valle-Inclán. A man known for being a very theatrical, dramatic, artist who dedicated his life to subverting tradition. Not only will visitors see portraits of Ramón on the menu and within the décor of the location, but within it's personality too! From it's open concept bar and its trendy dining area. To the presentation of its gastro-fusion food and even the plates they're served on. Inclán is as unique as it can possibly get.
---
Enjoy a 2×1 discounts every time you visit Inclán with your City Card! Keep reading to learn how it works or order your City Card now and start saving!
---
Visiting Information
The restaurant is located on Calle de Álvarez Gato, 4 (metro Sol) and serves lunch and dinner services every day of the week. Reservations are not mandatory however it's always preferred and the best way to guarantee a table.
---
Cocktails & Menu
---
A meal at Inclan Brutal Bar is all about the experience. The experience of ordering from the unique and contemporary menu. The theatrics as your cocktail arrives to the table and the wow factor as the beautiful plates displaying your food arrives to your table. The cuisine at Inclán is a perfect, modern mix of Spanish, Asian and Italian fusion that is regularly updated, improved and diversified so you'll never get tired of going!
Inclán is famous for its delicious cocktails made by their professional mixologists. Not only are the cocktails yummy but they are always served in a unique and perfectly photogenic display! Some cocktails to mention are their Tokio in Madrid, Funky Monkey, Tarta Tatin and Margarita Brutal!
When it comes to the food we promise you won't be disappointed. Inclán's menu is perfect for groups who want to share several dishes or for those who want to eat a full 3 course meal. All their dishes are served in created ways – like their risotto in a faux cheese bowl, baos on a panda stand or burrata injected with pesto!
2×1 Cocktails at Inclán
---
City Card – Permanent 2×1 Offer
---
City Card holders enjoy a permanent 2×1 offer on cocktails at Inclán Monday-Thursday from 18:00-19:00. Just make sure to bring your card with you every time.
---
The next time you're looking for a night with friends, a date or even a quick lunch – make sure that you reserve a table at Inclán Brutal Bar!
---