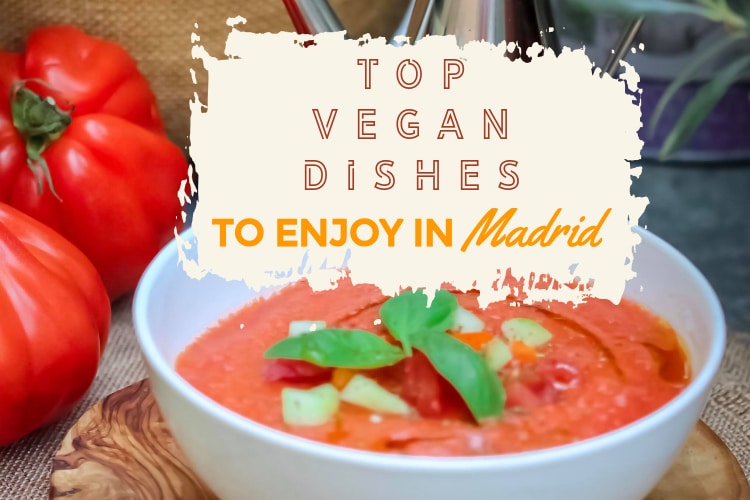 While many people might think that finding vegan food in Madrid is a challenge, several of the most beloved dishes in Madrid are actually vegan. Yes, you read that right! From snacks to main meals, there's a vegan dish for everyone. Are you a vegetarian who found this article? Check out this link for vegetarian options. Read on to discover the best vegan dishes in Madrid you can enjoy.
While in Madrid, you will definitely want to enjoy gazpacho, a tomato soup that is served cold. Many times, ham or egg will be added onto the top of the soup, as these are both a very traditional part of Spanish meals. Simply request this soup without ham or egg and your waiter will be happy to oblige. Sometimes, the waiter may offer fresh vegetables, like cucumber or pepper, and chunks of bread to add to the soup. This is a really refreshing option, especially on those hot summer days! Gazpacho's soup rival is a soup called salmorejo.  This soup can also be vegan (as long as you skip the hard boiled eggs), since the main ingredients are tomatoes and peppers. Click here for the recipe for both these rival soups.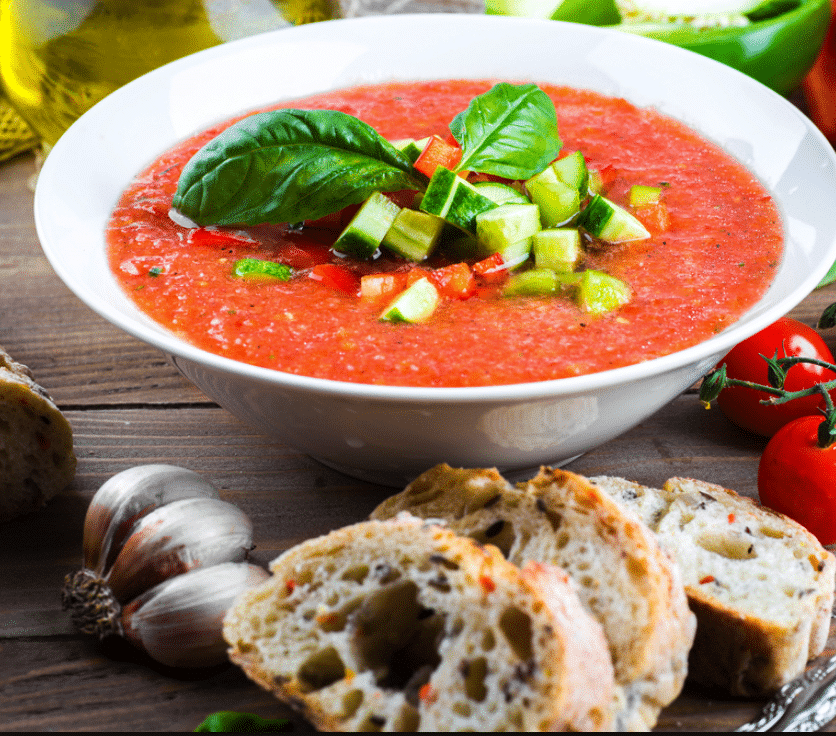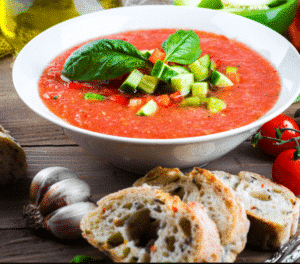 Paella is one of Spain's most popular dishes. You'll find paella at many different restaurants in Madrid.  Unfortunately, if you're vegan, paella is often served with chicken and seafood. However, if you want one of the best vegan dishes in Madrid, be sure to ask for "paella de verduras" or "paella sin pollo y sin mariscos," to ensure that chicken and seafood will not be added to your dish. Everyone should be able to enjoy what is (arguably) Spain's most popular traditional dish. If you want to try making paella yourself, join us at one of our cooking classes!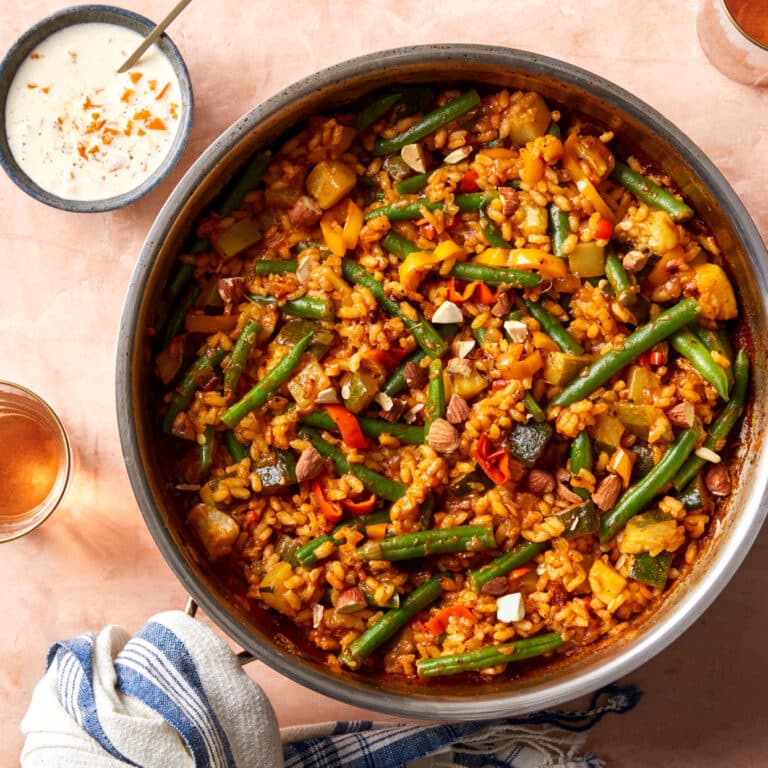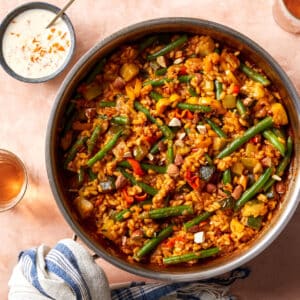 You'll find churros across the globe, but no where will you find them as delicious as they are in Spain. Oftentimes, churros come with chocolate, but feel free to skip the chocolate and just enjoy the fried sugary churros for all they're worth! If you're vegan, you can enjoy vegan churros at Los Artesanos 1902. If you're looking for a Madrid classic, Chocolatería San Ginés is a churro restaurant that is open 24/7. After a night out in Madrid, nothing tops the night off better than churros!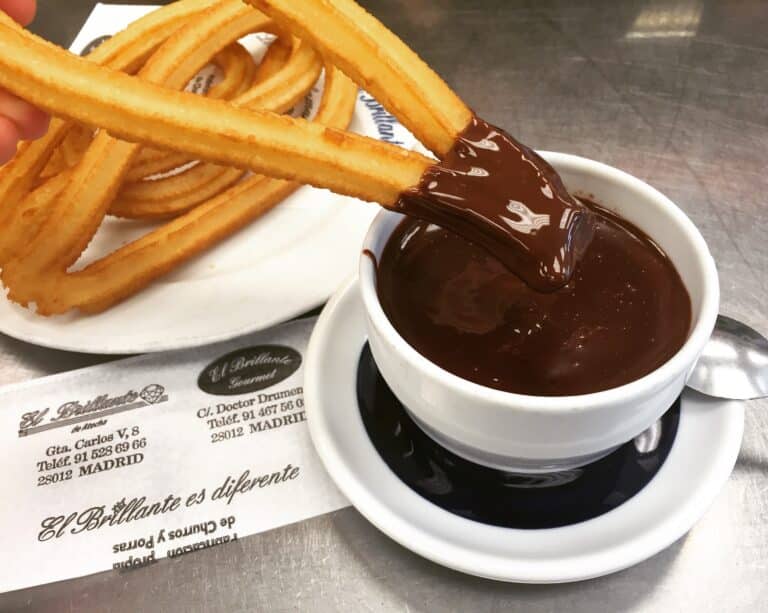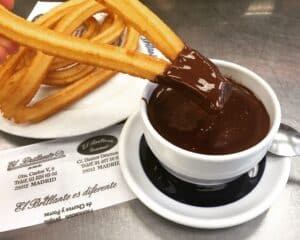 Pimientos de padrón are grilled peppers from the region of Galicia, making this the perfect dish for someone who is vegan! The Spanish often have different appetizers before meals, so you'll find these peppers to be a popular option. But make sure to watch out, as some of these peppers are spicy and others are not. Click here for an easy to follow recipe to make your own pimientos de padrón!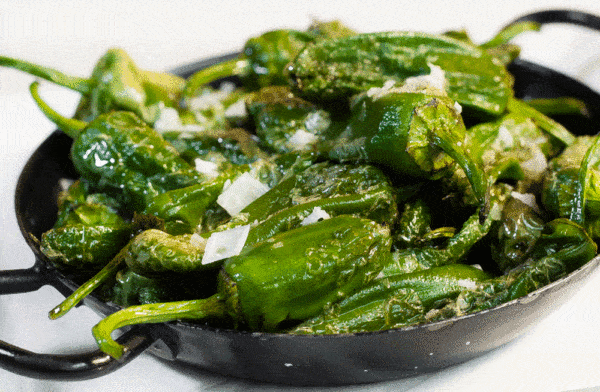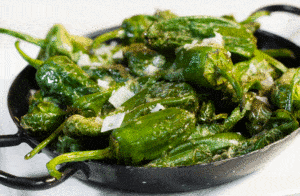 As one of the only vegan dishes in Madrid that's actually a drink, you can live like a local by checking out the vermut de grifo at one of the bars here. Vermut is a classic Spanish fortified wine that gets its unique flavor from spices and botanicals. This drink is typically served with a side of olives and almonds, making it completely vegan. Walk through the streets of Madrid and look for signs that say "hay vermut de grifo"; if you see that, it indicates that there's vermut on tap! Make sure to ask for the olives and almonds to enjoy this drink in the most traditional way.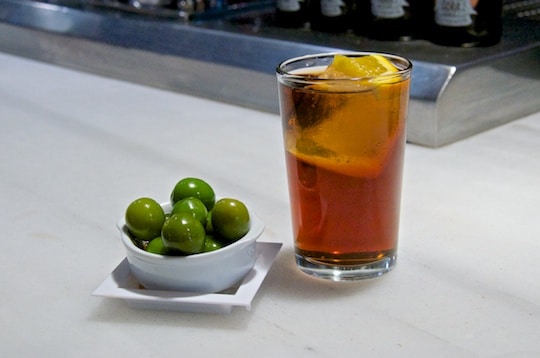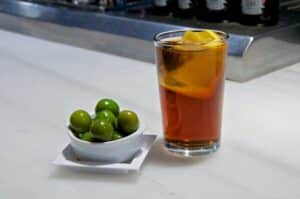 If you're planning on travelling out of Madrid to the nearby city of Seville, try the espinacas con garbanzos (spinach with chickpeas) while you're there. This dish is a specialty of Seville. You may be able to find it in Madrid as well, but it will be the most authentic in Seville. Ensure that there is not meat in the dish by ordering it, "sin carne," (without meat). Citylife Madrid takes three trips to Seville per semester. If you're interested in traveling with us and doing much more than just trying this traditional dish, click here!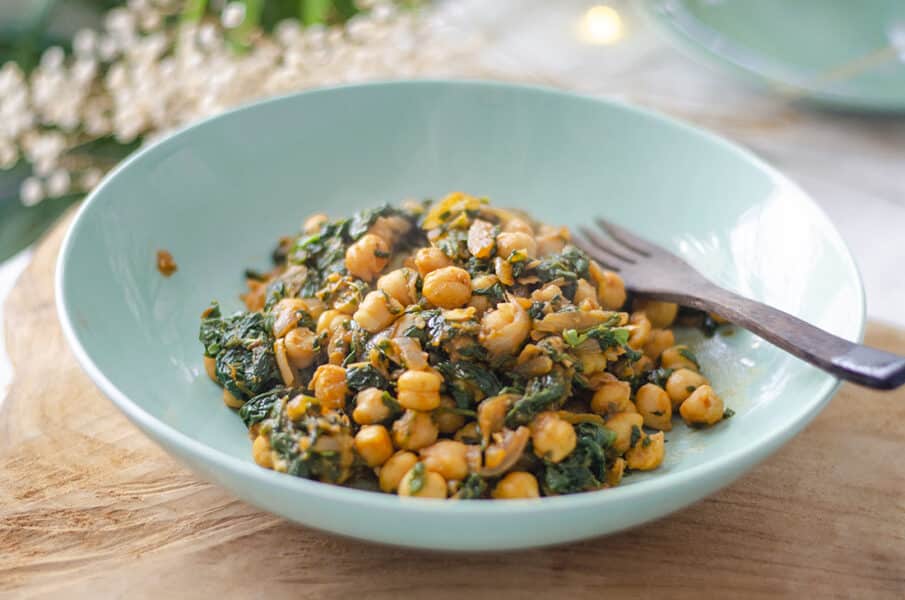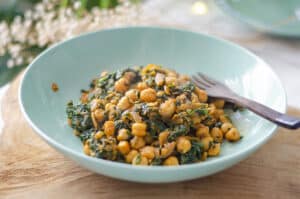 Here in Madrid, you'll find that this dish is often cooked with ham (jamón) on the inside, a favorite of the locals here. However, there are plenty of places where you can still enjoy croquetas if you're a vegan, making croquetas one of the most beloved vegan dishes in Madrid. For example, check your menu for croquetas de seta (mushroom) or croquetas de espicacs y piñones (spinach and pine nuts).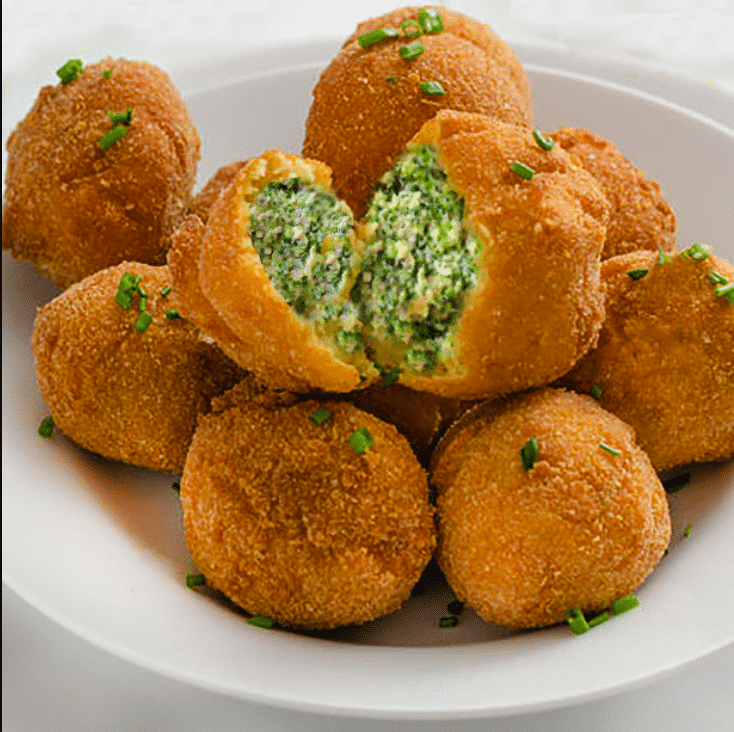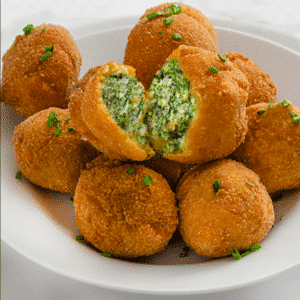 Another soup, this one also originating from Andalusia, is great to try on a hot day. Served cold, its main ingredients are almonds and garlic. Sometimes, fruits will be added to the top of the soup for flavor. Bread is also blended into this soup, to create the creamy texture, without adding dairy products. To make ajo blanco yourself, check out this easy vegan recipe here.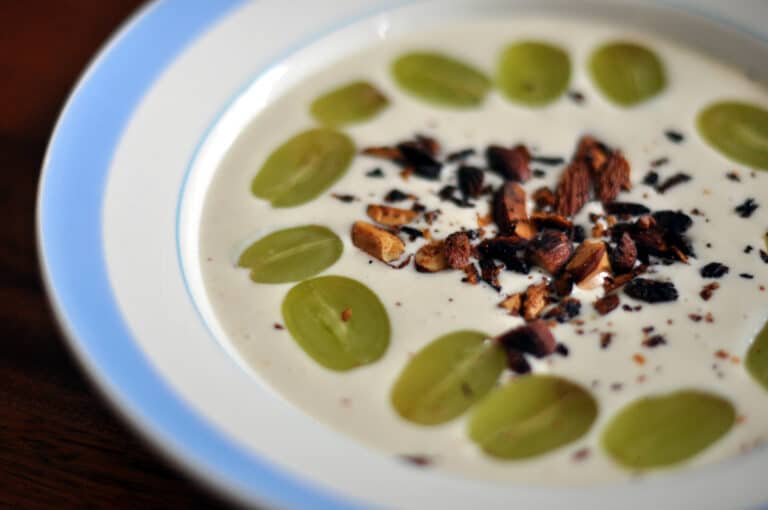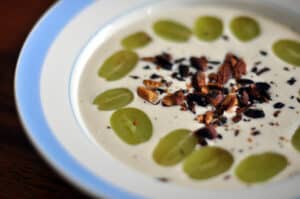 A very simple but filling dish, pan con tomate is exactly what it translates to: bread with tomato. Usually served as breakfast or a snack, the bread is toasted and then topped with tomato in whatever form (crushed, sliced, grated, etc.), garlic, and olive oil. A big trick is to use a thick enough piece of bread so it doesn't get soggy. Check out this recipe to make your own pan con tomate.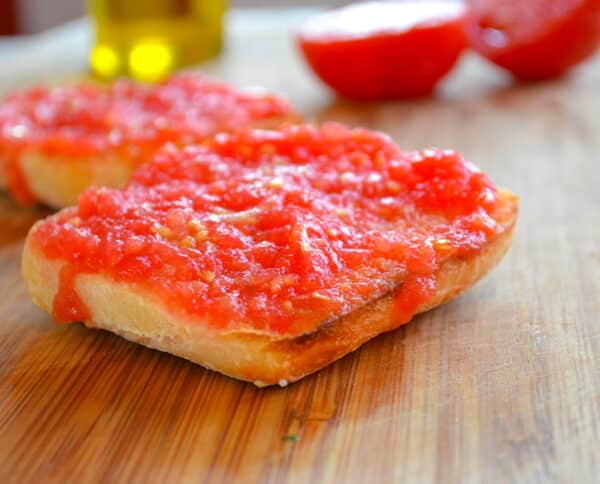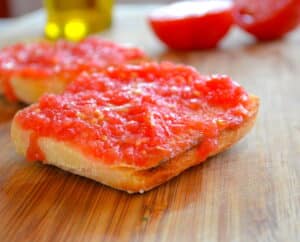 Berenjena con miel de caña (Eggplant with molasses)
Mixing savory and sweet, these fried treats are usually served across Andalusia. While one of the more difficult vegan dishes in Madrid to find, make sure to order it right away once you do! The eggplant is thinly sliced, lightly fried, and then drizzled with molasses (miel de caña). If you can find it, or are making this dish on your own with this recipe, you can also top the eggplant with maple syrup. Make sure to ask for molasses to keep it vegan, since there is another version with honey.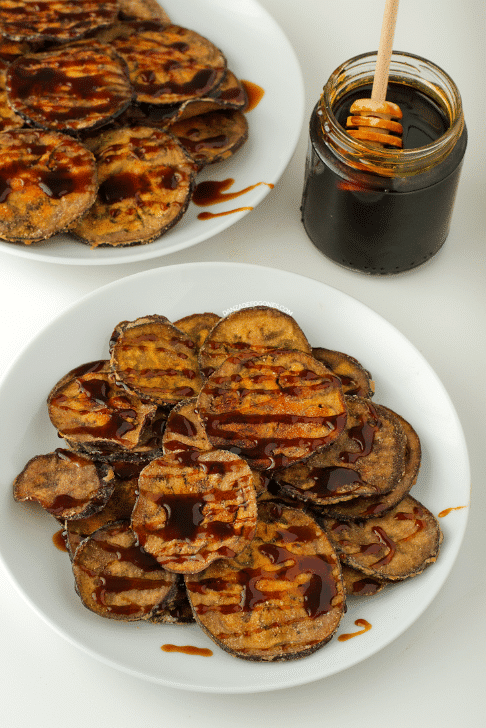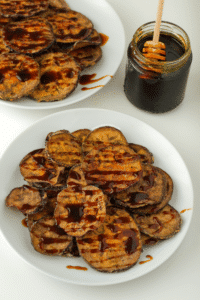 Arguably one of the most popular (and tasty) tapas, the secret to this dish is all in the sauce… and every restaurant or bar has its own sauce variation! Basically just cubed and fried potatoes in a tomato based sauce, patatas bravas gets its slight spiciness from the use of paprika. Check out this recipe to make your own.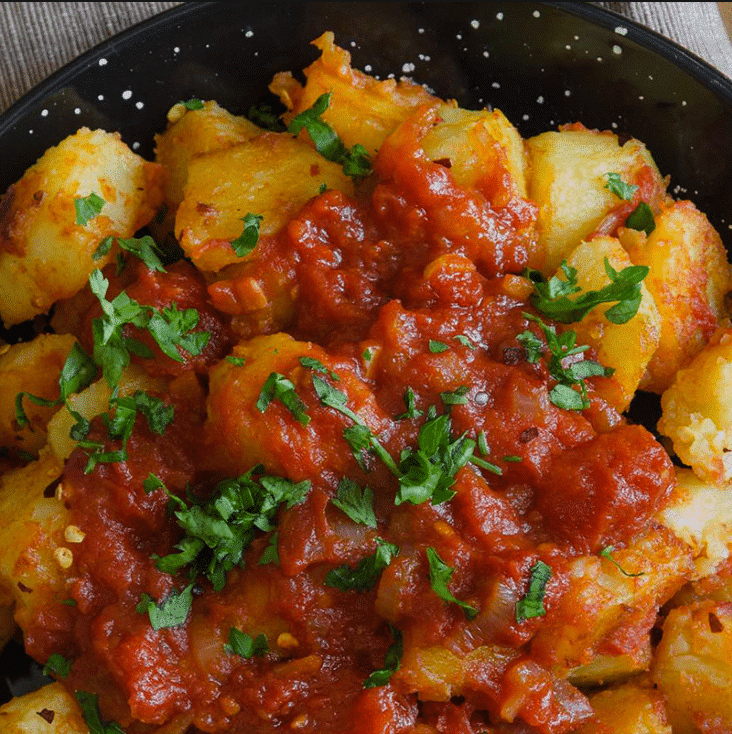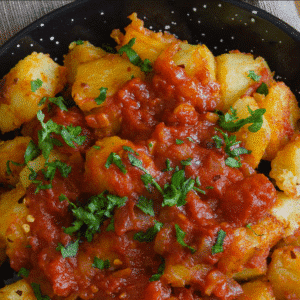 Originally from the regions of Murcia, Castilla-La Mancha and Extremadura, this humble dish is very similar to ratatouille. Other regions, like Andalusia, have their own version of pisto as well. To make a great pisto, you have to take your time stewing the vegetables. All that hard work produces a delicious and filling meal! Try out this recipe (without the egg and cheese, which are optional).