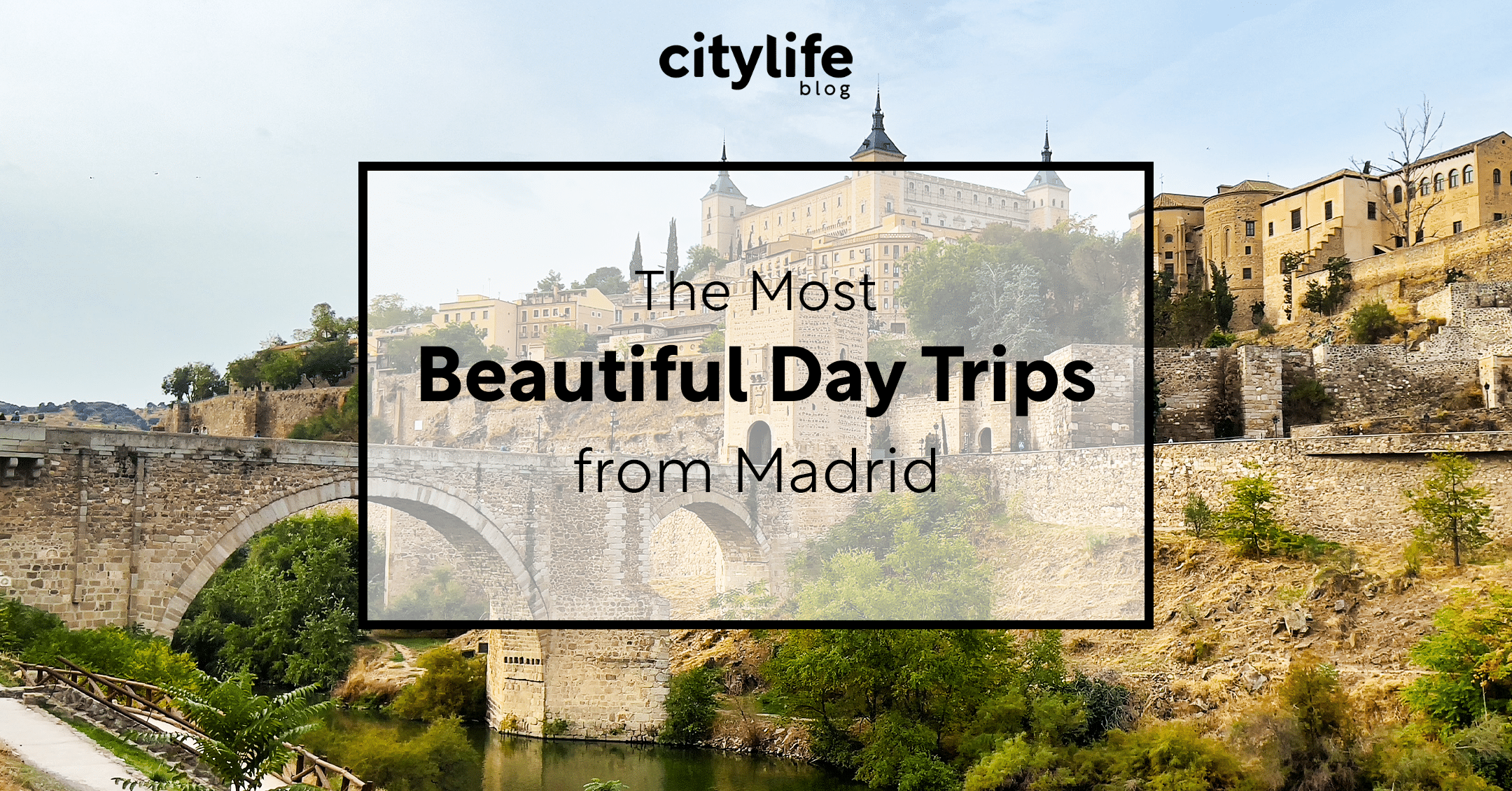 Every once and a while you need to recharge your batteries, breathe the fresh air and listen to the peace and quiet of country life. You probably don't have weeks and weeks of vacation time in your schedule, so you need to use your weekends creatively in order to both explore the country and relax a little! Below is a list of some of our favourite day trips from Madrid that you can take advantage of!
If you like these day trip ideas, make sure to take a look at our various travel guides and bucket lists for other amazing Spanish cities!
Rascafria
---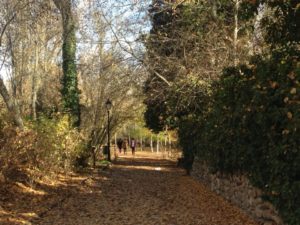 If you're looking to truly escape the noise, the people, the buildings, the cars and the chaos of the big city, then you need to head to Rascafria. This gorgeous region is snuggled right in the mountains that surround Madrid and is completely isolated from anything remotely similar to a cityscape. There are several tiny towns in the area, the main one being Rascafria. The area is littered with farms and most popular for the outdoor activities visitors can take part in. From swimming in the gorgeous fresh water lakes, hiking through the forests, horse riding or rock climbing, Rascafria is the perfect escape. Not to mention it's absolutely gorgeous! Stay the night at a Bed and Breakfast, hotel or even go camping in the summer, visit the beautiful cathedral, stroll through the adorable streets or go for a hike along the river. Whatever you do, you will surely feel relaxed in the end!

El Escorial
---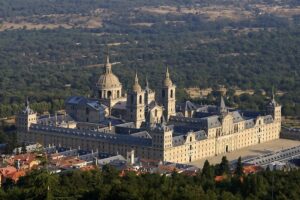 Officially named Monasterio y Sitio de El Escorial en Madrid, El Escorial is a very royal city. It was once the official residence of the Spanish Kings and is also home to a highly esteemed monastery.The historical buildings in El Escorial are some of the most important location in Spain's royal history, almost all of the kings and emperors from the last 500 years are buried in the basilica, including Charles V, the Holy Roman Emperor! People from all over the country travel to walk to halls of the famous church – it's a truly unforgettable experience. Aside from the historical facts, El Escorial is a wonderful destination for a small town escape. The city centre is absolutely picturesque and full of traditional bars, pubs and cafes whose terraces are perfect for relaxing.
Toledo & Segovia
---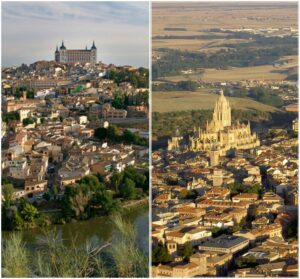 Toledo and Segovia are two of the most recommended locations for day trips and weekend excursions when it comes to getting away from Madrid for a while. Which is why we've put them together. If you're looking to escape the noise and heavy populations that come with living in a city, Toledo and Segovia are not for you. It's true the towns are small in comparison, but they are a tourism hotspot as well – which mean they're incredibly busy on the weekends. They are perfect for a change of pace and to indulge in your inner historian – the drives through the Spanish farm country to reach both of the cities round out to about an hour and once you arrive you will be treated to some incredible sites to visit. Both cities are famous for their Cathedrals, Castles and food culture. Both are close enough to spend the day or if you want to put your feet up you can find many hostels and Air B&B locations to rent for a night or two.
Alcalá de Henares
---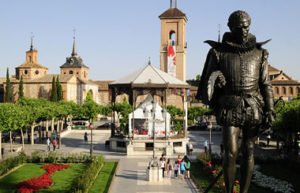 Informally known as Alcala, this small town is perfect for a last minute escape from Madrid because it's easily accessible via the Cercanias train system. Alcala is a beautiful medieval city that is famous for being the hometown of the famous writer Miguel de Cervantes and is also home to a beautiful medieval university! The town might be small, but it's no stranger to a good time! Alcala is packed full of tavern style tapas restaurants and even some pretty rowdy bars – one of the most popular drinking spots is actually located in an old medieval brothel. There are many markets and community events to visit as well! The student population is pretty large so there are many opportunities to make new friends and experience a nice change from the craziness of Madrid.

Aranjuez
---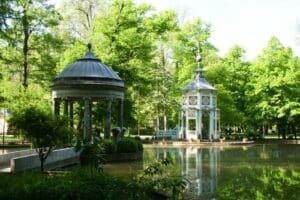 season. So, if it was good enough for them, it's sure to be good enough you! The entire town once belonged to the Royal family and the only people who inhabited it were the grounds keepers and staff of the King and Queen. Now the town is just like any other, except they live in an exceptionally beautiful place! Aranjuez is home to a Royal Palace that is almost identical to the one in Madrid, but what it's really known for is it's gardens. It's hard to even called it a garden, really. It's more like a massive forest designed with hundreds of gardens, fountains, trails, waterfalls, sculpture and buildings weaved throughout the entire property. The town itself is quite quiet, so if your looking for a peaceful day or weekend away from Madrid, just bring a book and good shoes so you can spend your days basking in the beautiful royal-worthy scenery.
Ribera del Duero
---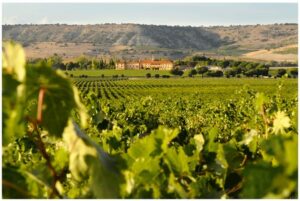 Whats more relaxing than Spanish countryside? Spanish wine countryside of course! For a truly lovely weekend escape, head north to one of the top wine regions of Spain, the Ribera del Duero. The region is pretty big, so you'll have to do your research and decide where to visit, but the most famous vineyards and bodega's are located near the small towns of Roa del Duero and Aranda del Duero. Both of these towns are delightfully tiny and are both home to some impressive cathedrals and landscapes! Find a quant place to stay in town and spend the day touring the vineyards and tasting wines. Luckily, being in Spain means that you will most likely have warm sunshine all year round – even if you ned a winter jacket, the Spanish sun makes being outside very possible! You can spend your evenings soaking up local life at the traditional restaurants and bars! You will probably want to rent a car for more freedom to travel the vast countryside – some hotels and bed and breakfast offer a shuttle service to select vineyards so that everyone can enjoy drinking the delicious vino!
---