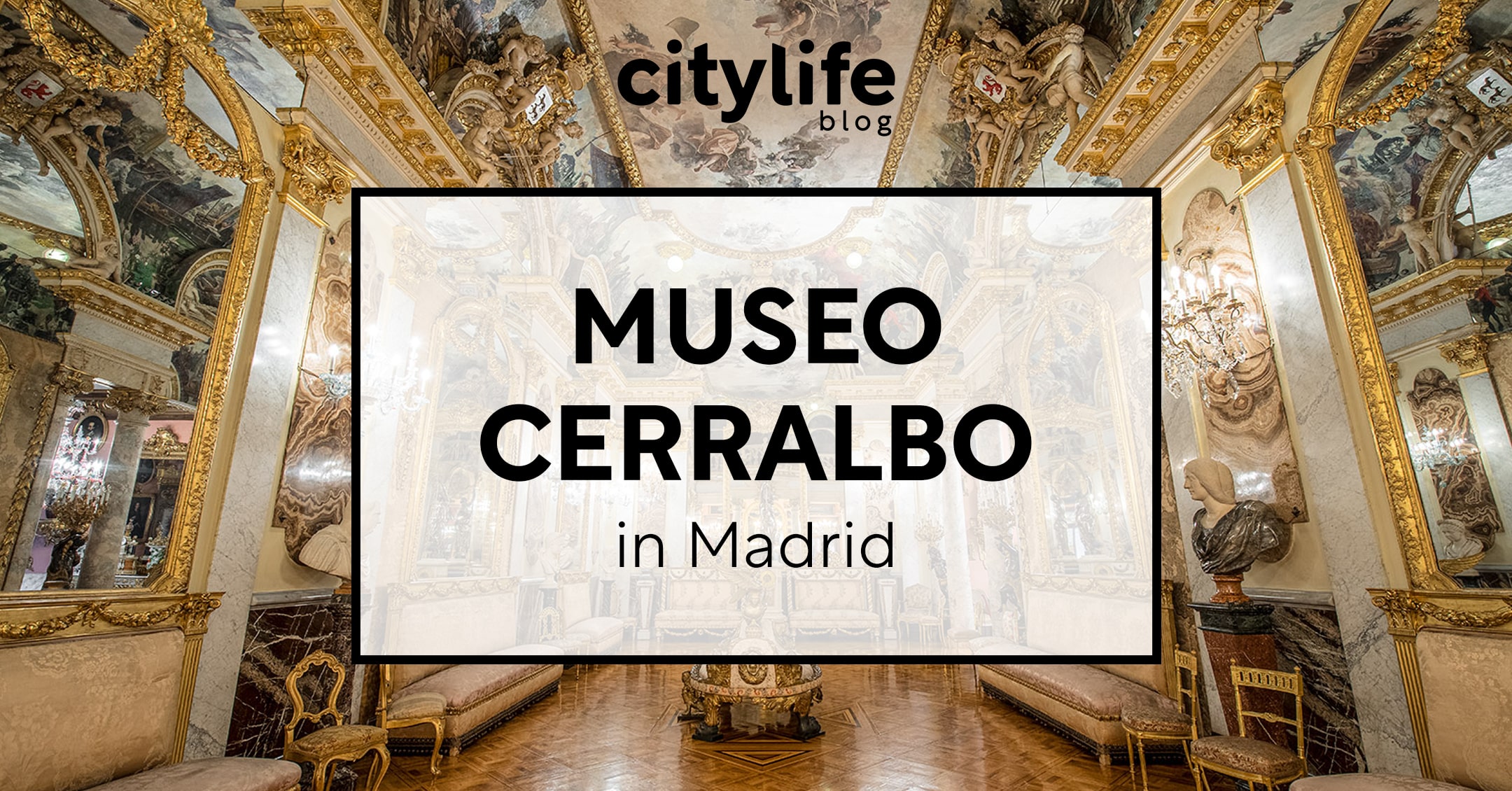 ---
Walking into the Museo Cerralbo in Madrid, visitors are immediately immersed in a Neo-Baroque and Rococo oasis. Located in the Argüelles district, this museum blends into its surroundings, disguising its breathtaking interior as an unassuming series of apartments in the west of Madrid. Once the residence of the 17th Marquis of Cerralbo, this space was originally used as both an aristocratic home and a headquarters for the artistic collections of the Marquis and his children. Walk through this expansive structure and discover 50,000 objects collected by the Marquis's family during their many trips around Europe, including sculptures, paintings, furniture, tapestries, medals, weapons, armor — pretty much every item you would expect to find in a late 1800s mansion!
If you're looking to delve deeper into Madrid's arts and culture scene, check out our article on the city's most notable museums and exhibitions and find out how you can enjoy local art for free. For more of our recommendations regarding local museums and ticket purchases, check out our articles about the famous Paseo del Arte and Madrid's Hidden Treasures.
About the Museo Cerralbo
---
Admiring the infamous artwork of the Museo Cerralbo, visitors are bound to feel as if they've travelled in time and are walking through the corridors of a late nineteenth century noble's home. Considered a palace-house, this museum was once home to the aristocratic Pacheco family, a lineage known for their avid interest in the arts. Meticulously preserved to replicate the reality of this family home, visitors to this space are afforded the opportunity to stroll through aristocratic ballrooms, parlors, bedrooms, and gardens typical of the 19th century. Though one of the most awe-inspiring art collections in Madrid, the Museo Cerralbo is one of the city's least well-known museums. Explore the grounds of this hidden gem and immerse yourself in heaps of Neo-Baroque treasures.
Visiting Information
---
For a smooth visit to the Museo Cerralbo, make sure to review the museum's official website for up-to-date information on hours of operation and ticket prices.
Visiting Hours
Tuesday, Wednesday, Thursday, Friday and Saturday: 9:30am – 3:00pm
Thursday: additional visiting hours from 5:00pm – 8:00pm (excluding holidays).
Sundays and holidays: 10:00am – 3:00pm
Mondays: Closed
Admission is stopped 30 minutes before closing time.
Price
Admission to the Museo Cerralbo is free until December 31, 2021.
Reminder: Opening hours and admissions fees are subject to change, so please always check the official webpage before going.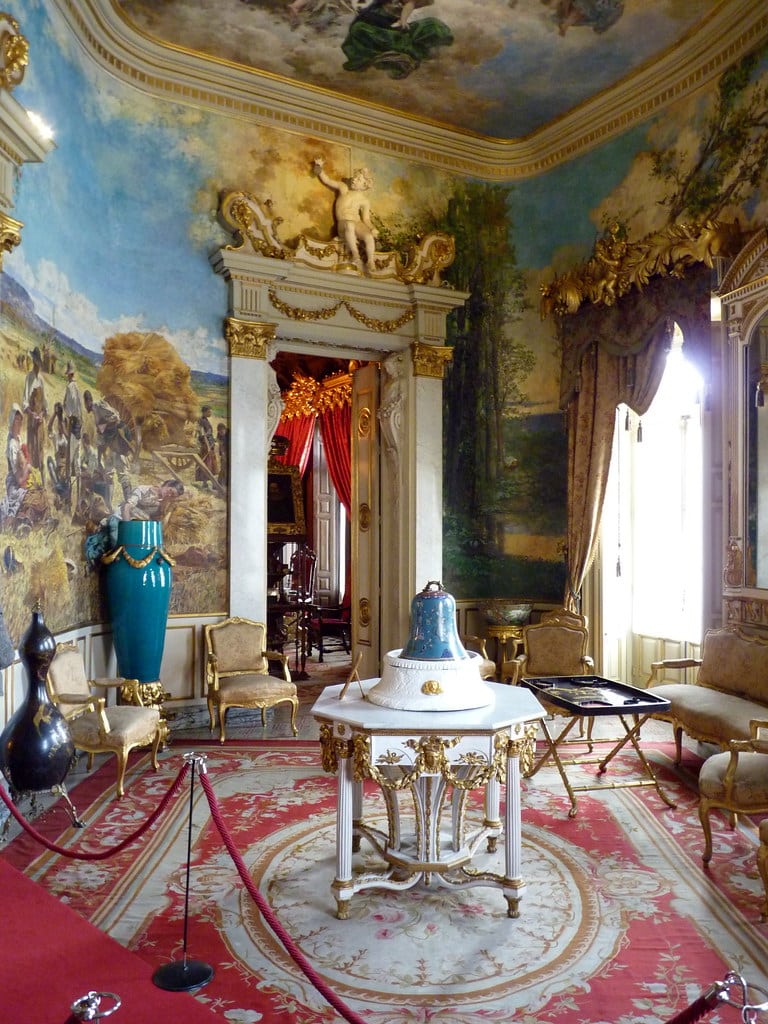 Museo Cerralbo Address
Calle de Ventura Rodríguez, 17
Metro: Ventura Rodríguez (Line 3), Plaza de España (Line 3 and 10), Noviciado (Line 2) and Príncipe Pío (Line 6 and Line 10)
Buses: Lines 1, 2, 3 (return), 44, 46, 74, 75, 133, 147, 148, C1, C2
What to See at the Museo Cerralbo
---
With tens of thousands of artistic objects on display, it's easy to get lost in the vast spaces of Madrid's Museo Cerralbo. Divided into individual rooms, visitors are guided throughout the museum upwards from the first floor. Admire the Mezzanine Floor, Main Floor and impressively designed Main Staircase as you traipse through the palace-house. With no shortage of art to muse over, visitors are bound to be enthralled by this breathtaking array of decor.
Main Portico and Staircase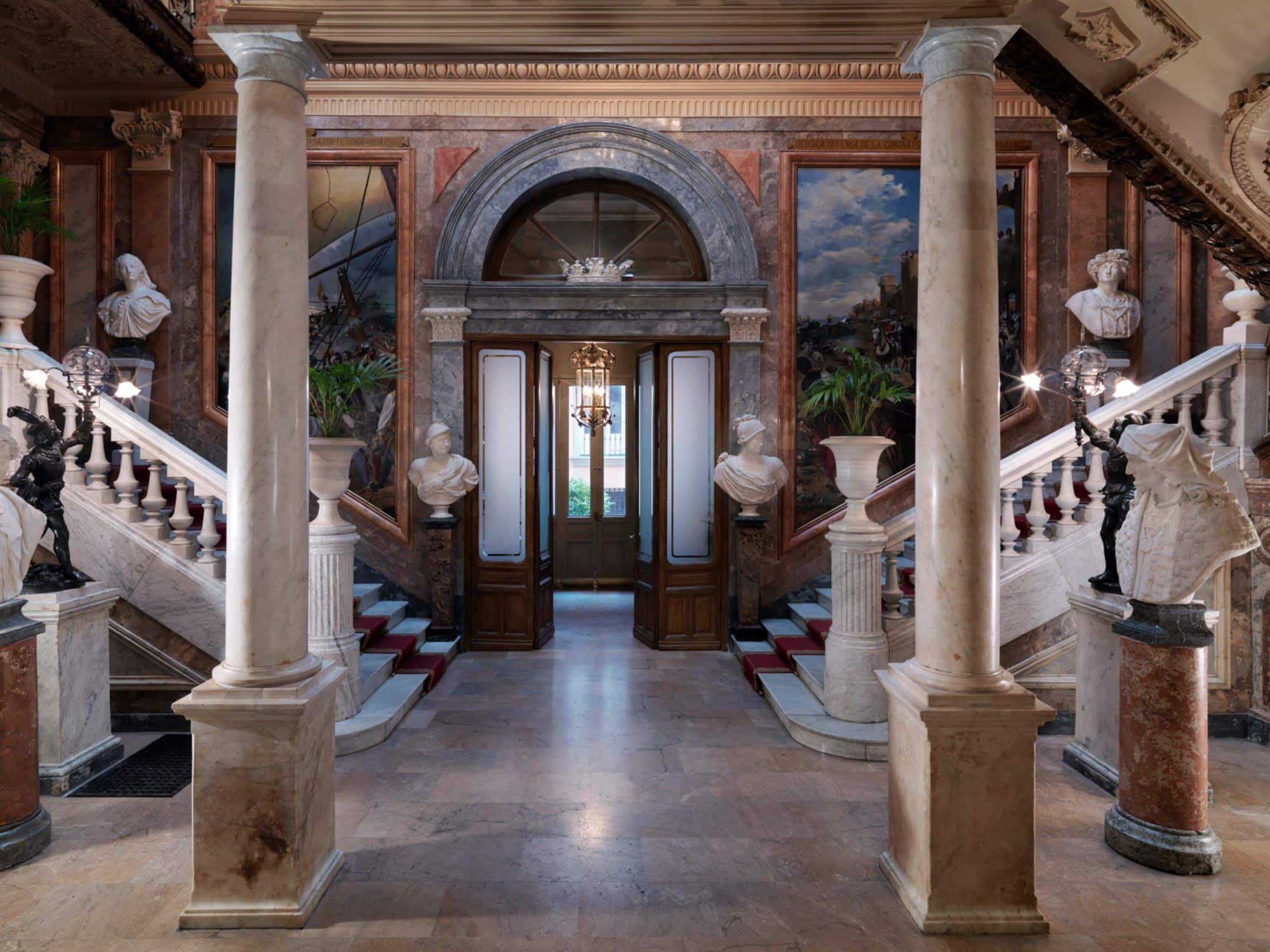 As you enter the palace through two larger-than-life oak doors, you will be struck by parallel marble staircases leading visitors upwards towards the Mezzanine floor. Pass through a marble balustrade and admire the sleek handrails, originally constructed for the Palace of Bárbara de Braganza. Walk past marble busts and beautiful landscape paintings, as well as personal emblems of the Pacheco family (including a coat of arms) as you pass through this ornately decorated open space.
Mezzanine Floor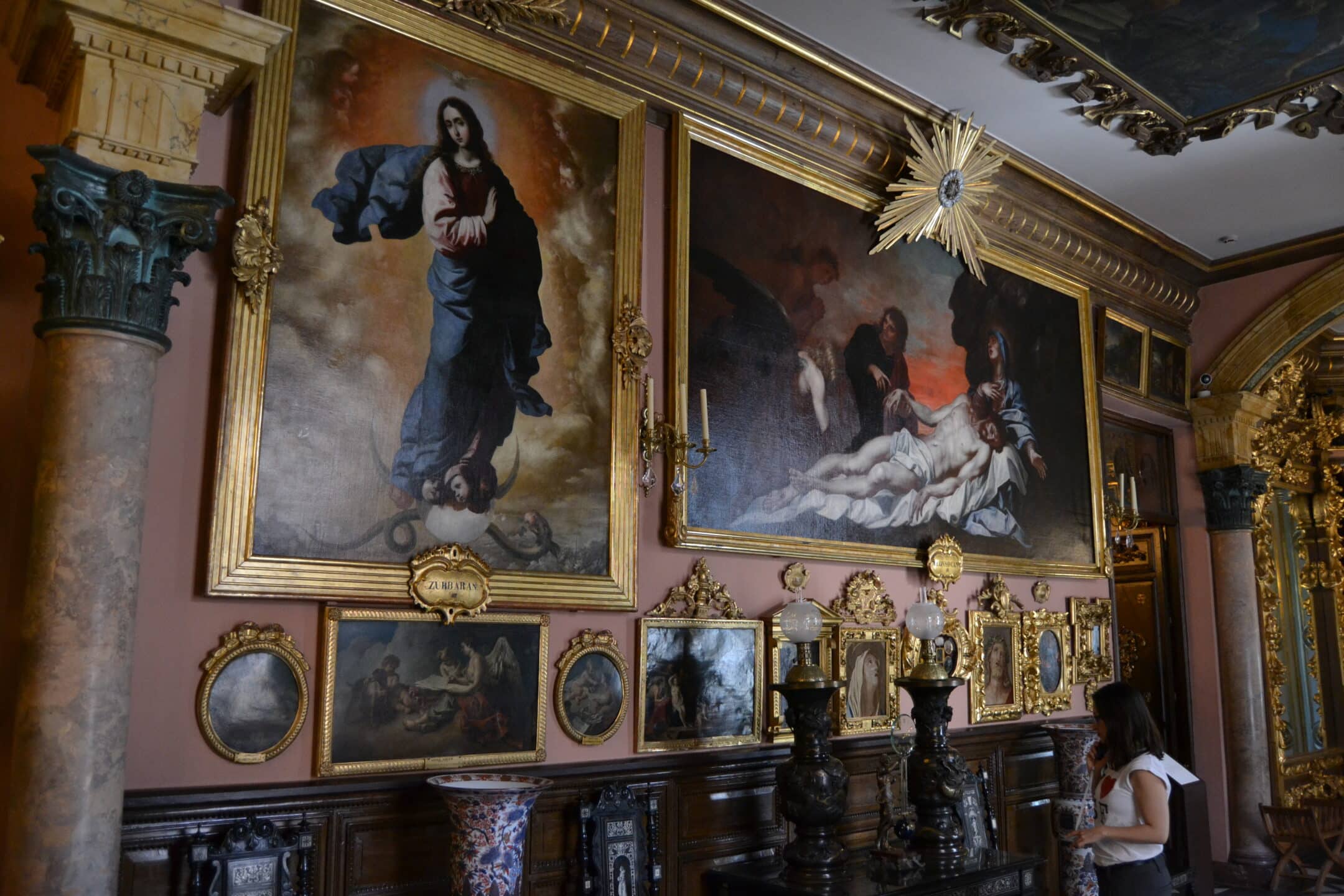 The setting of this aristocratic family's daily life, the Mezzanine floor is full of detailed furniture, office spaces, charming wallpaper and lounge spaces with garden views. Pass through the Pachecos's domestic spaces, including the Yellow Lounge, home to silk furnishings and a spacious dining room, the Pink Room, a social space decorated with pink curtains, cushions and rose gold art pieces, and the Red Lounge, once used as a space for Marquis to organize his various estates.
Main Floor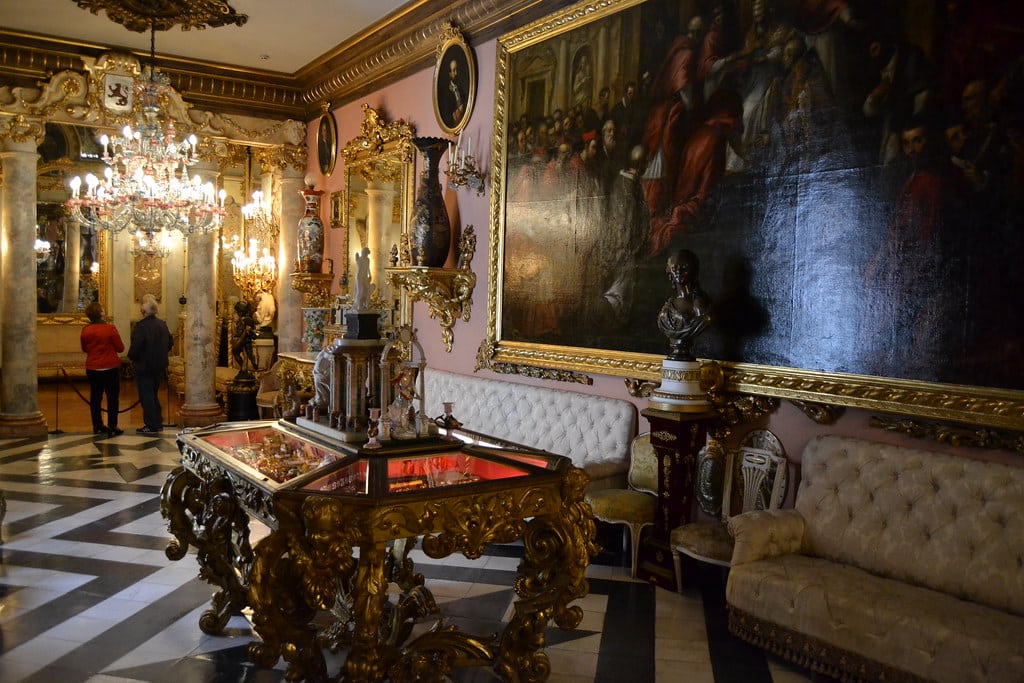 In contrast with the more modest spaces reserved for daily life on the Mezzanine Floor, the Main Floor is lavishly decorated with art galleries, a billiards room, a ballroom, a library, an indoor patio, an armoury, a picture hall and much more. View jaw-dropping murals of skylines and angels in the Chamfer Corner Room or appreciate the three gallery spaces, influenced by the artistic style of Italian palaces. Also included in the Main Floor's collection is the bathroom, containing a Roman-style bath and one of the first modern systems for running water.
Ballroom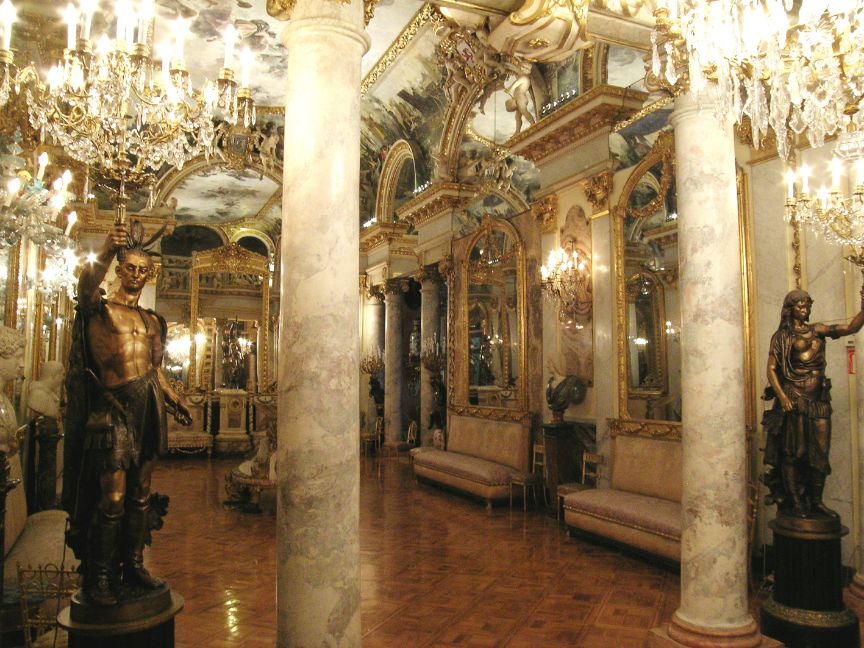 Deserving of its own section, Madrid's Museo Cerralbo's majestic ballroom is certainly one of the most impressive spaces in the collection. Gorgeous marble panels, Venetian mirrors and French clocks frame the space while full-body statues dot the ballroom floor. Feel like you're living a Rococo fairytale as lights from elegant chandeliers guide your eyesight towards the many murals on the walls and ceiling of the space. Appreciate meticulously detailed decor and truly feel like you're living a 19th century fairytale in this breathtaking ballroom.
Billiard Room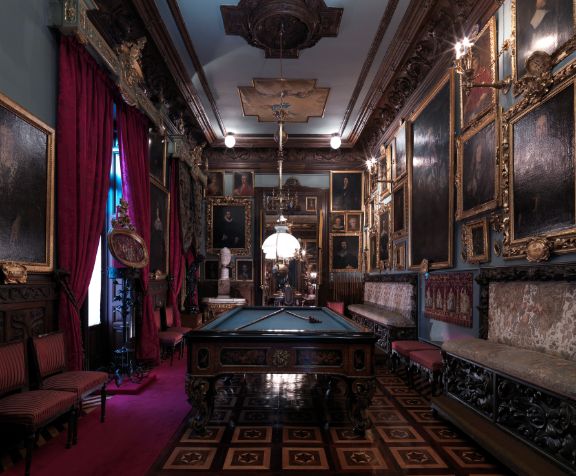 Part of the Main Floor, the Billiard Room is one of the most entertaining areas to pass through. Billiards, an aristocratic "gentleman's favorite sport" during the 19th century, takes on an impressive space in the Museo. View the impressive carambola table and high divans as you walk through this elaborate entertainment space. Fans of pool will certainly envy the room's ambience and the family's appreciation of billiards.
Library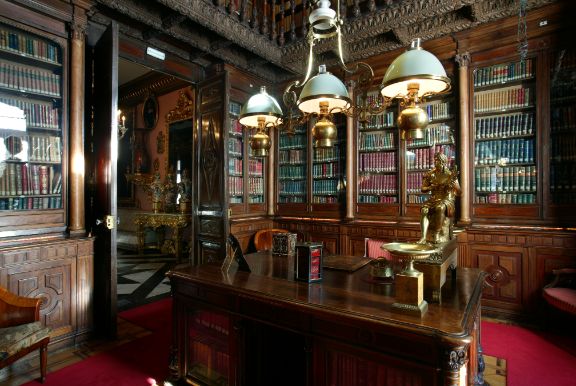 Every bookworm's fantasy, Madrid's Museo Cerralbo's extensive library is certainly enchanting. With dimly lit overhead lights and color-coded books, travelogues, manuscripts and an impressive coin collection, this space is sure to be every book-lover's favorite. Intellectuals are invited to imagine themselves using the many scholarly resources on the library's shelves for research or reading novels for pleasure in this bibliophile's heaven.
The Garden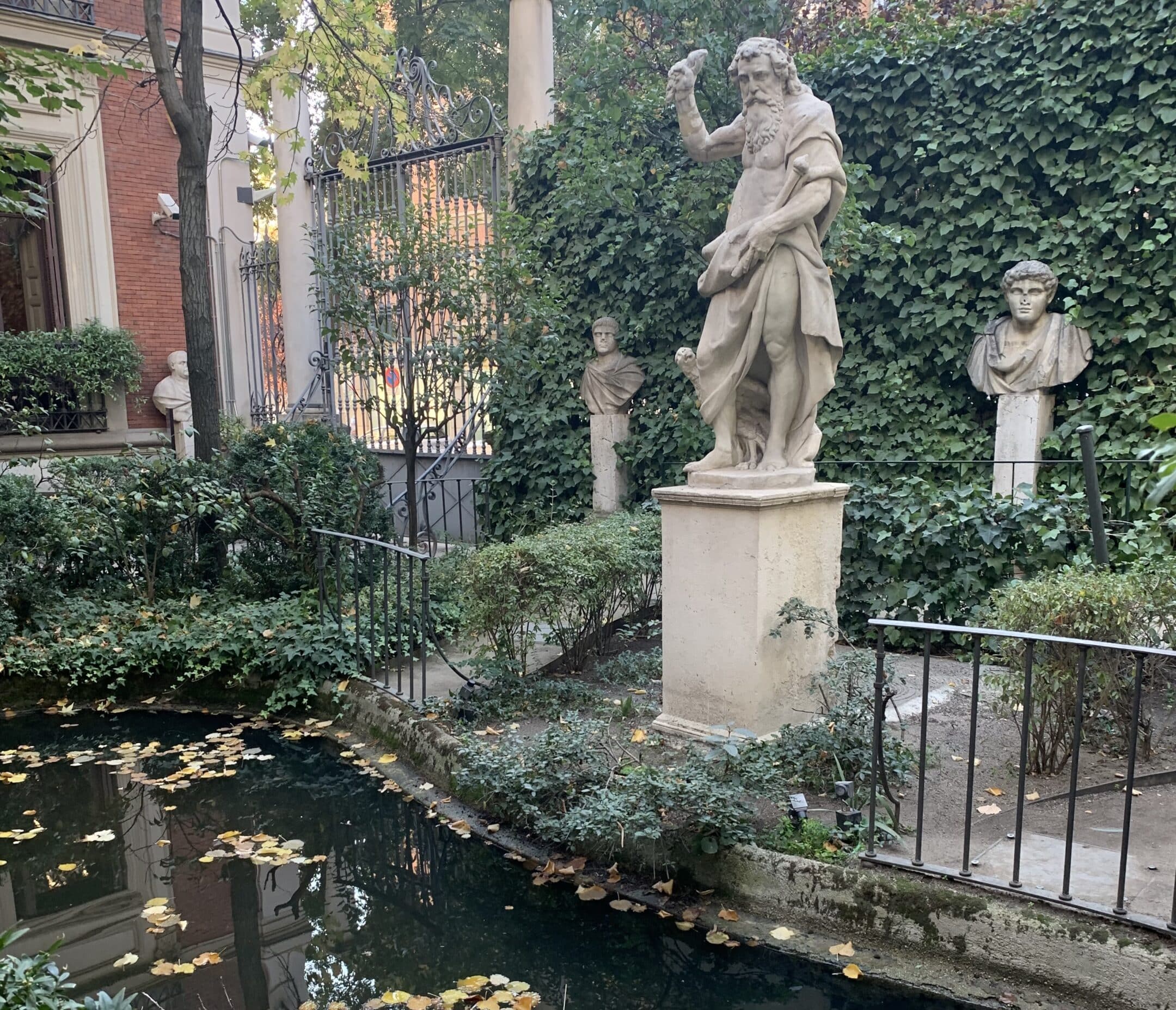 Roam the grounds of Madrid's Museo Cerralbo's charming outdoor garden space. Quaint and peaceful, these grounds are home to a tranquil pond and a myriad of marble busts. Get lost in the small nooks of this backyard greenspace and tune out the chaos of Madrid's citylife.