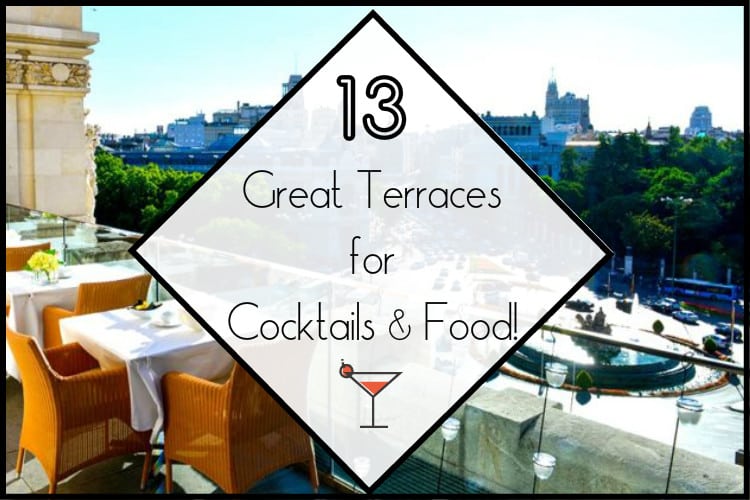 Madrid is meant to be experienced from a table, under the sun, with a good drink! A great way to ensure that you're still getting the most of your experience here is to take advantage of the city's hidden gems such as its many incredible rooftop and outdoor bars. Offering a variety of spectacular views from above and from the streets, as well as great food and a cozy atmosphere, Madrid's terrace lounges are begging to be discovered and explored!
The Roof at ME: Plaza de Santa Ana Terrace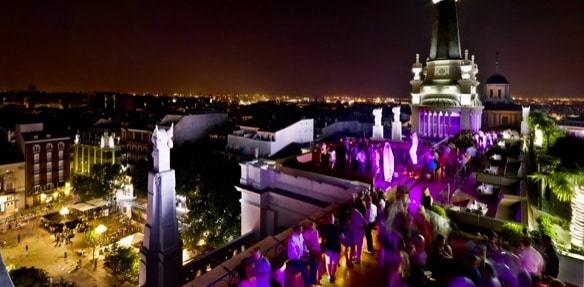 This exclusive hotel terrace has become one of the city's trendiest hotspots! With low, atmospheric lighting and a view of the Plaza Santa Ana, Teatro Royal, and more, the ME's rooftop is the perfect place to see the city lit up at night. Get ready to dress up for a classy night out, and be prepared that, given this is an upscale hotel, a pricy cocktail menu should come as no surprise.
· website ·
Garden Terrace at Restaurante Iroco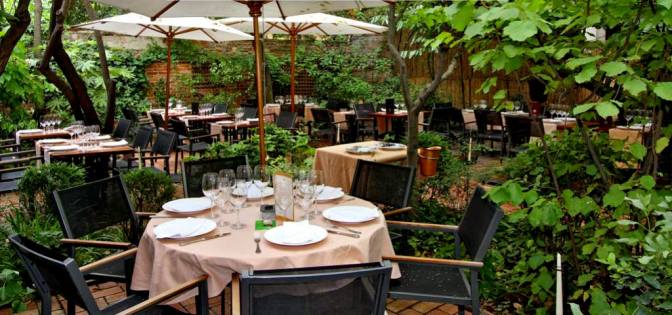 Hidden in the heart of Salamanca is a beautiful green terrace at the Restaurante Iroco. This garden terrace places you in an atmosphere full of life, surrounded by plants and bamboo walls. It's the perfect place to relax and enjoy a meal with friends. Opening at 1:30 pm, it's also an ideal venue for a summer brunch! The restaurant offers a menu with contemporary cooking and a list of wines, but the main attraction is definitely the vibrant and exquisite terrace!
· website ·
La Tita Revera Terrace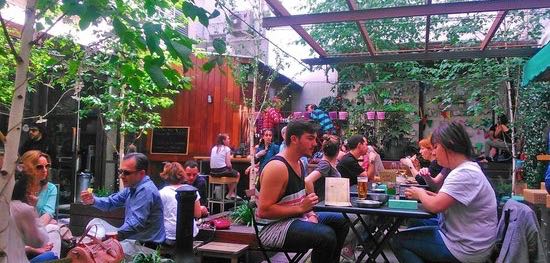 Here we have the perfect getaway for when the spring heat comes to get us. Find this spacious terrace hidden in the Chueca district, with wooden tables and benches providing a nice place to sit down and relax.  La Tita Revera offers a cafe-style menu with drinks, coffee, burgers, salads, and more, and the atmosphere stays true to the Chueca vibe. When the sun gets too hot, take a refreshing break and hide under the shade of the trees at La Tita Revera.
· website ·
Tartan Roof at Circulo de Bellas Artes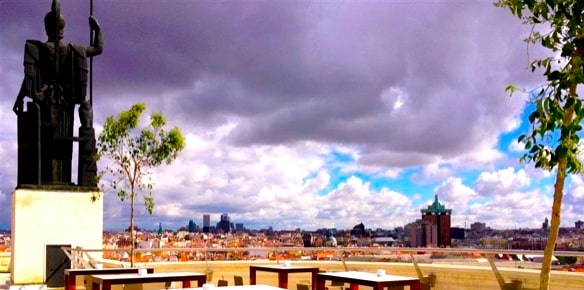 There are very few places you can see an iconic 360 view of the city other than at the rooftop of Circulo de Bellas Artes. Entrance fee to the rooftop is €4 at the bottom floor reception area (just €3 with your Carne Joven card!), which truly is a small price to pay for such a breathtaking experience! Gaze out over the vast Calle Gran Vía as you enjoy a drink or delicious meal at one of the many hightop tables, whether it is daytime, sunset, or after dark.
· website ·
Terrace at Restaurante Rubaiyat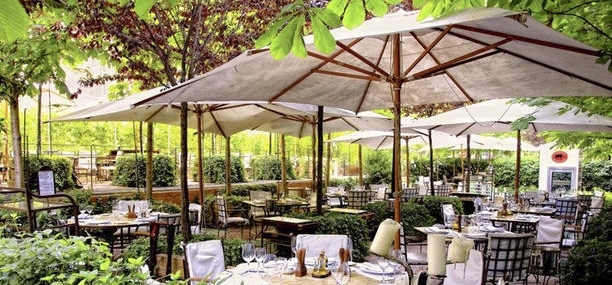 This popular Brazilian restaurant is not only known for its fine dining and imported meat, but also for its delightful terrace! Located north in district of Chamartín, Restaurante Rubaiyat is the only restaurant of its kind in Spain, with other locations only in South America! Their exclusive terraces are open from April to October, just in time for the spring weather approaching. Enjoy the fresh air and order some carne imported from Argentina. Their terraces are also equipped with steam sprayers to lower the ambient temperature. Talk about fancy!
· website ·
La Cantina Matadero de Madrid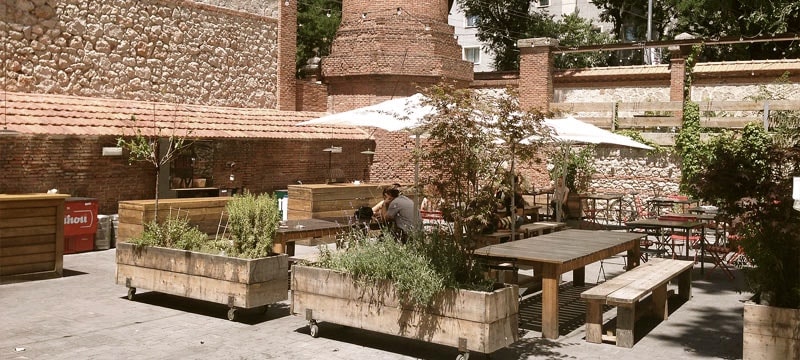 South of the city in the Arganzuela district, near the metro Legazpi, you will find La Cantina in Matadero Madrid. Originally an industrial slaughterhouse in the 20th century, Matadero Madrid has since then been converted into a large arts center devoted to promoting artistic freedom and the creative process. The buildings were used as a slaughterhouse until 1996, and now serve as space for multiple art-related programs. In the Matador Madrid Plaza, next to the Cineteca, is the restaurant of La Cantina, where you can enjoy pizzas, sandwiches, quiche, desserts, drinks and more. The restaurant has a patio where you can enjoy the spring weather and drink a mint lemonade. During the summer, Matadero Madrid's interior open space is transformed into a terraza-bar, where daily activities or music events are also held. Make sure to add this awesome locale to your list!
· website ·
Terraza Atenas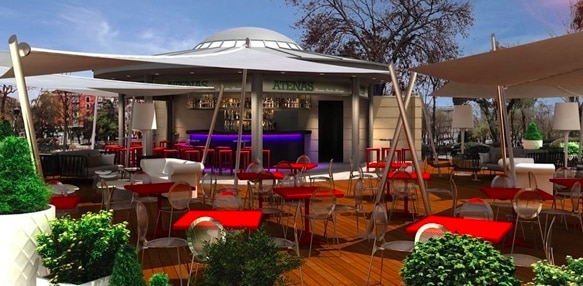 This nature-inspired terrace distinguishes itself from the rest of Madrid's rooftop bars in that it is tucked away within the Campo del Moro Park. Terraza Atenas is great in the summer, where you can dip your feet in the pools over a cocktail, as well as in the winter where you can enjoy the intimate atmosphere and views of the Almudena Cathedral on the quiet terrace. The dancefloor also comes alive at night with a DJ, as the site transforms into more of a club atmosphere.
· website ·
Saporem Terrace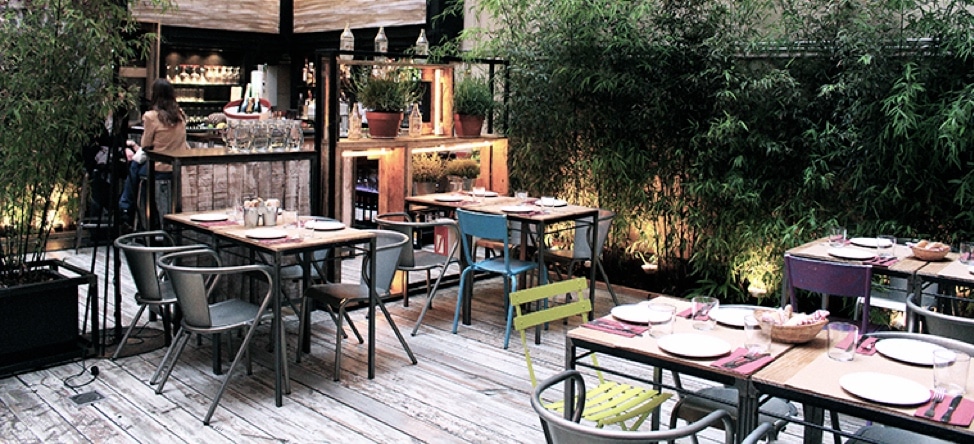 The Saporem Restaurant, located in the Barrio de Las Tetras, is a precious locale that defines itself on taste, smell and color. Their elegant terrace and cosy atmosphere is perfect for a spring dinner get-together. If you're hungry during the day, they also have a 10 euro lunch menu! Saporem offers a variety of mediterranean and international dishes, as well as a cocktail bar on the patio. Most days they even have live music performances to accompany your meal. This restaurant terrace is a great value-for-money location, especially if you're looking for something a little more fancy.
· website ·
Hotel Silken Puerta America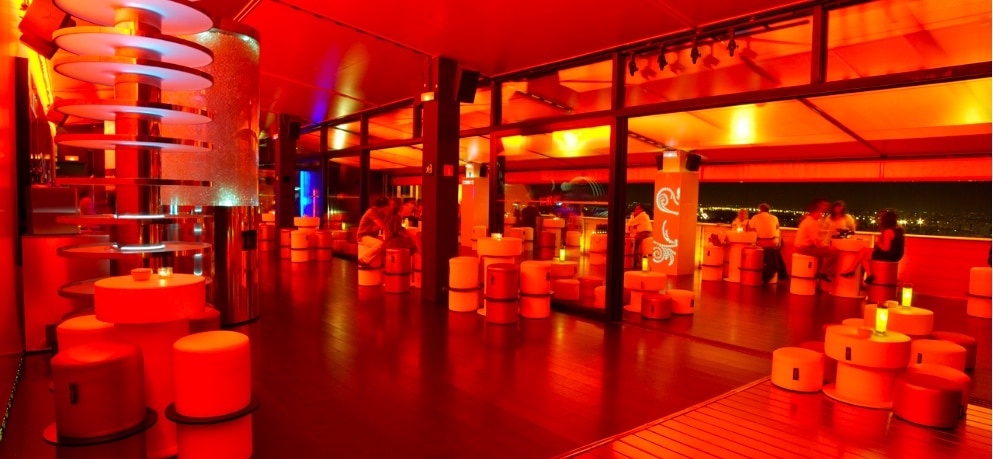 What's cool about Madrid's rooftop bars and clubs is that, they don't just serve as super trendy places to relax and grab a drink, but they can also create the perfect party vibe! What better way to spend your Sunday evening than enjoying cocktails, live music, and of course Spanish tapas! Hotel Silken offers an exclusive rooftop of it's 5-star hotel (a perfect place to watch the sunset over some amazing views of Madrid you wouldn't otherwise get the chance to see).
· website ·
Palacio de Cibeles Terraza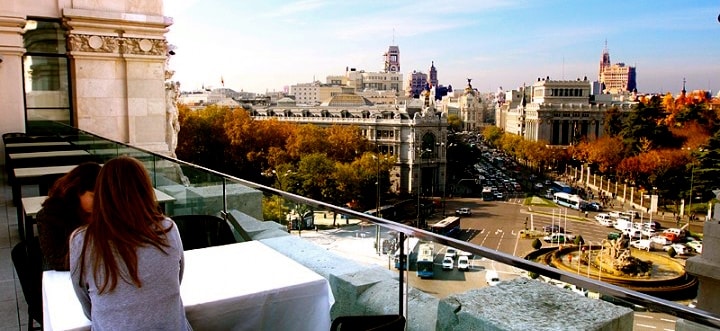 If you've recently seen the banner that reads "REFUGEES WELCOME" hanging from a strikingly tall and beautiful building, you've stumbled across Madrid's Palacio de Cibeles. Maybe you've figured out that for just 2 euro, you can travel all the way up to the mirador in half-hour intervals to enjoy the view over the Plaza de Cibeles, Paseo del Prado as well as parts of Calle Gran Via. But did you know that this panoramic view can also be enjoyed with a gin and tonic in your hand and virtually no time constraint? That's the beauty of the Palacio de Cibeles' Terraza bar and restaurant!! The outdoor terrace offers a unique view of the Plaza de Cibeles' fountain, which is especially beautiful when illuminated at night. The newly-refurbished site is now open to the public and invites an elegant yet relaxed atmosphere with a menu specializing in selections of fresh fish and wine. This place is quite a treat and definitely worth it if you have a little more time and money to spend!
· website ·
Lateral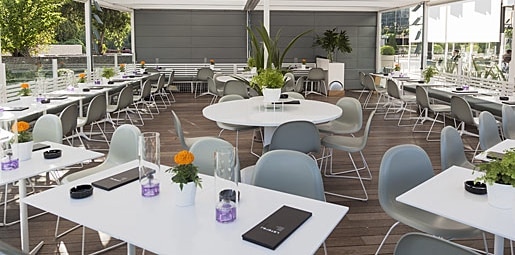 There are multiple Lateral restaurants placed throughout the city of Madrid, but there are two particular locations that can catch any terrace-lover's eye. Lateral Castellana 42 and Lateral Castellana 89 have transformed their restaurants with a patio-theme. You can dine outside in the fresh air, or enjoy an interior meal with window walls. Lateral offers a large menu of different types of dishes, including meat, fish, salads, desserts and much more. The restaurant has a very modern vibe and provides a refreshing scenery with white decor. Be sure to visit Lateral for the perfect brunch date!
· website ·
La Taberna Puertalsol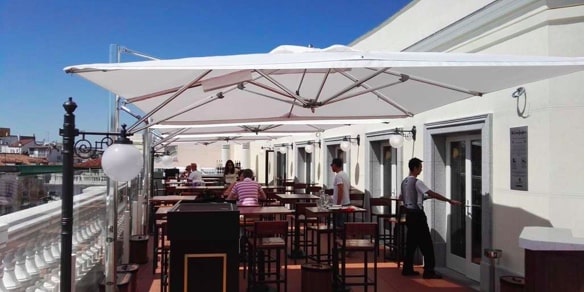 Located on the 5th floor of the Cortes Inglés near Puerta del Sol (as you can probably imagine from the name), this brand new gastronomic rooftop bar and restaurant boasts the rare combo of a casual atmosphere and great food. The menu offers a very wide variety of tapas and tradition Spanish dishes of exceptionally high quality thanks to the work of well-known chefs Alberto Chicote and Pedro Olmedo. Although people will frequent places like this in the summer time, it's not too late to check it out! Open 361 days per year, there's no excuse for missing out on the unique and impressive views of the Puerta del Sol and calle Preciados.
· website ·
Plaza de San Ildefonso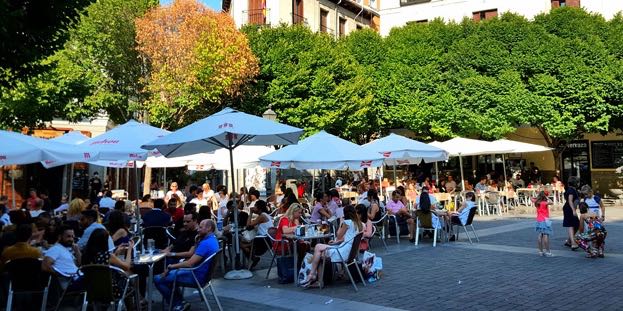 This honourable mention is an adorable little plaza tucked away in Malasaña, just north of Madrid's plaza Callao. The plaza seconds as a terrace for 3 amazing restaurants which create that typical look we all think of when we day dream about cafés in Europe! The restaurants include Maki (Japanese cuisine), Naif (a burger bar) and Conache (Spanish cuisine). There is often a street performer playing lovely music and the when the church bells ring it really makes you feel like you're somewhere special! The plaza fills up fast around lunch-time because it's the prime time for sun and menu del dias! So get there early if you wish to enjoy a meal there, or else you'll be waiting in a long line!
· website ·
Want more Rooftops? We've got more to offer! Check out our 10 Amazing Rooftops Overlooking Madrid and our super cool series of Rooftop & Terrace Events called Meet & Chill! Also, Don't miss out on a chance to Swim at some of Madrid's best Rooftop Pools!