Winter Ready Terraces in Madrid!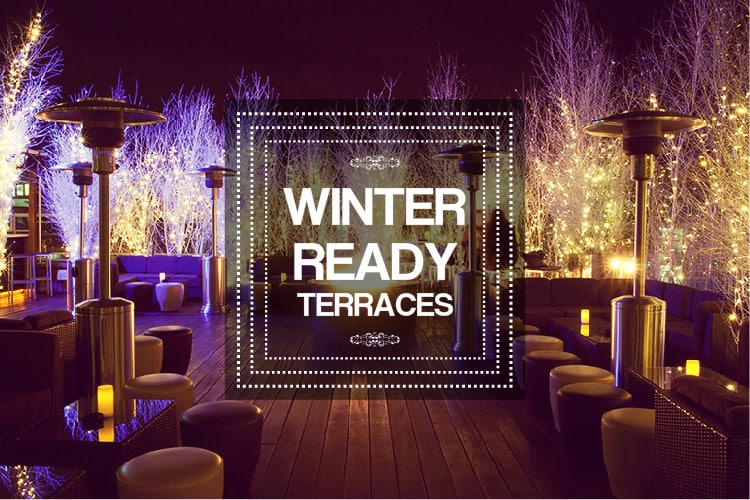 Although Madrid winters remain relatively mild, sometimes we want to escape the windy weather and end up spending more time inside than we'd like. But a little drop in temperature doesn't mean you should miss out on exploring the hidden cafes, bars, and most importantly, outdoor terraces the city offers! Snuggling up and chilling out with some warm tapas on a heated terrace is about to become your ideal Friday afternoon (or Saturday night).
Gymage terrace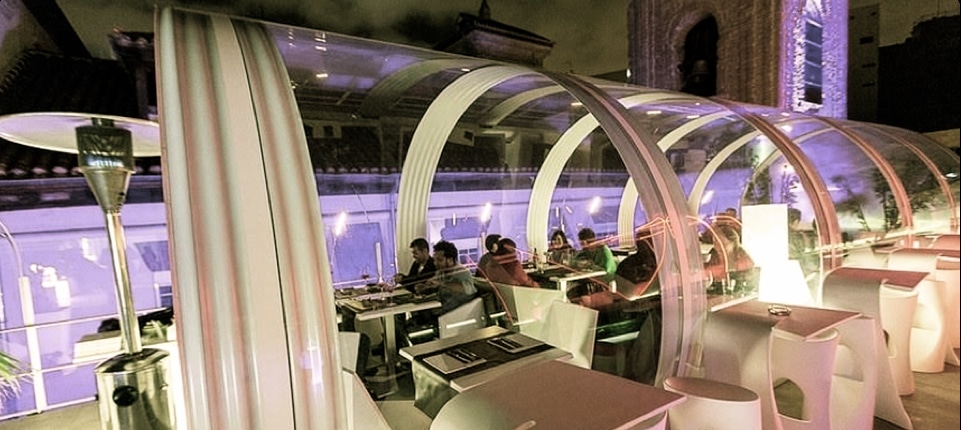 Calle de la Luna, 2, 28004 Madrid
Converted from an old cinema into an upscale gym in Malasana, the rooftop of Gymage takes the form of a trendy terrace bar and restaurant open into the late hours of the colder months! Protected by the brisk, windy weather typical of the Madrid winter, you can enjoy music and views of Plaza de la Luna all while seated underneath a covered zone designed into beautiful white arches. The menu boasts a lengthy cocktail selection, healthy options, a snack menu, tasty hamburgers and is reasonably priced for such a comfortable, open, and friendly atmosphere.
El Lateral 
Even in the colder months, tapas never go out of style! What could be better than to relax amidst the energetic atmosphere of Madrid's Plaza Santa Ana (makes for great people watching, too) while sampling a few tasty pinxos and some of the best wine, sangria, and mojitos in the city? Tables are kept cozy from the numerous heat lamps coming from both the terrace's fire decorations and even from underneath the umbrellas. Lateral even offers gluten-free options on the menu!
Saporem
An essential stop on any winter night, this heated and covered patio is Barrio de las Letras' newest addition – and a hidden gem for sure. At Saporem, you can enjoy one of their delicious (and homemade!) sangrias and choose from a menu stocked with international and Mediterranean cuisine for a super reasonable price. Saporem's quaint terrace features a cocktail bar, comfortable vibes, live music and resembles a green oasis that's sure to make you forget what season it is!
Ramses Life
Offering a spectacular view of the Puerta de Alcala all lit up and decked out in Christmas spirit, Ramses' terrace is a must-visit in the winter months! The combination of the views and the heaters and chimneys will make you want to stay all night. Not sure what you're in the mood to eat? An eclectic mix of Japanese and Mediterranean cuisines, the menu boasts a variety of everything, from sushi platters to burgers – and they even have a complete brunch menu on the weekends!
Pipa y Co.
Protected by glass walls that let in natural light, this chic, heated terrace is located in the barrio of Chamartin. Pipa y Co. offers healthy options and a variety of menus such as breakfast, lunch, dinner, brunch that lasts until 16:00 on weekends, and a cocktail menu, you're guaranteed to find something you like! Don't miss the warm tapas such as the sopa de cebolla con pan artesano y queso gruyere and huevo poché con parmentier de patata y aceite de trufa negra.
– Marisa