There are so many rooftops and so little time! For those of you who didn't already know, Madrid is full of unique, trendy  bars and restaurants. Some are chic, some are alternative, some are relaxing and others are completely unique all together! Check out our list of 10 great rooftop bars overlooking Madrid!
Gau & Café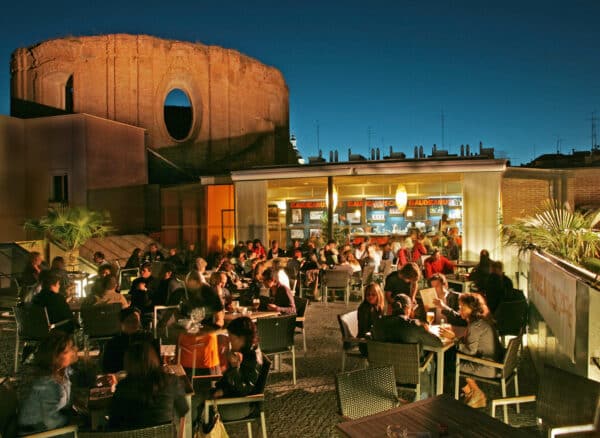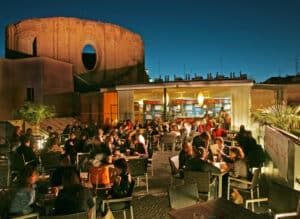 This semi-secret rooftop cafe is rising from the ruins located on the 4th floor of the ancient ruins of Escuelas Pias.  Try the original and affordable Mediterranean menu that also includes vegetarian options. This chill rooftop has a spectacular view over the multicultural neighborhood of Lavapiés or relax in the cozy interior when things get chilly. (Website – Location: C/ Tribulete 14, 4ª Planta. Edificio Escuelas Pias (UNED). 28012- Madrid)
Mercado San Antón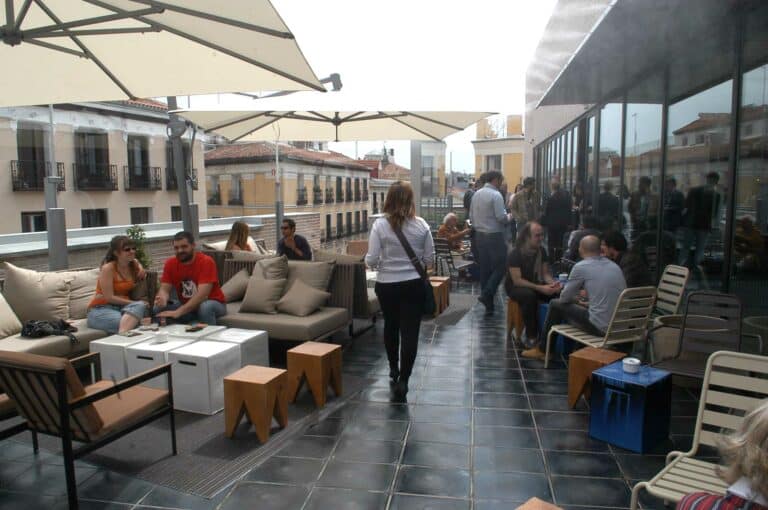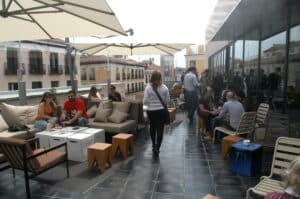 Tucked away in the streets of Cuenca, lies Mercado San Anton. At first it looks like your every day produce and meat market. But, as you reach the top floor you'll find a cute a comfy rooftop terrace and bar. Equipped with an outdoor and indoor bar, as well as prepared food  you could spend hours up there. Despite being in the middle of the big city, the terrace gives you a well deserved break from all the noise and commotion in the streets! (Website – Location: 28004, Calle de Augusto Figueroa)
Círculo de Bellas Artes
Relax and have a cold drink while enjoying a beautiful view from the rooftop bar. Circulo de Bellas Artes is one of the best locations to catch the sunset with a view of the entire city. Definitely worth the €3 entrance free, whether its to chill out and take some sun on the relaxing lounge chairs or to catch the view. For summer seasons you can even eat at the restaurant bar, which has excellent chefs and reviews. You won't regret it having stopped by. (Website – Location: Calle de Alcalá, 42, 28014 Madrid)
The Roof at ME Madrid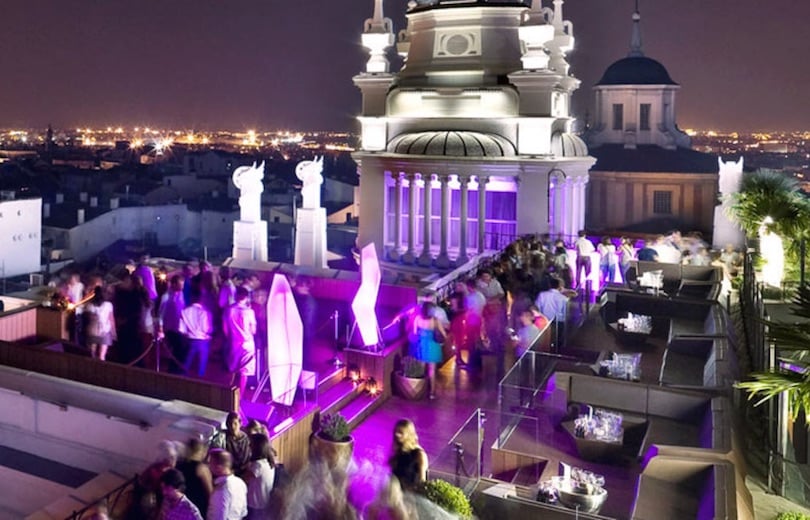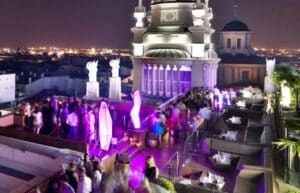 This is of the most hip, exclusive and chic rooftop bars in the city. Located in the  fabulous Plaza Santa Ana, the ME rooftop is must see spot. The famous purple tower at the top of the ME hotel is the place to find the hottest events, the tastiest drinks and an amazing view of the city. Of course, you can't hangout at such a chic place for cheap – so be prepared to drop some serious cash at the bar! (Website – Location: Plaza de Santa Ana 14)
 Gymage
This lounge is the definition of luxury. It has many things to offer like fitness classes, a spa, restaurant. But, more importantly, a beautiful sun terrace with bar cocktails and a selection of smoothies and coffees for any time of day. Relax after a day at the spa, after a good workout or simply just to take in the view. Enjoy the live music and make it a day of relaxation bliss. (Website – Location: Calle de la Luna, 2, 28004 Madrid, Spain)
Hotel Puerta América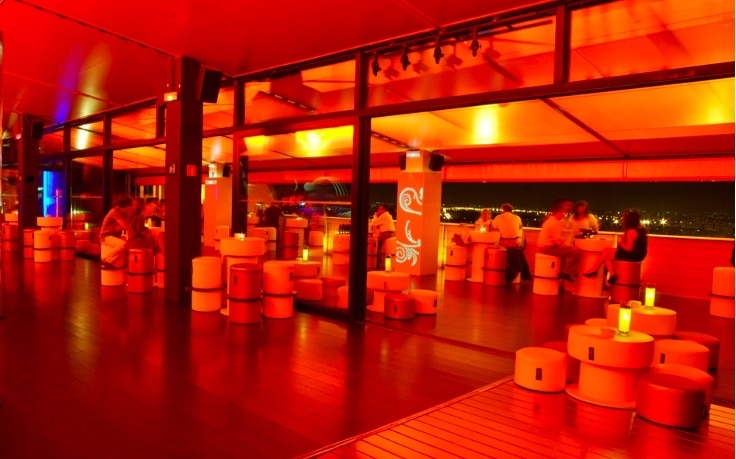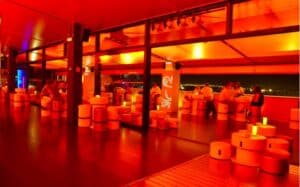 Hotel Puerta América is located just outside the main city centre of Madrid and is home to the tallest rooftop terrace in the city! It has one of the most unique architectural concepts in Madrid, with an open concept bar, terrace and dance floor it's truly somewhere every visitor to Madrid must visit!  (Website – Location: Avenida de América, 41 – 28002 Madrid, Spain)
The Hat Rooftop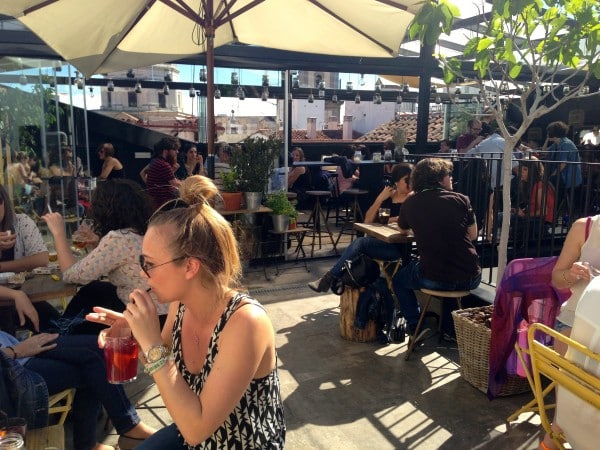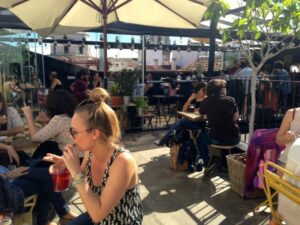 Located at the rooftop of The Hat Hostel right by Plaza Mayor. The Hat is one of the hippest spots to chill out in the city centre. The terrace is semi covered, so you never have to worry about over heating under the hot Spanish sun. Equipped with a bar, tables, lounges, couches and more, the young, fun atmosphere that the hostel brings, makes ever visit a really special thing. Day or night, you can enjoy a coffee, a cocktail or a beer and chat with some travellers while enjoying the fabulous Madrid sunset! (Website – Location: Calle Imperial 9, Madrid)
Bar Mirador Centro Centro
Have a drink at one of Madrid's most iconic buildings. This decorative landmark building was once the home of the postal service and now delivers art. Inside you will find exhibits that have a mixture of  new Spanish artists and classic collections of masters and a magnificent view of the city from the newly opened viewing point. Prices at €2 for adults and €0.50 for children. A cocktail, a gin and tonic or just a coffee will become an unforgettable moment on this terrace. The views of the square are an unforgettable privilege. (Website – Location: Plaza de Cibeles 1, 28014, Spain)
Casa de Granada en Madrid
After several months closed for renovation, its finally open and ready for your enjoyment! This cultural center will embrace you with its Andalusian charm. The restaurant serves the typical food from their named region while avoiding the crowdedness of the city center on the terrace. The views are incredible and if the weather cooperates it's easy to spend a few hours here chatting with friends over an Alhambra beer or three. (Website – Location: Calle Dr Cortezo, 17, 28012 Madrid, Spain)
El Corte Inglés – Gourmet Experience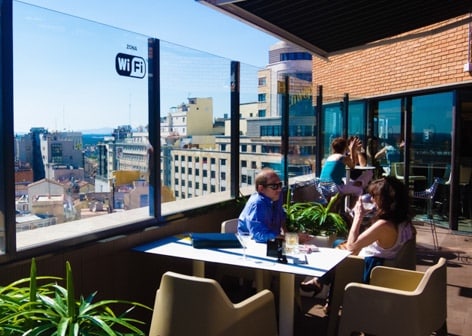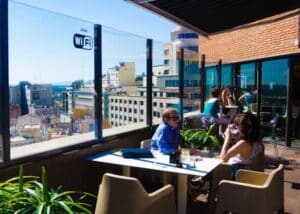 Right in the middle of the city, in plaza Callao, you will find a fabulous hangout spot. The Gourmet Experience, located at the rooftop of El Corte Inglés is a one stop shop for good food, tasty cocktails and gorgeous views! The prices are great, and the cuisine options are endless. You can choose from Mexican, and Japanese to Italian and Spanish! The rooftop offers a world famous view of Gran Via, the Palace and most of the Madrid skyline and free wifi! (Website – Location: Plaza de Callao, 2)
Want more Rooftops? We've got more to offer! Check out our 13 Great Terraces for Cocktails & Food and our super cool series of Rooftop & Terrace Events called Meet & Chill! Also, Don't miss out on a chance to Swim at some of Madrid's best Rooftop Pools!
– Priscilla