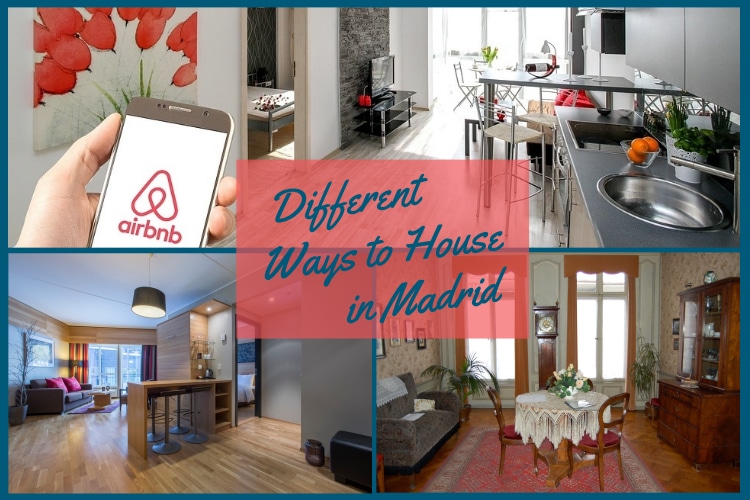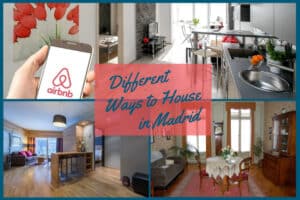 Moving to Madrid on a temporary basis and have no idea where to live? There are plenty of different options for living in Madrid for everyone. You can live e.g. in a with a Spanish family (homestay), rent a flat through Airbnb (rather short term rentals) or a shared apartment with other students through a reputable rental agencies in Madrid, or live in a student residency.
Below we outline a comparison of some of the main available options for you to live in Madrid for one or two semesters (or longer). Of course, there are plenty more options than the those described here, however, these are the most popular ones at the moment.
We also dedicated a whole section on our webpage which will help you find the best place to live in Madrid. Check it out once you're ready to begin your search. There you will find:
an interactive map to find apartments right away
our main Facebook group called "Madrid Roommate & Flat Search" to search for room mates, flats & rooms and
our free Housing Guide for download. This guide will get you started and oriented. It should be the first step of your housing hunt!
Additionally, we recommend to join our latest "Housing Hunt" WhatsApp group, where you can ask us any questions you might have about housing and meet future fellow students with whom you could search together.
Below are the most popular housing options amongst young internationals coming each year to Madrid at a glance:
Option #1: Shared Apartments (Flats)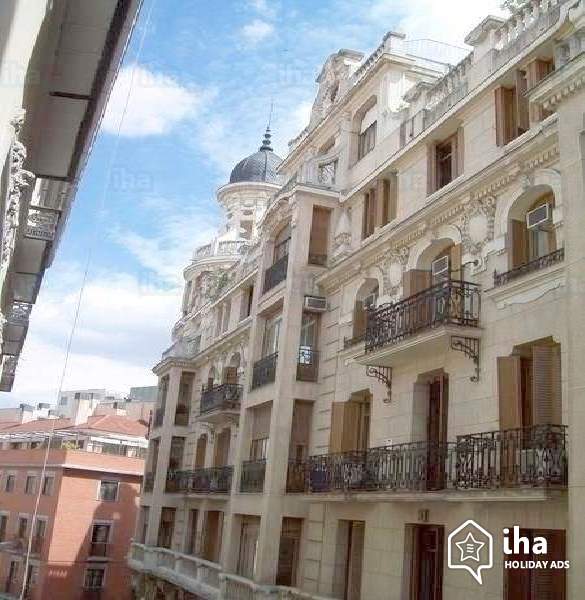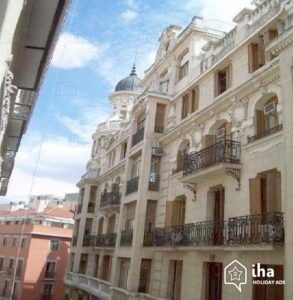 The most popular option for living in Madrid amongst young internationals is living in a shared apartment with others. Students often pick this option as its one of the cheaper options for living in Madrid. It also comes with more freedom (fewer rules). This being said, it's possible that you will be living with several other individuals in a smaller sized apartment. The average rent per individual in this type of flat is currently around 450-500€ per month, making it accessible for your purse. You may share you apartment with other international students or with local Spanish students. It's important to keep in mind that you will need to put in your share of housework. Since you will be living with many people in a smaller area, it is important to keep your area and common areas of the flat tidy. Additionally, some of these shared flats can have up to 12 people living in one apartment. If you're the type of person who barely spends any time at home, then this could be a perfect option for you as living with many people won't be an issue for you. However, if you're someone who likes a good sleep and spends a lot of time at home, then may be quieter, less populated living options may be for you! Click here to download our free housing guide to learn more about finding a shared flat in Madrid.
Pros: Probably the cheapest option you will find for living in Madrid, (hopefully) will make a few friends right away as you'll be living with many other people, meet other internationals and even Spanish locals, will probably be closer to the city center, great option if you don't spend too much time at home, most freedom out of all the listed options, no curfews or children (might encounter those in a homestay), no strict rules or regulations (might encounter those in a student residence).
Cons: Will be louder than if you lived alone or in homestay/student residence, will be sharing common areas with many people, need to keep common areas very clean when you use them, need to keep in mind that you'll be living with many different types of people (some may like to sleep earlier than others, there will be many different personalities in one flat, etc.) and you will need to be respectful to all of them (again, not quite a con, but something to keep in mind), must cook or buy your own food.
How to begin your search: Check out our free housing guide to find out about the different pitfalls, questions you should ask your contractor, and where to look for a shared flat. Some good websites (platforms, agencies) to check out to find shared flats include idealista, helpMadrid, Spotahome.com, Aluni.net, Mundial Rooms and PyR Solutions. There are more links in our free Housing in Madrid guide. To find a flat, some services are free to use, whereas others take a reservation fee when you book your apartment. Those charging a fee (such as helpMadrid) are the reputable agencies & platforms to go through where your money is save. These companies will read over apartment contracts for you, listen to the input for what type of housing you desire, and help you find the perfect place. If you decide that you want to find your housing completely on your own, then read over our series of articles on the neighborhoods of Madrid (start with Part 1), to find your perfect neighborhood. Feel free to also fill out our Housing Request Form, we will connect you for free with trustful agencies in Madrid.
Keep in mind, you can always contact us via whatsapp if you have any questions about how to start your search!
Option #2: Homestay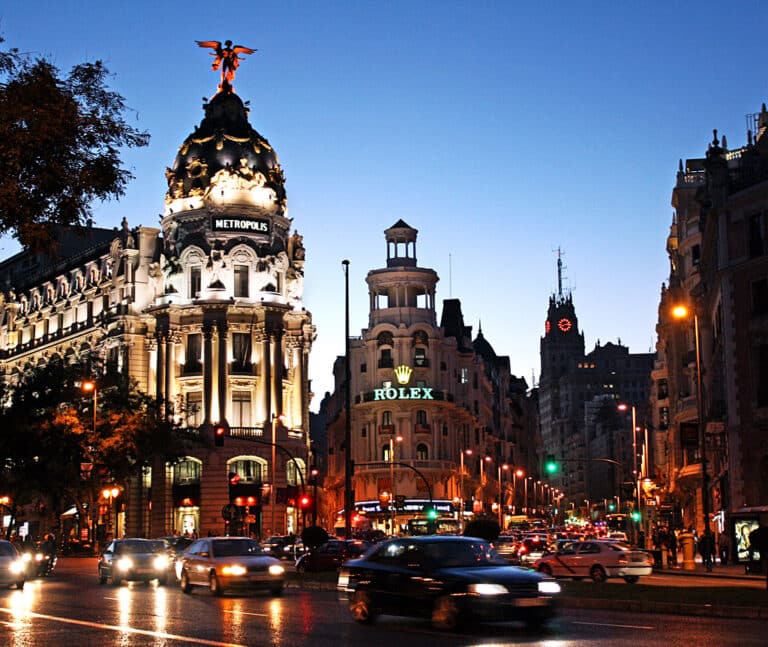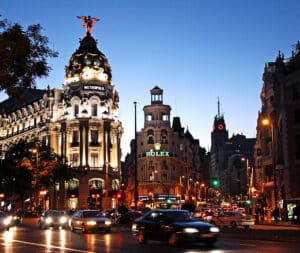 For many, living with a Spanish family (homestay) is a great option. If you're a study abroad student and your school offers a homestay through a reputable program, these programs will often take care of many of the details for you. All you will have to do in this scenario is fill out the preferences you have for living and your school will figure out where to place you. Trying to find the perfect living option can be difficult, so many will opt to participate in a homestay, making the search easier. However, sometimes universities will not take care of all the small details, so the students will have to find a homestay on their own. For information on how to find your own homestay and the most important things one should know before living in a homestay, click here. The linked article will also describe how to begin your search in finding a homestay. For a brief overview of the pros and cons of living in a homestay, see below.
Pros: Get to try typical Spanish foods in an authentic way (host families will often cook for their students), learn about Spanish family culture firsthand, live in safe and secure residency, and helps to avoid homesickness, Spanish language skills will improve;)
Cons: Not as much independence as your own room in a shared apartment/residence, may not be allowed to invite friends over (may lead to less of a social life), need to respect rules of the host family (not so much a con, but something to keep in mind!), no direct contact to fellow young internationals, may not like all the food that's served, may not be in the city center as many families live slightly outside the city.
How to begin your search: Look on reputable websites to find homestays that fit the criteria you need. For example, in Madrid we recommend especially Your Family in Madrid, and in general Homestay.com. Feel free to fill out our Housing Request Form, we will connect you with families in Madrid so you can evaluate this option. Once you've found a homestay that seems it will work for you, reach out and contact the family to communicate with them before coming to Madrid. Make sure you ask important questions and go over any rules that they might have for their household. If you have dietary restrictions or certain requests when it comes to your living situation, ensure that you discuss this BEFORE you arrive in Madrid. In regards to homestays, much more information can be found in our main homestay article, here.
Option #3: Student Residency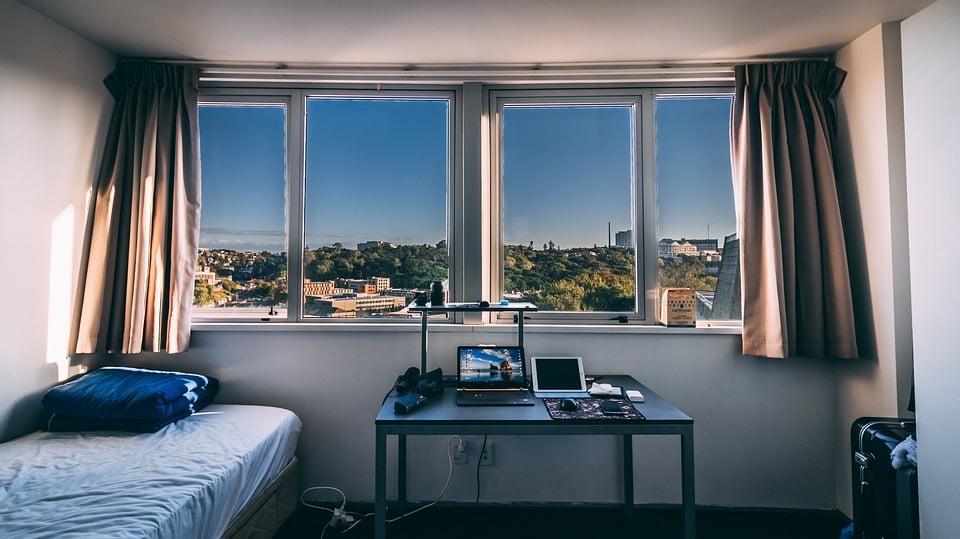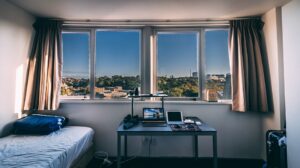 For those of you coming from universities with dormitories, this option might seem the most familiar to you. The rooms of a student residency are set up like a typical dorm room. Just as there are probably many different types of dorms at your home university, there are also many different student residency options in Madrid. Options include having a room mate, a single, a shared bathroom, a single bathroom, and much more. Usually student living residencies will house young adults who are taking classes somewhere in Madrid, so it's a great way to make friends with those you will have a lot in common with. The common areas in student residencies often include a kitchen, living room, a game room and a library. The purpose of these spaces is to provide a place to connect with each other. Typically, students will have their own rooms in these residencies, so utilization of these spaces is necessary to make friends with those who live near you. These residencies are usually more expensive than a shared flat, as they are slightly nicer and include other services like e.g. meal plans.
Pros: Have your own room (or only one room mate), familiar to housing at your home university (may make the transition abroad easier), meet other like-minded individuals studying in Madrid, many student residencies offer meal plans, secure housing/support, usually in city center.
Cons: Often much more expensive than shared flats or a homestay, will need to follow the rules of the residency, doesn't necessarily force you outside of your comfort zone (very similar to housing at your home university, some people want to try something new while abroad!).
How to begin your search: To find housing in popular student residencies, check out the following links: Mi Casa Inn, Nexo Residencies. Youniq, Wunder House and Collegiate. These webpages are easy to navigate, allowing you to easily find the perfect place. Additionally, keep in mind that the university you will be attending in Madrid may also have options for housing, so reach out to them. Again, please refer to our free Housing Guide for more details.
Option #4: AirBnb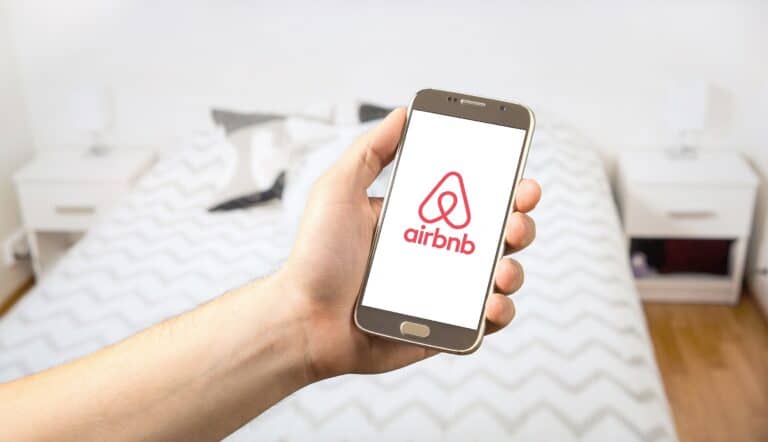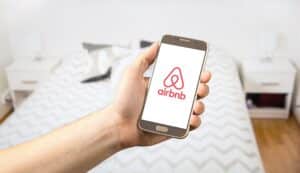 Everyone has heard of AirBnb for vacations and weekend trips, but did you know you can rent out Airbnbs for a few weeks and even months? This option could also be good if you want to come to Madrid and have a place to stay before you find your long-term home. Make sure to compare prices between the different options, as Airbnb can get quite expensive. Furthermore, if you chose to rent out a single room in a flat via Airbnb, you may find that there are many different people moving in and out of the other rooms available in the same flat which can be quite inconvenient and insecure. These individuals could range from couples on short-term vacations to other students looking for a place to stay to a family on vacation. Also be aware of pontential scam (there are copies of Airbnb existing that look very similar (check the domain link as first step). For the previously stated reasons, renting an Airbnb both on a short-term and long-term basis is not ideal but always an alternative option.
Pros: A short-term place to stay if you're not sure where to live yet, easy to rent (just use the official Airbnb website), able to quickly find an apartment if you're short on time before moving to Madrid.
Cons: May be more expensive than if you initially found a place to live before moving, will probably live alone, may have many people moving in and out over the course of your stay (if long-term), more expensive to rent on long-term basis (cheap options tend to be scam!).
How to begin your search: This one's not too hard to figure out! Just head to Airbnb.com, indicate Madrid as location, the exact dates of your stay and see what options are available for the areas you want to live in!
Hopefully this run down of different housing options gives your more direction on where to start your search. Again, be sure to check out our free "Welcome To Madrid" guides before you come to Madrid.
There's more to keep in mind when moving to Madrid than just housing. You'll need a transportation card, medical insurance, potentially a Spanish SIM card, as well as a Spanish bank account.
Don't panic, here at Citylife Madrid we are here to assist you in your exciting, yet daunting, journey abroad :). Reach out to us online via Whatsapp or visit us in our office upon your arrival to pick up your free Madrid Starter Pack, as soon as you arrive. From there, we'll be happy to assist you with any other questions you might have, as well as fill you in on all the fun (and much less stressful) things do here in Madrid.
See you soon!
-Grace