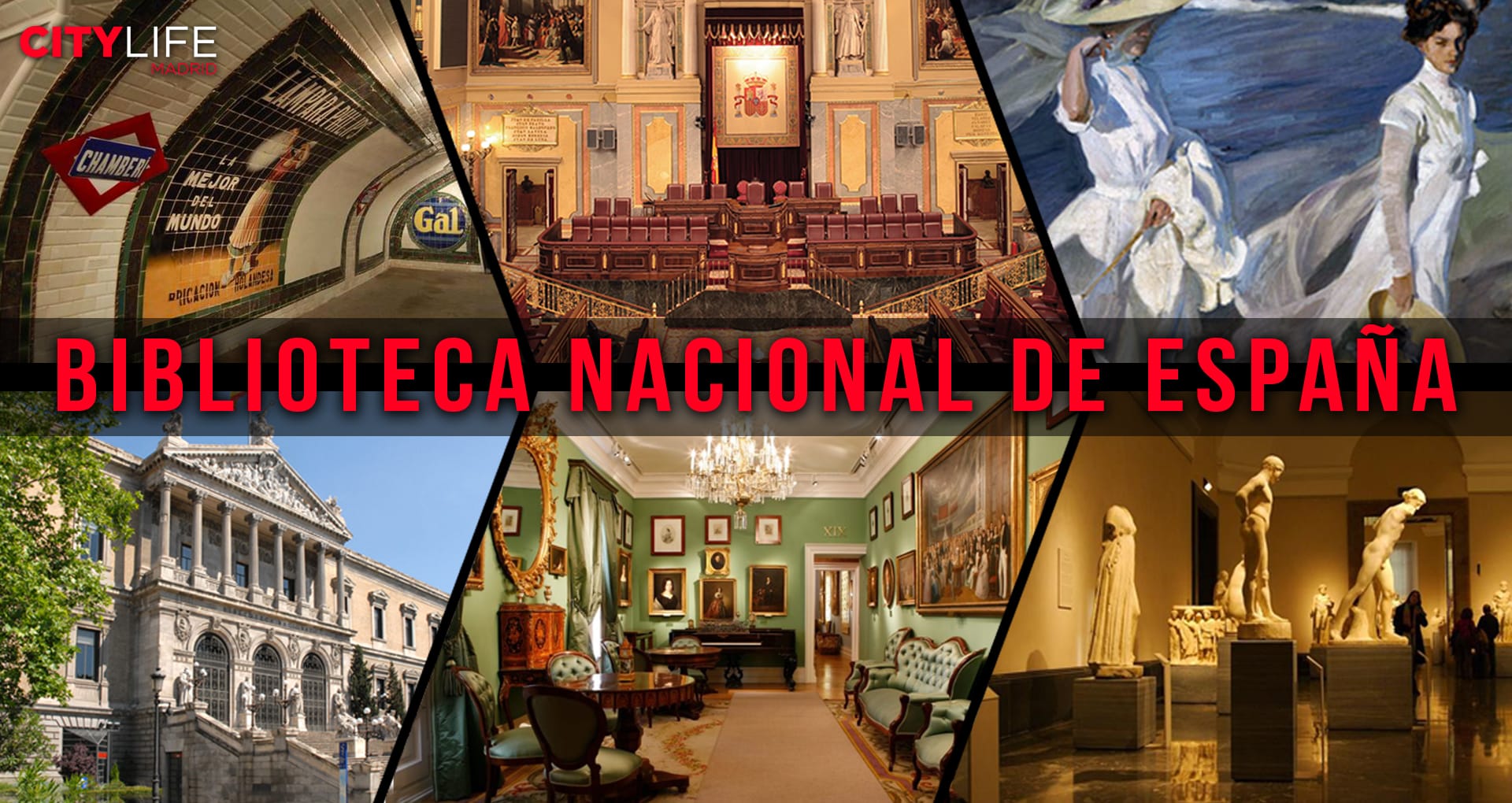 Share this event with friends!
Activity Details
Date: 14/11/2019
Duration: 1,5 Hours
Meeting Time: 5:00 PM
Meeting Point: Biblioteca Nacional de EspañaPaseo de Recoletos, 20-22
Price: FREE €
Price with City Card: FREE €
Activity Description
[Spanish Version at the bottom] 
Founded by King Philip V in 1712 as the Palace Public Library, this national landmark is the largest library in Spain and one of the largest in the entire world! In the midst of the Spanish Civil War in the 30's, close to 500,000 volumes were collected by the "Confiscation Committee" in order to safeguard many of the most historically and culturally significant literary works in the history of Spain. Nowadays the library is home to more than 26,000,000 items, including 15,000,000 books! Come join Citylife Madrid for this FREE guided tour through the library as well as the world-renowned reading room!
★ Activity Details – Reservation required! ★
✓ PRICE: FREE – Preferred booking for City Card holders! Not a City Card holder? Please check here for details on how to become a member!
✓ LANGUAGE: Spanish
✓ WHEN: Thursday at 17:00 (estimated duration 1,5 hours)
✓ WHERE: Paseo de Recoletos, 20-22, 28001 Madrid
✓ METRO: Colón
In order to be able to attend the tour you require a confirmation e-mail. A Reminder with the tour details will be sent on the day of the event.
PLEASE BE ADVISED  if you won't be able to come, you must let us know by 12:00pm the day of the tour, as the spots are very limited. If you don't show up, without letting us know, we'll proceed to cancel all your possible reservations to another museum visit.
★ Outlook – Next free Cultural Visits ★
No time this time? Check out our next activities and get your ticket(s) already now!
★ Become Part of the Citylife Madrid community! ★
FB Page | FB community 2019/2020 | Twitter | Instagram | Youtube
★ Photos and Newsletter ★
With the reservation of an event you will receive automatically our weekly newsletter which informs you among other things about our events (e.g. date and time). You have the possibility at anytime to unsubscribe.
★ ★ ★ ★ ★ ★ ★ ★ ★ ★ ★ ★ ★ ★ ★ ★ ★ ★ ★ ★ ★ ★ ★ Español ★ ★ ★ ★ ★ ★ ★ ★ ★ ★ ★ ★ ★ ★ ★ ★ ★ ★ ★ ★ ★ ★
Fundada por el Rey Felipe V en 1712 como biblioteca pública del Palacio, este monumento nacional es la biblioteca más grande de España y una de las más grandes en todo el mundo. Durante de la Guerra Civil Española que se desarrolló entre 1936 y 1939, cerca de 500.000 volúmenes fueron recolectados por el "Comité de confiscación" con la finalidad de proteger muchas de las obras literarias más significativas de la historia de España en un sentido histórico y cultural. Hoy en día la biblioteca es el hogar de más de 26, 000,000 artículos, incluyendo 15.000.000 de libros ¡Ven y únete a "Citylife Madrid" para esta visita guiada a través de la sala de lectura de esta gran biblioteca de reconocimiento mundial! ¡Y encima es gratis!
★ Detalles de la Actividad – ¡Se exige reserva! ★
✓ PRECIO: Entrada GRATIS – Reserva preferida para los titulares de la City Card! ¿No eres titular de la City Card? Por favor, consulte aquí para obtener detalles sobre cómo convertirse en un miembro!
✓ IDIOMA: Español
✓ CUÁNDO: Jueves a las 17:00 (duración estimada: 1,5horas)
✓ DÓNDE: Paseo de Recoletos, 20-22, 28001 Madrid
✓ METRO: Colón
★ ★ ★ Cómo RESERVAR ★ ★ ★
Para poder asistir al tour se requiere un correo electrónico de confirmación. Un recordatorio con los detalles del tour se enviará el día del evento.
POR FAVOR, si no puede venir, debe avisarnos antes de las 12:00 pm del día del tour, ya que los lugares son muy limitados. Si no se presenta, sin avisarnos, procederemos a cancelar todas sus reservas posibles para otra visita al museo.
★ Calendario de actividades ★
¿No tienes tiempo esta vez? Mira las próximas actividades y asegúrate tu(s) plaza(s) reservando ya: www.citylifemadrid.com/activities
★ ¡Forma parte de la comunidad de Citylife Madrid! ★
FB Page |  FB community 2019/2020| Twitter | Instagram | Youtube
★ Fotos y Boletín ★
Con la reserva de un evento automáticamente recibirás nuestro newsletter con las últimas informaciones.
Book now
This event is fully booked.