Madrid Student Welcome Day 2018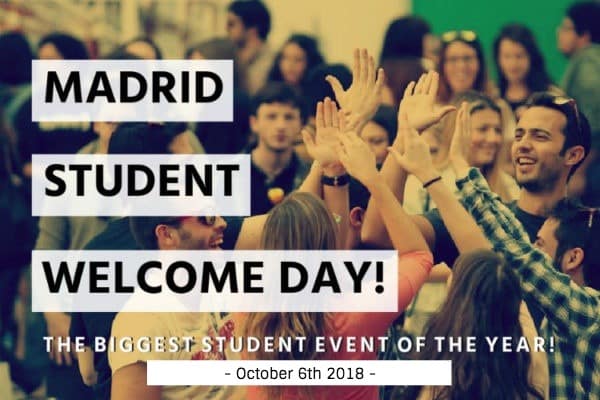 Welcome to Madrid! Spain's capital and largest metropolis, the 3rd largest city in the EU, home to the best football team in the world and some of the countries best universities. Madrid is a major cultural capital and one of the most popular cities in Europe for students! That's right, there are over 270,000 people studying in Madrid, with more than 50,000 of those being international students! This city is a hub for young internationals and the perfect choice for anyone's time abroad! If you are currently thinking of or have already chosen to make Madrid your study abroad destination, then you have to take a look at the Madrid Student Welcome Day, which you can sign up for (free), here!!
Madrid Student Welcome Day is an incredible event made especially for students who have arrived in Madrid. It's a day made for introducing yourself to the city and the thousands of other people who have just arrived! It will be taking place on October 6th from 11:00-22:00 at Madrid's Galeria de Cristal Palacio de Cibeles and is comprised of two phases.
Phase 1 will take place during the day and is the main event for participants to get to know the most about the city and the student community in Madrid! The Palacio Cristal will be filled with informative stations dedicated to different fields like: Sports Clubs, Food & Drink, Health & Beauty, Travel, Academics, Getting Settled in Madrid and much more! Here you can collect info, mingle with other students and meet and connect with several different organisations! But one of the most exciting parts is the endless raffles! With the Madrid Student Welcome Day raffles, participants could stand to win prizes like tickets to the Real Madrid museum & football matches, trips around Spain and Morocco, free dinners, gift cards, flights and hotel stays in destinations around Europe and so much more!
After you've collected all the info you might need to integrate into Madrid and made all the new friends you could possibly meet, phase 2 will start! This part will take place in the evening and is known as the official Welcome to Madrid Party! Many of the events, raffles, and stations from the day will continue operating during this time but with some extra, super fun activities! There will be live music and DJs playing all kind of different music, dancing and even more contests with amazing prizes! It's the perfect way to end the day – hopefully with new friends and endless opportunities for your time abroad!
Your friendly neighbourhood travel guide,
– Leah